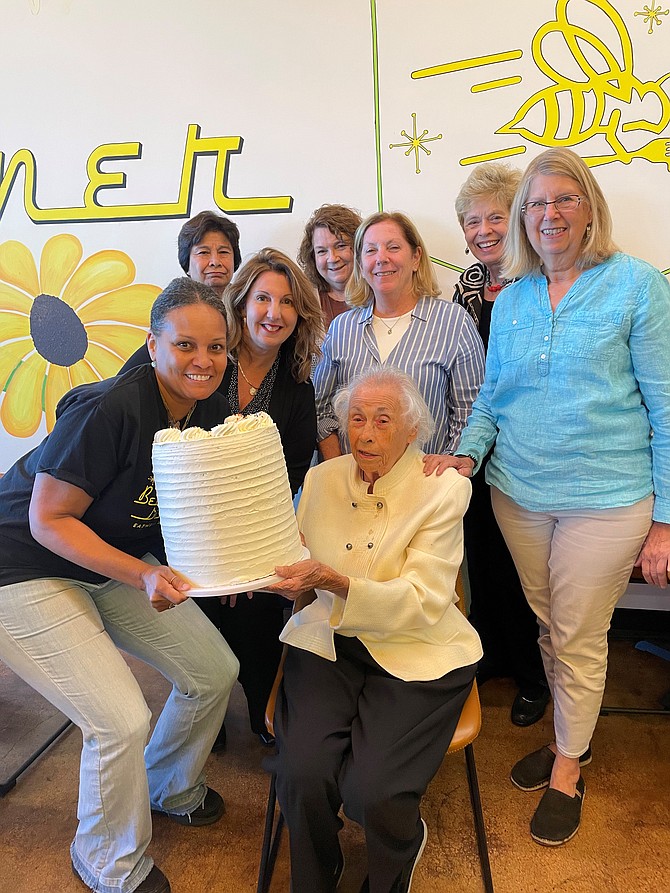 At 96 years old, Margaret Johnson is just 13 days shy of being a lifelong Alexandrian. That is how old she was when her family moved to what was then a sleepy Northern Virginia community and where, save for her time at college, she has spent her entire life.
"I went to Maury school, then Jefferson, and am a proud graduate of GW High School," said Johnson, who was feted Sept. 28 at the BeeLiner Diner at Bradlee Shopping Center.
Johnson left the city long enough to attend college at Duke University, where she became an unapologetic Blue Devils fan.
"I am absolutely a deep Blue Devils fan, particularly during basketball season," Johnson said. "Coach K's [Krzyzewski's] wife is also an Alexandrian so we keep it in the family."
"I try to keep myself busy and interested and reasonably aware of what is going on."
— Margaret Johnson in celebrating her 96th birthday
During her college summer breaks, Johnson worked at the Alexandria Department of Recreation.
"I spent my summer working under Gene Barnwell," Johnson recalled. "In the fall I became director of a rec center -- I was sort of a jack-of-all-trades there. Then I became a probation officer for the Juvenile and Domestic Relations Court." 
Johnson married and raised three children and still resides in the home she and her husband built on Gaillard Street more than 60 years ago.
"My husband finished graduate school and came up here to work for the Department of Agriculture," Johnson said. "He then went to the US Chamber of Commerce before joining with two friends to resurrect the American Enterprise Institute."
Johnson proudly spoke of her children, her oldest son who is an architect and a daughter who is an Episcopal priest. She has seven grandchildren.
"I lost my other son when he drowned trying to save his own son's life," she said of the tragedy.
Asked about her secret for living a long life, Johnson replied, "A college professor told me many years ago that the motive of life is to function so I try to keep myself busy and interested and reasonably aware of what is going on."
Staff at the BeeLiner presented Johnson with one of their signature tower cakes to mark the occasion.
"It's our privilege to celebrate Margaret's birthday here at the BeeLiner Diner," said manager Markos Panas. "We built BeeLiner to celebrate good food and happy occasions with the community and we're so happy we got to be a part of her special day for such a lovely human being."