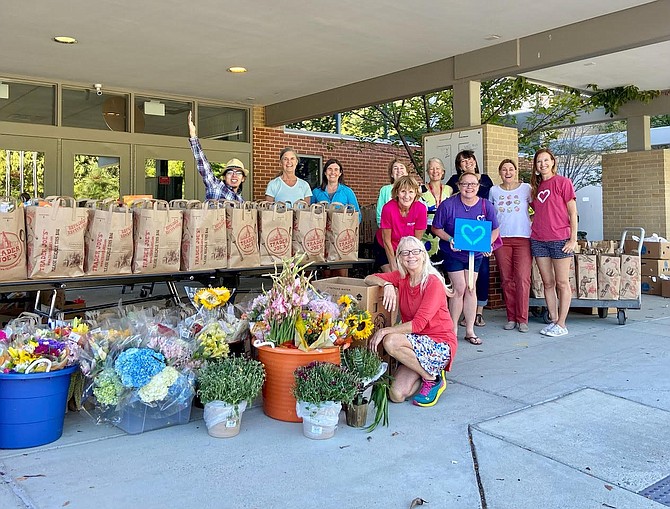 A SLHS PTSA Food Pantry spokesperson announced on September 26 that distribution had surpassed 1 million pounds of food and toiletries since opening in March 2017. But the need continues to grow as more than 275 students and families in the South Lakes High School pyramid use the pantry and food distribution each week.
To help support the need, registration is open for the 5th Annual SLHS PTSA Food Pantry: "Do It Your Way 0.5 K" race on October 16, 2022, 2-4 p.m. "We're thrilled that the 5th Annual Do it Your Way 0.5k will be in person on October 16. It'll be the most rewarding 650 steps you'll take all year," said pantry co-founder Roberta Gosling. 
"Our famous donut station is returning so that "race" participants can fuel up at the halfway mark and push through those last 325 steps. We're looking forward to seeing all the costumes and some really big teams this year with a goal of getting 500 people out on the Plaza. Participants can also look forward to some cool swag, including the collector finisher medal and race bib," Gosling added.
The race is a PR Run & Walk live event, but it can also be completed virtually all weekend long at any location. All proceeds go toward food, toiletries, and other necessities for the more than 275 students and families who use the pantry and food distribution each week. Co-Founder Andy Sigle said that the curbside distribution at the SLHS PTSA Food Pantry is truly the best 30 minutes of his week. "Over the 18 months that we've been distributing curbside, we've truly gotten to know so many of our wonderful neighbors," he said. 
According to volunteer Rosa Simon, the car line for the SLHS PTSA is not a line seen anywhere else. "These families expect to have real conversations with us, real support with no judgment. Kids will bring us colored pictures, blow bubbles out of car windows, and proudly show how they wear their seat belts. Moms will report weekly how kids are doing at school and home. Kids look forward to Thursday Food Pantry day because they know it will be fun."
The first 500 race registrants get a packet filled with swag, including a race bib and sponsor goodies. Student registration is $10, Adult-$25, Families $60, and Teams $25/person. There is a VIP option at $100. That registration includes front-row seats to the action and additional goodies; however, only a limited number of VIP registrations are available.
Raffle tickets are available at five dollars each: $20 for five and $50 for 15. The grand prize is a custom design sterling silver and 18 karat gold, blue pantry necklace adorned with colorless and green brilliant cut diamonds valued at $800. Additional prizes are to be announced.
Platinum Sponsors: Rustic Love Vienna, Reston Community Center; Sustaining Partners: Trader Joe's Reston, Good Shepherd Lutheran Church, Restoration Church; Gold Sponsor: NuAxis Innovations; Raffle and DJ Sponsor: Aspen Jewelry Designs; Silver Sponsors: Dev Technology Group, Century21 Redwood, Wegmans, Long & Foster Reston; Plaza Sponsor: Lake Anne Brew House; and Local Merchant Sponsors: OmMade Peanut Butter, The Bike Lane, New Trail Cycling, Unbroken Tattoo, Chesapeake Chocolates, Ben & Jerry's
Join/Donate | SLHS PTSA
,  no shipping charges at http://www.southlakesptsa.org/shop.