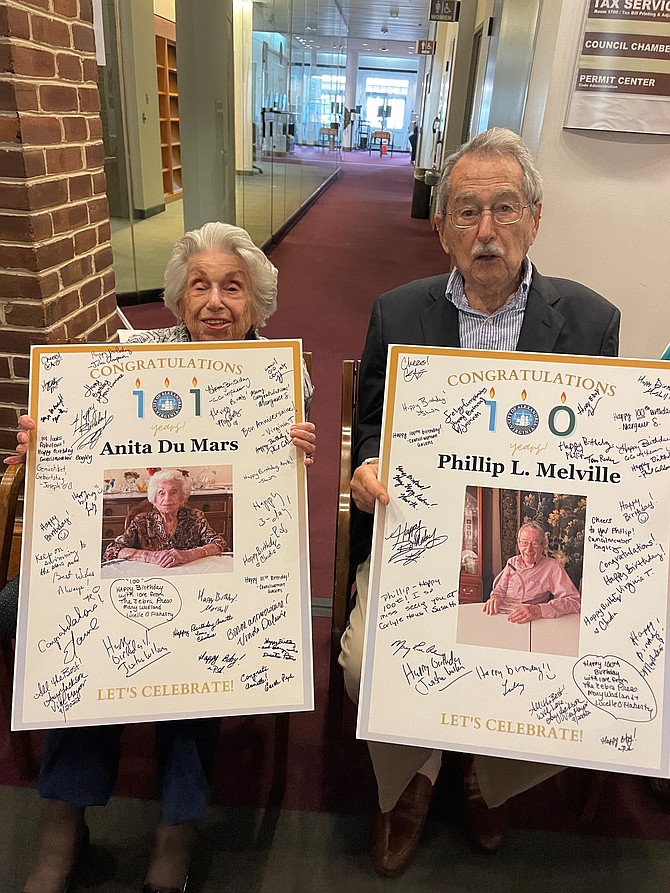 When wishing Anita Du Mars a happy birthday, do not get her age wrong. At a City Hall event celebrating centenarians, Du Mars was quick to point out that she is not 100 years old. She is 101.
Du Mars was joined by fellow centenarians Phillip Melville, Walter Hammersley and 102-year-old Frances Webb on Sept. 13 in the Vola Lawson Lobby of City Hall as Mayor Justin Wilson and members of City Council gathered to celebrate the century milestone.
Hammersley, another 101-year-old, attributed his long life to his family.
"I had such a wonderful family," Hammersley said. "They were instrumental in keeping me in check."
Born in 1921, Hammersley graduated from George Washington High School then joined the Navy where he served four years on a ship during World War II.
"It was good to return to some normalcy," Hammersley said.
Phillip Melville was born in France and first came to America in 1942.
"My family had to flee to escape the Nazi regime," Melville said. "I am so grateful and thankful to be here, to have my children, grandchildren, and great grandchildren be born in America and around to celebrate with me."
Du Mars arrived in America from Luxembourg as a war bride.
"When I first landed in New York, I came as a war bride," Du Mars said. "I came with 300 war brides aboard the SS Brazil."
Wilson presented each centenarian with a proclamation from the city followed by well wishes from those gathered for the event.
Many agreed with Du Mars when she said the secret to a happy, long life is "a sense of humor."