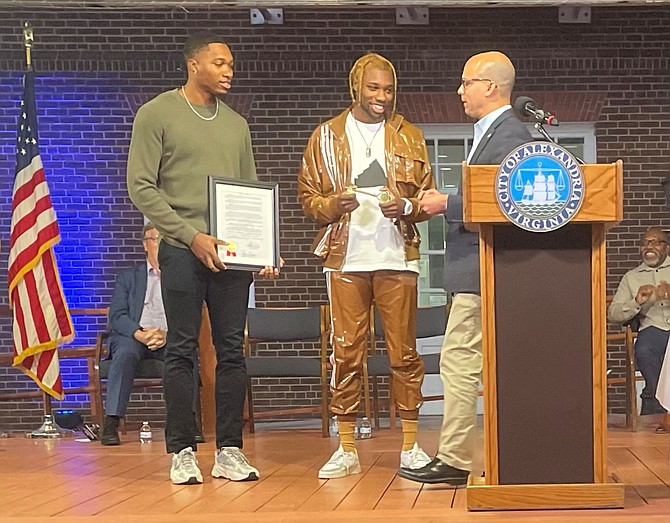 Mayor Justin Wilson welcomed the return of world champion sprinters Noah and Josephus Lyles to their hometown with the presentation of a key to the city Oct. 10 in Market Square.
Born and raised in Alexandria, the brothers were inducted into the Alexandria City Public Schools Athletic Hall of Fame on Oct. 8 and attended the celebration in their honor in Market Square where Wilson praised both their athletic accomplishments as well as advocacy for mental health awareness.
"We're here not just because of your athletic pursuits, but for what you have done using your platform as an athlete to speak out on mental illness and raise awareness of that," Wilson said. "That advocacy is not just important, that advocacy saves lives."
A heavy favorite to take home the gold, Noah Lyles won the bronze medal in the men's 200-meter at the Tokyo Olympics last summer and was hailed for publicly talking about his struggles with mental health.
"I did not realize the impact I had on everybody when it came to mental health until I came back from the Olympics and everyone was talking about it," said Noah Lyles. "I go to therapy quite often and never thought of my moment of being vulnerable of being so heroic. It was just a moment in the everyday life of Noah Lyles."
Noah, 25, is a 2016 graduate of what is now Alexandria City High School. Twenty-four-year-old Josephus graduated in 2017. Following his performance at the Olympics, Noah set a 200m U.S. record of 19.31 at the World Championships in July in Eugene, Ore., the third-fastest in history. Josephus set a personal record in the 200m by running under 20 seconds as part of the U.S. National team.
"Hopefully I will be remembered … as the person that continues to leave a generation better than when he came."
— Olympic bronze medalist Noah Lyles
The brothers turned pro following their high school graduation and now live and train in Clermont, Fla. Noah praised his family for his success.
"I have my brother to thank for being up here today," Noah said. "He's been with me on this journey this whole time. A lot of people think that it was my dream to go to the Olympics, but it was Josephus' dream to go to the Olympics, it was his dream to turn pro out of high school. I just went along for the ride and for that, Josephus, I will always thank you."
Noah followed with praise for his mother, Keisha Bishop, the co-founder and president of the Lyles Brothers Sports Foundation.
"I'm very blessed to have a family that comes together and works for each other, and my mom especially was always there to back us up," Noah said. "She did her research to see that we were prepared to handle anything we did in the future. There are seven of us and my mom is the rock that holds everyone together."
Jim Gibson, voice of the ACHS Titans, served as master of ceremonies and speakers at the event included ACPS interim superintendent Melanie Kay-Wyatt, School Board chair Meagan Alderton, and ACHS principal Peter Balas.
"The commitment of the Lyles brothers to supporting students in the community that they were nurtured in is evidenced in the work put forth by their sports foundation," Balas said. "Even during times of mental health challenges, which Noah has openly addressed, their foundation provided continuous opportunities for local youth to experience the physical and psychological rewards that can be gained while participating in activities that promote health and wellness in spite of challenges one might face."
Noah closed his remarks with praise for the support he and his brother have received from the city.
"Everyone here has always been there for us and that is why we always come back," Noah said. "You were the ones who supported us tooth and nail, championship after championship, moment after moment, the good and the bad. Hopefully I will be remembered not just as Noah the runner but as Noah the influencer, a philanthropist and the person who touched people's lives -- the person that continues to leave a generation better than when he came."