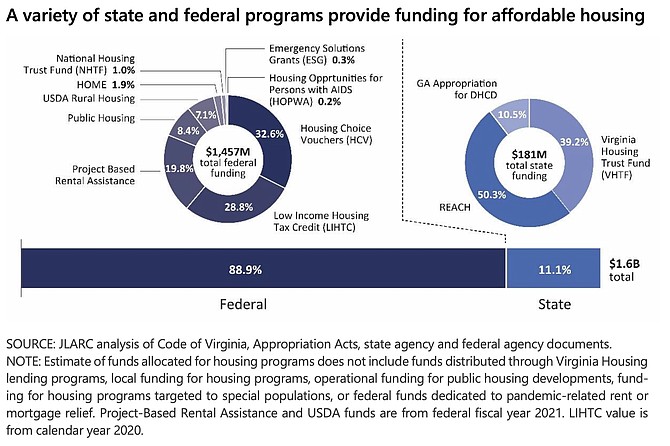 If Alexandria wanted to take a carrot-and-stick approach to development, city officials would soon run into a problem. The lure of density is a big fat carrot, which seems to be getting larger each year. But officials in Richmond are holding all the sticks. Chief among them is the idea of inclusionary zoning, which would require the General Assembly to give Alexandria permission to force developers to build affordable housing.
"We're forced into this very defensive land-use posture because we have such limited levers that we can pull on land use," said Alexandria Mayor Justin Wilson. "Part of the problem right now is that any landowner has a by-right land use no matter what, and we can't do anything to stop it."
The prospects of the General Assembly giving that kind of authority to local governments seems slim at the moment regardless of which party is in power. But advocates for affordable housing say lawmakers should at least take action on recommendations from the Joint Legislative Audit and Review Commission to create incentives for new zoning policies to facilitate the development of more affordable housing. The commission presented lawmakers with a series of recommendations last year but nothing happened. Now lawmakers are about to move on to the latest recommendations from the commission about making the income tax more progressive without taking action on affordable housing.
"The General Assembly is likely to talk about increasing tax relief, but more important and more key to people on the ground is housing relief," said Sheila Herlihy, an organizer with the Virginia Interfaith Center for Public Policy. "We don't need another study to tell us that one in three Virginia families are struggling to pay for housing, and we need to allocate resources to support them."
THE NEED FOR AFFORDABLE HOUSING has been documented over and over again, and the recent JLARC report from December 2021 brought the need into stark relief. Researchers at the commission found that one out of three households in Virginia are "cost burdened" because they spend more than 30 percent of their income on housing expenses. They also pointed out that the need for new affordable housing rental units is greatest in Northern Virginia, which is why Alexandria adopted a goal in 2013 to create or preserve 200 new affordable housing units a year every year for 10 years.
"The goal was rather modest," said Michelle Krocker, executive director of the Northern Virginia Affordable Housing Alliance. "If you skip over to Arlington, they've got a goal of 600 units a year. They haven't met that either by the way."
As elected officials get more aggressive about using zoning codes to require developers to build affordable housing, some neighborhood groups are worried about the pace of change. Many homeowners in Del Ray are alarmed that the city government is considering a plan that would allow developers to exceed height limits in exchange for dedicated affordable housing units. City officials already allow for this in a limited number of areas, although a proposed expansion of where this is allowed could end up allowing height bonuses in a way that would fundamentally change the skyline of Del Ray.
"We encourage the legacy of thoughtful development along Mount Vernon Avenue, which emphasizes historic and neighborhood context," said a group known as Save Del Ray, according to its website.
LAST WEEK, an attorney representing the developer of a controversial proposal on Mount Vernon Avenue announced that the project was on hold because of neighborhood opposition. Although the developer was seeking to exceed the height limits, the prospect of delivering dedicated units of affordable housing was not part of the discussions. Nevertheless, the controversy sparked by the redevelopment of the Human Services building at 2525 Mount Vernon Avenue opened a new discussion about the value of swapping height limits in exchange for more affordable housing units. Now the plan to expand bonus height is on hold, and the mayor is hoping to prompt a new conversation about what the city wants and what it's willing to do to accomplish its goals.
"I have suggested that rather than having our staff come back on just the bonus height that we come back on everything all at once," said Wilson. "How many units do we want to create and what are the impacts going to be?"