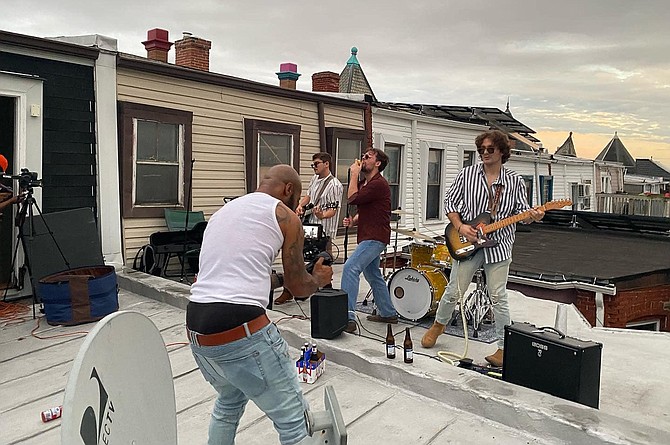 Local rockers called "The Summer of George," had a good summer, but the fall was even better as they released their high energy hit "Running to You," which headlined their first professional music video filmed on a rooftop. Yes, a rooftop over the streets of Washington, D.C., reminiscent of The Beatles last performance on a rooftop in London.
"Running to You," is a lively love song about chasing a romantic interest, and the band pulls it off, led by the high energy vocals of Ean Eschenburg. It was filmed and produced by local video company DMV Raps, on the rooftop of the guitarists' flat in DC. The video will be released this Friday, Oct.28.
The roof was the home of rhythm guitarist Jakob Markham, but the rest of the band lives across the river in Virginia. Singer Eschenburg lives in Burke, Jon Kraft, the lead guitarist and songwriter, lives in Arlington, and drummer Nick Scyoc also lives in Arlington.
Turn the clocks back 53 years, and the rooftop locale came in handy across the pond too. The Beatles rooftop show was an impromptu concert on Jan. 30, 1969, from the rooftop of their Apple Corps headquarters in central London. They played a 45-minute set before the police arrived and made them turn down the volume. It was the final public performance of their career.
The Arlington Police have been to the Summer of George's shows as well and started with the volume but ended up grooving to the music along with the band. The police even requested a song, band members claimed.
Update:
The music video is a hit, see it here
https://youtu.be/wRj43NeO3JE