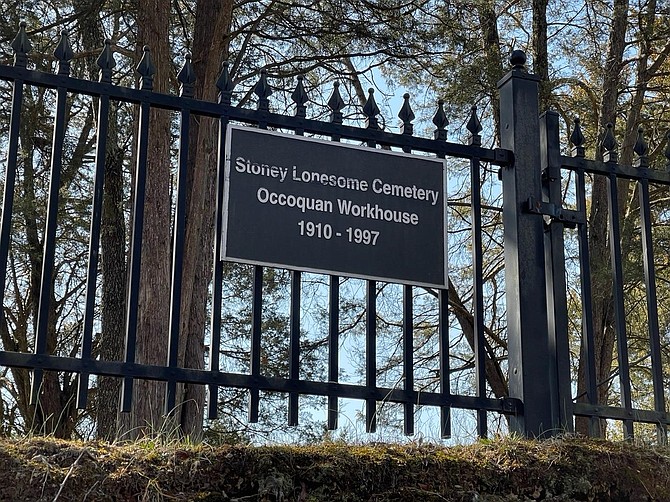 An iconic theme of Halloween is the haunted cemetery or graveyard. Graveyard superstitions abound with tales of lingering spirits of the dead who are said to have had a sad ending or unfinished business, which delays their departure from the living world after death. Such tales are ripe fodder for scary story telling and costumes during the October celebration. A favorite holiday for many, Halloween, has awakened a whole industry segment of fright events. An entertainment website (
https://www.virginiahauntedhouses.com/
) maintains a list of haunted houses and Halloween attractions in Virginia, including nine haunted cemeteries or graveyards. At those nine graveyards, there have been reports of apparitions, unexplained sounds of footsteps and other noises, sudden temperature drops, and eerie feelings. Many include a sad story connected with someone interred there, or the cemetery is associated with a battleground. 
Most real cemeteries do not have a reputation for being haunted and instead are seen as the end of one's journey on earth. They can, however, also provide a sense of forlorn continuance. And often a glimpse into history.
At a Lorton cemetery, called Stoney Lonesome, (not alleged to be haunted despite the eerie sounding name), sad stories and history combine. The 100-by-30 foot plot, behind a Victorian-style wrought iron fence in a grove of cedar trees, now on private property, is the final resting place of 50 to 100 former inmates of the Lorton Workhouse and Prison. Indigent inmates who died at the prison were laid to rest here in hand-dug graves in rows of 10 to 14 in simple pine boxes made in the prison's carpenter shop. The individual graves now are unmarked and the burial records long lost. The last burial here was likely in the 1960s for the prison that operated between 1910 and 2001. At one time there could have been wooden name plaques attached to the coffins, but those names have since rotted away. Only some depressions now are visible to mark the dead, and a few concrete markers thought to show manufacturers' names, not names of the deceased. Red Cedar trees stand as sentinels over the grave site.
'Cemetery' is from the Greek word for 'sleeping place;' the term 'graveyard' typically refers to a sleeping or resting place for the dead attached to a church. Red cedars, like those at Stoney Lonesome, are typically planted at burial sites for their many years of growth. They are used so often that they have become known as "graveyard trees." An early American superstition suggested transplanting of a red cedar would bring bad luck or early death. The Cherokee people consider the tree sacred for holding the spirit of ancestors. 
The men and women who died while imprisoned at Lorton Prison, without friends or family who could claim them, and without independent means to provide for their burial lay at Stoney Lonesome. They would have died from disease, including the Spanish Flu which was rampant in 1918; or from fatal injuries or drowning, as they worked in Workhouse operations. Brick making kilns located near the river used clay material extracted from the Occoquan, providing the possibility of death by drowning, and other work involved use of farm machinery with possibility for severe injury or death.
Only three men buried here are known: William Collins, who died October 18, 1943; James Plumb, died January 17, 1946; and Earl Mc Farland, executed July 9, 1946. 
McFarland, a 23 year old, heavily decorated Marine, was arrested in 1944 for the rape and murder by strangulation of 18 year old Dorothy Berrum of Haines Point in 1940. After his arrest, he broke out of the D.C. jail by overpowering a guard and stealing his uniform. He was recaptured eight days later in Knoxville Tennessee. He was found guilty of the crimes and sentenced to death by electric chair. History reports that after a last breakfast, he walked to the chair himself, kicked off his shoes, lit a cigarette, and helped the guards adjust the wired helmet which would deliver its fatal electric dose. Fifty years after his execution, historian Irma Clifton reported receiving a call from McFarland's family seeking to locate him to "bring him home." His burial location within the cemetery had been lost by that time, so he remains there today surrounded by the cedar trees and history.