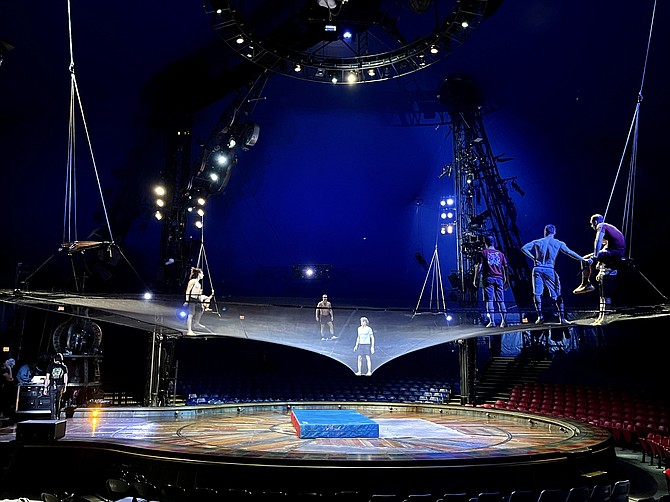 Spoiler alert. Before you take your seat at KURIOS, know you may want to run away and join Cirque du Soleil. It is billed as a contemporary circus of "rule breakers and moment makers in a world of wonder and magic."
Cirque du Soleil "KURIOS-Cabinet of Curiosities" is touring under the Big Top in the round at Lerner Square, 8025 Galleria Drive, Tysons, through Sept. 25. Produced by Cirque du Soleil Entertainment Group, based in Montreal, Canada, the company is rebuilding its business after suspending all 44 shows in response to the COVID-19 shutdown. Gradually the company reopened in the summer of 2021. It is currently recapturing revenues by providing live entertainment globally, with over 20 shows, some of which are touring, such as KURIOS, and others of which are resident.
"We are thrilled that Cirque du Soleil is returning to Washington, D.C. for the first time since 2019," said Mike Newquist, president of Cirque du Soleil Entertainment Group's Touring Show Division. Now more than ever, being reunited with our incredible audiences means the world (to us)."
The first thing through the gate for this reporter was a COVID test, and with its negative result, onto the entrance tent. What would follow would be a tour of the artistic tent featuring wardrobe, training, work-outs, and warm-up, and a stop in the 2,500-seat performance tent to view the bounce and rebound of acro net training.
According to Becky Williams, the senior publicist at Cirque du Soleil, KURIOS three tents require a six-day setup and two-day teardown. There is staff for nearly every job. The kitchen team serves between 300 and 400 meals a day. A front-of-house team welcomes guests. Engineers, electricians, IT technicians, riggers, and more ensure the special effects and world-class acrobatic feats go on. 
Performers and others hired by Cirque du Soleil come from across the world. Outside the performance tent, the flags on top are all the countries the staff presents. Generally, the artists specialize in various disciplines. They are the athletes, clowns, dancers, action sports athletes, and musicians. Arias said that the entire staff to produce KURIOS is about 120. 
Rachel Williams is KUIOUS's artistic director. "It does take a village of people to put this show on, and every single one of them does it because they have passion," she said.
Touring shows, like KURIOS, typically perform 270 to 310 times a year. Artists train on average 12 hours a week in addition. They are on-site for approximately 9-weeks each tour. Lodging is a private room at a hotel, or staff can rent a home or apartment through a company like Airbnb, generally going in together. The company will ship up to three suitcases for each person. 
This reporter witnessed some of the work that goes into the two-hour theatrical-style show that immerses the audience in the explosive and strangely confounding curio cabinet of an industrial-age inventor, the Seeker. His worldly characters like Klara, The Kurios, and Mr. Microcosmos enter the Seeker's improvised mechanical world, which is set in the late 1800s.
The Seeker's curiosities come to life one by one through the power of his imagination, and they create a world of curiosity "when anything seems possible." When the audience enters, they should look for the clock set to 11:11 and double-check it when they leave.
The original music by two composers sets the style and tone of the show's steampunk-inspired universe. "The musicians perform everything from Mozart to a little bit of techno during different points in the show, but there is a coherent theme that attaches to the story," Williams said.
The wardrobe department of KURIO is housed in the artist tent along with a gym, performance equipment where the cast practice their routines, and a lounge area. 
A look at the process of maintaining the lavish costumes provided a glimpse into the world of the untraditional big top that defies convention.
All designer costumes are custom-made in Montreal, three for each performer. They must be washed and dried after each use of the up to three daily shows, six days a week. Because they are on stage so frequently, even the technicians wear costumes. Seven people work as permanent staff in the wardrobe department. The company hires two locals to launder and iron.
"We don't only have costumes as traditional fabric items that you wear over your body, we have props that artists wear, so they are considered part of the wardrobe department, including our big robot," Williams said. Other examples would be the Winch and Plunger. 
Because so many other materials and processes go beyond what a wardrobe department traditionally uses, it takes much more craftsmanship than just sewing skills. Milliners and textile artists could be seen prepping costumes for performances.
The cast is taught how to apply their makeup, an integral part of their costumes. It can take anywhere from five minutes to two hours, depending on the steps they learn in Montreal. 
According to Rachel Lancaster, artistic director of KURIOUS, every Cirque du Soleil show is created by a different team of people. "We have five big top shows, but they are all different." Lancaster is a former artist who decided to leave the stage and make a career transition. Opportunities are offered to support artists throughout their careers with Cirque du Soleil. 
For acrobat Anne who performs on a bicycle, it is about doing things at the right time for every trick. "It is about being calm and concentrating enough to trust that you have to wait for the right moment," she said. 
For ticket information, visit https://www.cirquedusoleil.com/usa/washington/kurios/buy-tickets To view the official trailer, visit https://youtu.be/RXSpuKlWeVs [youtu.be].