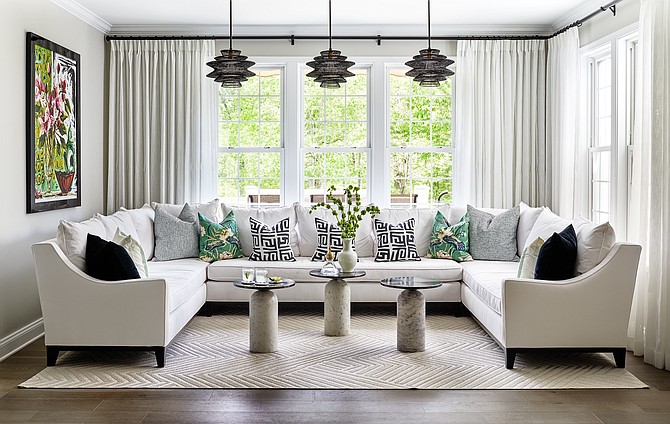 When a retired couple with adult children and young grandchildren took a look around their home, they were slightly embarrassed by what they saw. It was an outdated structure that was stuck in the 1980s and needed to be transplanted to 2022. They tasked Chantilly based interior designer Sallie Lord of Grey Hunt Interiors with the undertaking.
"Our clients wanted to update every aspect of their home from opening up walls to a new more functional kitchen and primary first floor bathroom," said Lord. "They wanted to have a space to entertain family and friends often, but still feel cozy enough for the two of them." 
The effort to modernize the home included not only adding updated furnishings and accessories, but also incorporating some of the client's existing treasures into the design.
"We refinished the dining table, and repainted the kitchen table and chairs, along with the china cabinet," said Lord. "We kept the tree root table that already belonged to the client, but gave it a completely different life and look. 
The overstuffed furniture in the living room and family room were replaced with sleek seating upholstered with fabric that would accommodate the grandchildren.
Part of the overhaul included a subtle altering of the home's floor plan. Lord worked with Velasquez Group Construction & Design, Inc of Manasses and Cornerstone Kitchen and Bath to create a plan that included removing walls to create a light, airy and free flowing space. The cabinet-front appliances that are in the home's new kitchen are consistent with the sleek and modern look that homeowners desired.
"We were able to maximize the storage space, open it up and make it have real visual purpose and function," said Lord. "The kitchen looks larger and more connected to the rest of the home.
The once out-of-date master bathroom is now elegant and serene. Lord was able to incorporate accessories that would add an element of safety for the couple, who are now in their 70s, without compromising style. On the walls of the new bathroom is a smooth and glossy white porcelain tile. It's striated with subtle shades of grey that mimics the look of marble.
"[Porcelain]is better because it isn't as porous as marble and it won't stain as much, but still gives it that luxe look," said Lord. "It became a gorgeous functional bathroom that is connected to the master bedroom to create a romantic retreat." 
The end result of the overhaul is a space that is both comforting and welcoming, says Lord. "Now they are proud to entertain friends."