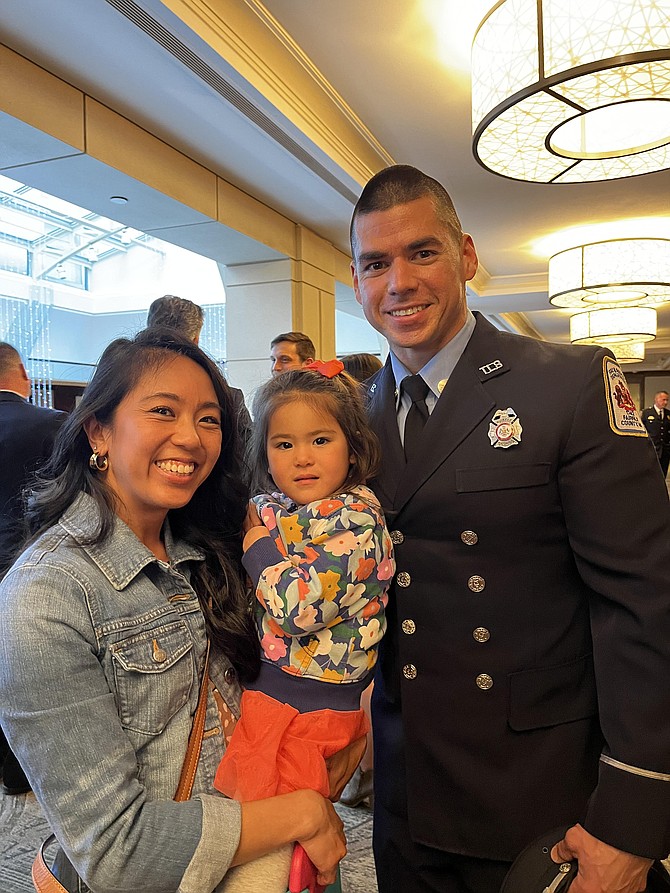 The national anthem at the 45th Annual Fairfax County Valor Awards- (second-row from left ) Fire Chief John S. Butler of the Fairfax County Fire and Rescue Department; Chief Kevin Davis of the Fairfax County Police Department; (first row from left) Thomas Arnold, Deputy County Executive for Safety and 
A select group of 193 public safety responders answered the call to serve, protect, and save lives in 2022, going above and beyond the call of duty in Fairfax County. On March 30, the Greater Reston Chamber of Commerce (GRCC) hosted the 2023 Fairfax County Valor Awards luncheon. Held at the Hyatt Regency in Reston, the event celebrated those brave responders of the Fairfax County Police Department, Fire and Rescue Department, and Sheriff's Office, as well as the Vienna Police and Herndon Police departments and the Virginia State Police.
Before the ceremony started in the grand ballroom, award recipients, like Silver Medal of Honor Technician Sean O'Neill of the Fairfax County Fire and Rescue and Gold Medal of Valor recipients Master Police Officer Lance Guckenberger and Police Officer First Class Matthew Grubb of the Fairfax County Police, mingled with loved ones, colleagues, and others. 
O'Neill said he and fellow Fire and Rescue personnel would receive awards because they "entered a structure without their protection of a hose line under heavy fire conditions."
"We have a saying, 'Risk a lot to save a lot,'" O'Neill said. "And if we know there are possible citizens to be saved, we will risk our lives to save them." 
O'Neill and members of his unit were dispatched for a fire call around two o'clock in the morning with reports of people trapped inside. "When we showed up, the personnel on my crew on Tower 8 conducted an interior search under heavy fire conditions and heavy smoke to try to locate the victims and provide access around the exterior of the house and ventilation operations on the roof. The search ended through our coordinated effort with multiple companies (within the county's Fire & Rescue Department). We located the victims."
Charles Kapur, president of the Greater Reston Chamber, stood nearby and listened to O'Neill's account. Kapur told O'Neill that he'd been responsible for writing a brief of every medal story to be heard during the ceremony. "Officer O'Neill has just given a very harrowing recap. When you get it directly from the person there, you are taken to the scene," Kapur said.
A 9-year-old girl and her grandmother died due to the fire at the single-family home in the Falls Church area.
A steering committee composed of law enforcement agencies, representatives, the Sheriff's Office, event sponsors such as Inova Hospital and Visit Fairfax, and members of the Fairfax County community selected the recipients, guided by specific criteria per category. Responders "would not otherwise seek such public acclaim," Kapur said.
There were five award categories: the Lifesaving Award, the Certificate of Valor, the Bronze Medal of Honor, the Silver Medal of Honor, and the Gold Medal of Valor, said Barry Biggar, head of Fairfax County Conventions & Visitors Corporation (Visit Fairfax).
"The Gold Medal is awarded to people whose lives were in immediate danger, and the incident required service way above and beyond what would normally be required," Biggar said. "Either weapons are involved, or their lives as first responders could be threatened."
A recipient of silver, like a recipient of gold, must go above and beyond the call of duty and what is expected. "Generally, it (silver) doesn't necessarily involve weaponry, but their lives are certainly in danger or threatened," Biggar said.
Chief Kevin Davis of Fairfax County Police and Fairfax County Sheriff Stacey Kincaid attended the ceremony. Davis said, "Not only is this group elite, but I think every deputy sheriff and police officer who served in Fairfax County is part of an elite group. These particular officers, over the course of the last year, exhibited courage, bravery, and exceptional performances that led them to this moment of recognition today."
Kincaid added that the county's Valor Awards are an opportunity to give deputy sheriffs, police officers, and first responders the recognition they deserve. "We're proud to be here. We're proud to share in what we do and how we do business, and more importantly, that we're able to celebrate our staff," Kincaid said. 
She stressed the importance of the family unit to her deputies, the police officers, and firefighters. "It's so critical. To have the support of your family is something that you need," Kincaid said.
GOLD MEDAL recipients Master Police Officer Lance T. Guckenberger and Police Officer First Class Matthew C. Grubb described what happened when they responded to an incident in McLean after a victim called to report that his roommate had shot him in the face. The victim had locked himself in a bedroom, but his assailant was attempting to break in and do more harm.
"The hostage at that point was injured. Given the circumstances, we knew we'd have to go in and rescue (him)," said Grubb. "Training kicks in, and it was like just another repetition for us."
After the smoke cleared, Guckenberger asked Grubb if he was sure he hadn't been hit. "Lo and behold, I was struck in the arm," Grubb said.
Officers safely extracted the hostage, then deployed a robot to locate the suspect. They talked him into surrendering without further incident.
According to Guckenberger and Grubb, when they returned to the scene later and walked through it, they saw where the bullet holes came through the wall while affecting the hostage rescue. "Intervention, for sure. Act of God definitely looking over us not to have gotten hit at that moment," Guckenberger said.