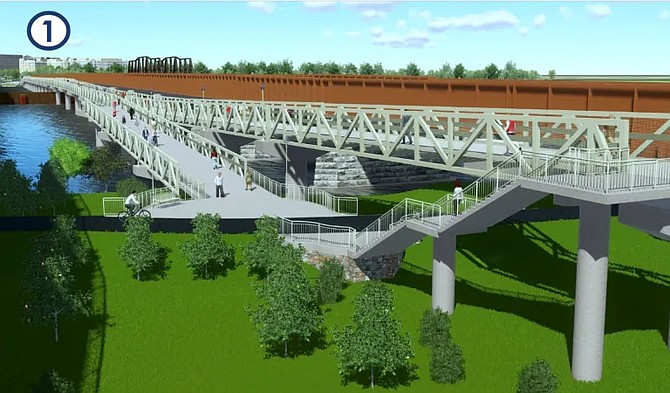 Throughout the month of March and into early April, Friends of the Mount Vernon trail were seeking comments on the plan for the bicycle and pedestrian aspect of the Long Bridge railroad project across the Potomac River. Their comment period went on throughout the month of March and ends on April 10 where the design of the pedestrian bridge will be looked at again.
The Friends group wanted a wider bridge with spots to let people "pause," whether it's to tie a shoe or rest, but the final comment is open for a few more days. "We likely won't know results for several months until NVRPA has their next round of engagement sessions," FOMV said. 
"Please widen the bike/ped span to 24 feet in as many areas as possible to create space where people can pull to the side & pause," they indicated in the comment section.
This is just one part of modifications to the Long Bridge railroad venue across the Potomac River. The whole $1.9 billion project will include additional railroad tracks creating a four-track corridor, eight rail bridges and related railroad infrastructure improvements between Arlington and Washington. According to the Virginia Passenger Rail Authority, a new bike-pedestrian bridge also will be constructed as part of the mitigation to National Park Service parkland and will span the Potomac River and George Washington Memorial Parkway, connecting Long Bridge Park directly to East and West Potomac Parks.
According to Karina Romero, Communications Manager at the Virginia Passenger Rail Authority, the plan has been modified for the pedestrian-bicycle bridge. In Fall 2022, VPRA widened the width of the proposed bicycle-pedestrian bridge from 14 feet to 16 feet based on feedback from the community. This wider width will provide a more comfortable user experience.
The current 16-foot width – which is more than double the width on the existing 14th Street ped-bike bridge over the Potomac – exceeds DDOT and AASHTO minimum standards needed for bicyclists to pass each other. According to AASHTO standards, the 16-foot bridge width will accommodate two bicyclists riding abreast with space to comfortably pass a pedestrian or someone stopped on the bridge.
In addition, the 42-foot trail radius at the connection points at each end of the bridge meets the turning radius of an emergency vehicle and exceeds that of various large bicycle types for the design speed. The bridge can structurally accommodate a 20,000 pound emergency vehicle. The design meets Americans with Disabilities Act code (ADA) requirements, Romero said.  
Currently the project is in the preliminary engineering phase, and is scheduled to be completed in 2030, the VPRA information said.
Go here for the survey before April 10:
Long Bridge Project 2023 Public Engagement Survey  (March 06 - April 10, 2023) (surveymonkey.com)