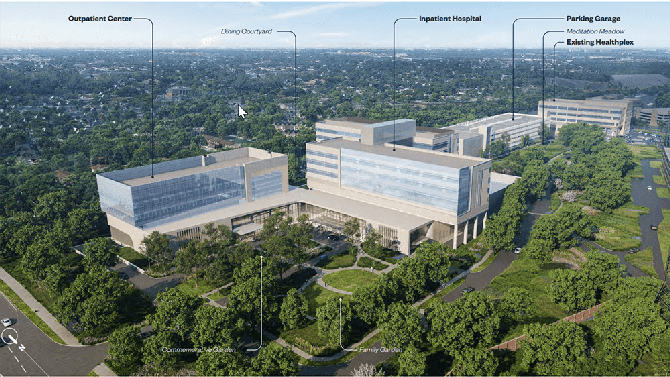 This Inova diagram was from a slide show that was presented in May 2022.
The Franconia Inova hospital project moved forward recently when the Virginia Department of Health approved its Certificate of Public Need (COPN) application to build a new hospital in the Franconia community of southern Fairfax County.
The patch of land where the new hospital will be built is adjacent to Inova's existing Franconia-Springfield HealthPlex and within walking distance of the Franconia-Springfield Metro and Virginia Railway Express stations.
The location is in the Franconia District across the Beulah Street-Franconia-Springfield Parkway intersection from a parcel of land being cleared for the new government center and library that officials broke ground on earlier in March.
"I am delighted by this latest step to advance the Inova Franconia-Springfield Hospital," said Supervisor Rodney L. Lusk, (D- Franconia). "Inova has been our community's trusted health partner at this location for many years, and this expansion of that collaboration will improve the health and economic vitality of our community for generations to come."
The land is right at a busy intersection so traffic will be an issue, but there are several traffic improvements coming with the new hospital, Inova officials said. Currently there is an emergency-only access from the parkway but with the new hospital, officials have proposed new dual left turns and light from eastbound Franconia-Springfield Parkway to Walker Lane pending approval by VDOT.
Other transportation improvements include:
* A new roundabout on Walker Lane at the Metro Park and HealthPlex entrances to improve the flow of traffic
* Dual left turn lanes from northbound Beulah Road to westbound Metro Park Drive toward the hospital
* Additional eastbound lanes on Metro Park Drive toward Beulah Road
* A new southbound right turn off Beulah Road into the hospital
The site is close to the Franconia-Springfield Metro Station, so they are looking to enhance shuttle service to Metro and coordination with the existing TAGS bus service.
Technology Abounds Inside
The initial phase of the Franconia-Springfield project will include a modern inpatient facility with 110 beds spread across two patient towers. The hospital will include private rooms, an expanded emergency room, diagnostic imaging, and multiple procedural rooms. An adjacent building will offer a variety of outpatient services, including ambulatory surgery, physician offices, and procedural rooms, Inova information said.
Outside, the space will include several environmental sustainability additions including nearly two acres of urban park space with walking trails and benches available for public use, Inova said. In maintaining 30 percent open space on the property, Inova has designed the campus to maximize preservation of mature trees along the north side of the property and near the intersection of the Franconia-Springfield Parkway and Beulah Street.  They will be seeking a LEED Silver certification when completed.
In the meantime, patients will continue to use the Franconia-Springfield HealthPlex for Emergency Room, physical therapy, physician offices, and other clinical operations. The planning and design phase is underway, with construction slated to begin in 2024 and anticipated completion in 2028, Inova said.