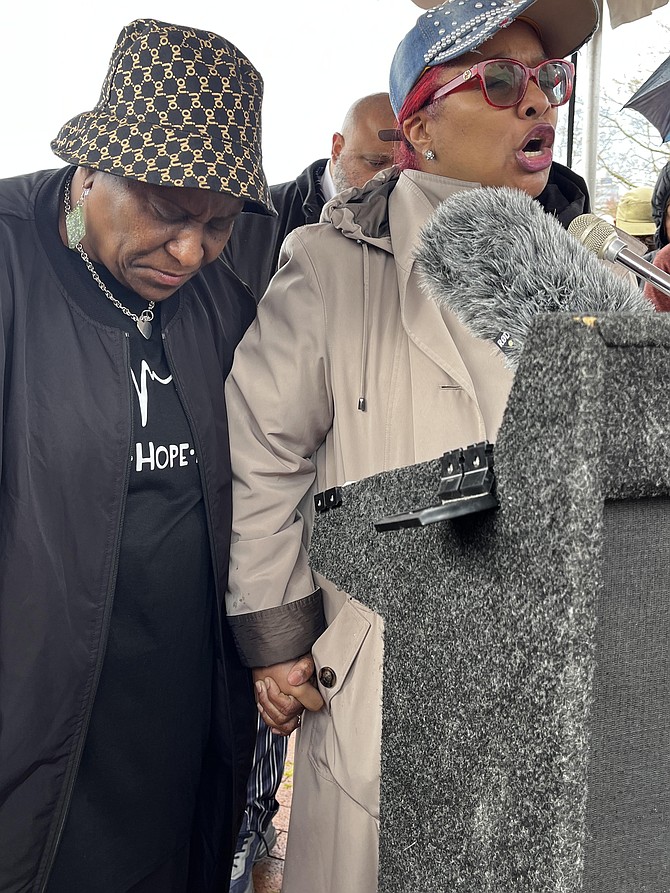 She stood for two hours at the NAACP Justice Rally outside the Fairfax County Government Center on Saturday morning, April 1. Because her skin is black, she said, she has experienced the social injustices, discrimination, and biases that occur. She stood centered among the 60 or so people huddled together against the lashing rains and winds under the small tent. At one point, she walked over to a man standing outside the tent and offered her umbrella to him.
Melissa Johnson, mother of Timothy ("Timmy") Johnson, the unarmed, 37-year-old Black man Fairfax County Police say was suspected of shoplifting two pairs of sunglasses from Nordstrom at Tyson Corner Center on the evening of Feb. 22. Johnson was chased by two FCPD officers of its Tysons Urban Team, Sgt. Wesley Shifflett and James Sadler, through the parking lot and into the woods. The officers discharged their firearms. One of the three gunshots struck Johnson in the chest, killing him. Shifflett fired the fatal shot.
Before the rally started, Johnson said, "Though I have a smile on my face, my heart is broken … I volunteered to add my voice to help this go a little bigger and broader. Yes, this is about Timothy, but this is a justice rally for us to petition the leaders of this county here to do the right thing, for the right reason. So I'm glad that I am able to just stand here courageous and bold and to lend my voice."
On March 23, within the 30-day requirement since the shooting, Chief Kevin Davis released and played the officer's bodycam video and the store surveillance video at a press conference. Sgt. Wesley Schifflet was fired that day. Officer James Sadler remained on modified, restricted duty as the investigation continues.
During the rally, twelve speakers, including Michele Leete, president of the Fairfax NAACP; Carl Crews, the Johnson family attorney; Diane E. Burkley Alejandro of ACLU People Power; Reverend George Gilbert Jr. of the D.C. Center for Racial Equality and Justice; and Melissa Johnson, among them. There was no marching and no chanting.
Leete said that today's mode of policing in the U.S. can be traced back hundreds of years and provides an understanding of why, in 2023, "a Black person is three times as likely as a white person to be killed by police." According to Leete, the primary goal of the first publicly funded police department, which began in Boston around 1838, was "protecting property."
"Timothy Johnson was chased from a department store for stealing sunglasses, a chase that ended with his death at the hands of police. Yes, the difference between 1838 and 2023 all of a sudden doesn't seem so far apart," Leete said. "We're here today to ensure that our elected officials understand that we won't forget Timothy Johnson, nor the increase in officer-involved shootings over the last year." Leete urged all to contact their U.S. Senators and press them to pass the George Floyd Justice in Policing Act of 2021.
Crews drew attention to the police video camera footage right after Schifflet said, get on the ground; get on the ground. "At one minute, 37 seconds, you will hear a gunshot. Then at one minute, 39 seconds, you will hear another gunshot, and you will hear Schifflet say, stop reaching." Crews said.
"The gunshot clearly occurred before the stop-reaching comment," Crews said. 
"If I were to give Davis a grade, it would be incomplete ... [The second officer who discharged his gun] is still employed. Those procedures apply to him as well," Crews said.
According to Crews, the Commonwealth Attorney's Office said they need a few weeks to decide whether to bring charges. "Mr. Commonwealth, I would say this: We are waiting for justice for Timothy Johnson….Justice delayed is justice denied." 
Steve Descano is the elected Commonwealth's Attorney for Fairfax County. 
Reverend Gilbert Jr. said, "It is clear that this was murder. ... We need this officer arrested. This is not a Black issue; this is an American issue. ... If you won't stand for justice, just get out of the way." Looking over the crowd, Gilbert said, "It's people who want change, who are looking for change, who are demanding change."
Fairfax NAACP youth advocate Joel Pulliam said there would be no compromising or begging. "I want history to remember this day that Fairfax didn't let this one slide. And to Chief Davis, understand you won't be able to wait for the public's anger to subside because we won't let up. See, we're stubborn, and we'll see you rain or shine until either you change or you leave," Pulliam said.
Kelly Hebron, chair of the Fairfax Democratic Black Caucus, said that each elected supervisor would be asked to meet with the Black Caucus to discuss a plan of action.
Diane Burkley Alejandro, the lead advocate for ACLU People Power Fairfax, said the Fairfax County Civilian Review Panel is a "good organization," yet, "it has no teeth." She argued that needs to change.
A statute passed in Virginia, SB 5035, Law-enforcement civilian oversight bodies, effective July 1, 2021, allows a civilian review board to have independent investigatory authority and the right to impose discipline.
"Fairfax, that views itself as a leader in civilian review, has fallen way behind. Alexandria has real teeth in their civilian review panel, (as do) Arlington, Richmond, Virginia Beach," Alejandro said. Fairfax County's Police Civilian Review Panel was established years before this statute was passed, but the Fairfax County Board of Supervisors has the authority to increase its powers. https://www.fairfaxcounty.gov/policecivilianreviewpanel/
Michelle Johnson stepped up to the podium. Referring to Fairfax County Police Chief Kevin Davis, Chairman Jeffrey McKay (D), and Commonwealth Attorney Steve Descano (D), she said, "I humbly acknowledge last week's remarks and statements … following the release of the camera footage… . To each of them, I say, I am here. A grieving, strong, and courageous Black mother, proud of her son, not having to defend his character or anything about his personal or judicial history, but to say he was my son. He was our son, and he was loved."
Johnson said that we need police reform and the implementation of police procedures for the safety of our citizens, community, and those who serve. "This is not us against them. We value and need our beloved men and women who serve in uniform," Johnson said. "The actions of one or two persons does not take away the good that law enforcement provides, and they risked their life to do each and every day. This is not that. This is one incident where we need the leadership of Fairfax County Police Department to hold those two officers responsible for violating their own policies."
What was most difficult for Johnson, she said, was that, as a mother, she watched that camera footage. "I witnessed my son's testimony as he lay there after being shot. Timothy yelled out, 'I don't have anything in my hand.'" Another officer could sense the impending danger to Timothy's life. The officer called out three times for an ambulance, according to Johnson. 
"Remembering my son's last words, before he took his last breath, he said to that officer, 'Hurry, hurry.' I say that to you ... Chief, 'Justice.' I say that to you, Supervisor McKay; I say that to you, Commonwealth's Attorney Descano. Hurry, hurry. Justice is calling. Hurry. … This is why I am here. … Timothy's right to due process was taken away from him when both officers, … not under any danger, imminent or otherwise, willfully made a decision to pursue him, unholster their guns and fired their weapons."
To learn more about the Fairfax County Police Department General Order governing the use of force, review General Order 540. https://www.fairfaxcounty.gov/police/sites/police/files/assets/images/chief/generalorders/go_540.pdf
Some of Those Dead or Injured
Diane Burkley Alejandro lifted up a few of the names of community members shot, killed, or injured by Fairfax County Police and the Sheriff's Office. "Virtually all of these are preventable," Alejandro said. "We need police reform now. We need accountability." 
Timothy Johnson, 37, an unarmed Black man suspected of shoplifting, was shot and killed in 2023.
Christian Parker, 37, was shot and killed in 2022 after he did not drop a gun when police repeated the commands.
 Jasper Lynch, 26, a transgender man shot and killed in 2022 while wielding a wine bottle at three officers. 
Jiyoung Lee, 30, was shot in 2021 while living in a group home. "She had a knife, your officers were a lot bigger and could have used a Taser," said Alejandro.
La Monta Gladney, 38, an unarmed Black man, was tased while speaking incoherently and walking around in circles on a street in 2020.
Amran Djama, 12 years old, in 2018, when a police chase of a truck ended with the truck crashing into a minivan, launching Amran through a window and leaving her brain damaged.
Natasha McKenna, 37, African-American woman with mental illness, was killed in 2015 after being tased by officers inside the Fairfax County Jail.
John Geer, 46, unarmed, after displaying a gun in a holster, was shot and killed in 2013.