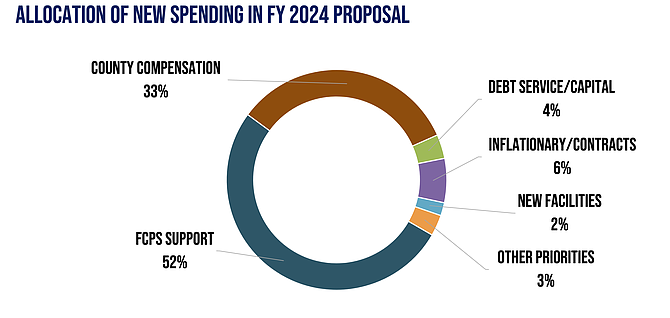 April 11, 12, and 13 are Fairfax County's public hearings on the 
Fiscal Year 2024 Advertised Budget Plan
, impacted by high Inflation, labor shortages and the real estate market. 
After listening to residents, the Board of Supervisors will mark up the plan on May 2 and adopt it on May 9. Individuals wanting to provide testimony must sign up on the Speakers List by noon on the hearing day by using the sign-up form https://www.fairfaxcounty.gov/bosclerk/speakers-form or calling the Department of Clerk Services at 703-324-3151, TTY 711. Written testimony is accepted until the public hearing closes. Email ClerktotheBOS@fairfaxcounty.gov or mail the Department of Clerk Services at 12000 Government Center Parkway, Suite 552, Fairfax, VA 22035. 
County Executive Bryan Hill presented the FY 2024 Advertised Budget Plan to the Board of Supervisors on Feb. 21. He emphasized maintaining the county's core, employees and existing programs. 
Snapshot of the Budget Plan
Taxes: $1.11 real estate tax rate is proposed. Fairfax County.gov reported a 6.97 increase in property assessments in 2023, thus most residents will see their property taxes increase. Due to record-high vehicle values last year, the board reduced personal property taxes to 85 percent for trade-in values; 90 percent is proposed.
Schools: A $144.1 million increase over the FY23 Adopted Budget Plan for Fairfax County Public Schools (FCPS) priorities in FY 2024 is proposed, including employee compensation and $143 million for Head Start, School Health, Behavioral Health Services, crossing guards, field maintenance, and other costs.
Employee Compensation is proposed at a $134.51 million increase in county disbursements, $92.73 million targeted toward employee pay and benefits, and fully funding performance, merit, and longevity increases. An increase of $7.8 million supports employee retention and recruitment efforts. The plan calls for fully funding performance, merit, and longevity increases. Based on the pay plan, general county employees will receive an average 4.06 percent increase, and public safety employees will receive an average 4.39 percent increase. 
For more information on the budget process, visit the Department of Management and Budget website https://www.fairfaxcounty.gov/budget/
Reactions to the Proposed Budget
The McLean Citizens Association approved a resolution on April 6 recommending: "The Board of Supervisors ask the County Executive to identify substantial cost savings that can be implemented in FY 2024 and FY 2025, which take into account the declining ratio of FCPS students to total County residents and the growing number of FCPS administrative positions, and which also allow for the adoption of a:
     * FY 2024 budget that raises police salaries by 15%, increases the Park Authority transfer to pay for forestry management, and reduces the property tax rate by 3 cents, and
     * FY 2025 budget that funds public safety and other core government services without raising the property tax rate in FY 2025."
See the MCA meeting video and the final approved copy ( 51:52-2:02) of the McLean Citizens Association Resolution Fairfax County Advertised FY 2024 Budget Plan on its Facebook page. 
On the Other Hand …
Ann Forno, Fairfax County employee, and SEIU Virginia 512 member, is concerned about wage compression and its impact on her financial future. "What is being done to remedy the situation is not enough," Forno said.. "The one-sided approach to this process leaves many of us feeling that leadership is out of touch with the needs of its workforce. A union contract will help us gain the collaborative voice we currently lack." 
Abiodun Falowo, an 18-year Fairfax County employee and SEIU Virginia 512 member, called the recent salary compression review a "letdown and a morale killer. Many of us with the CSB got little or nothing with the adjustment. Despite my 25 years of total experience, I'm below the 50th percentile of my pay grade," he said. 
All full Board of Supervisors meetings are 
televised on Channel 16
 and 
streamed live online
 with closed captions provided in English and Spanish. Meetings are also available to 
view on demand
 following the meeting. 
Learn more
 about the public hearing process.