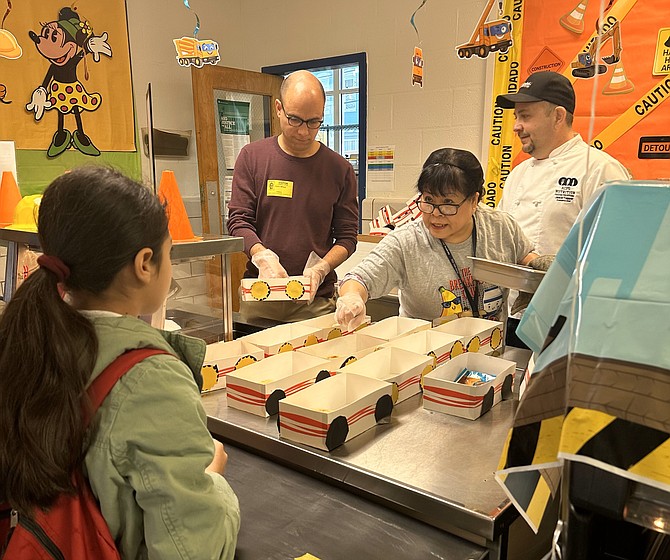 Students at Lyles-Crouch Traditional Academy enjoyed a special treat March 9 when Jason Tepper, executive chef for Alexandria City Public School, was on hand to personally prepare and serve that morning's breakfast meal as part of National School Breakfast Week.
"I have the wonderful pleasure to serve all of our children the most nutritious, healthy meals they will have from kindergarten through 12th grade during the day while they are at school." Tepper said. "It's a fantastic opportunity to also introduce new varieties of food. We want to make the food look appealing, more like what they are used to seeing at home."
National School Breakfast Week, which took place this year from March 6-10, is an annual event that highlights the importance of a nutritious school breakfast in fueling students for success. This year's theme was "Dig Into School Breakfast," with the Lyles-Crouch cafeteria decorated with construction cones and caution tape, hard hats, and a small construction site, complete with bulldozers, sand and rocks.
Tepper, who has been the ACPS Executive Chef for 2 1/2 years, was joined by Alexandria Mayor Justin Wilson, ACPS School Board Chair Meagan Alderton and Chadwick's Restaurant owner Trae Lamond.
Wilson stressed the importance of a healthy breakfast for students.
"In a school system where over half of our students receive free or reduced lunch, this is an important nutrition access effort for us as a system," Wilson said.
Tepper said that he enjoys working directly with students.
"We also introduce the kids to new foods," Tepper said. "We have a lot of fun doing this. We have tastings for our kids in all of our schools and the great thing is that the kids are really honest. They let me know right away with facial expressions or cheering what dishes they want to see." 
Numerous studies have shown that children who eat breakfast perform better in school and are less likely to experience behavioral problems. A healthy meal at breakfast provides the energy and nutrients necessary for students to focus and concentrate in class.
"We also slide things in that are plant forward and plant based," Tepper added. "We also try to sneak in an education about sustainability and decreasing our carbon footprint while providing them the healthiest, most nutritious meals they will have."
Tepper said that he strives for variety in his meal preparation.
"A typical breakfast may be a breakfast taco cup with hash brown potatoes, scrambled eggs or a plant-based protein like a vegan crumble and maybe some salsa," Tepper said. "Today we have a yummy biscuit egg sandwich. If kids are being driven through the Chick-Fil-A drive through for a chicken patty on a biscuit, we're going to have something that looks the same but is made from whole grains, less processing, lower sodium, and less sugar but is still very yummy. We want the kids to look forward to coming to school for their meals."