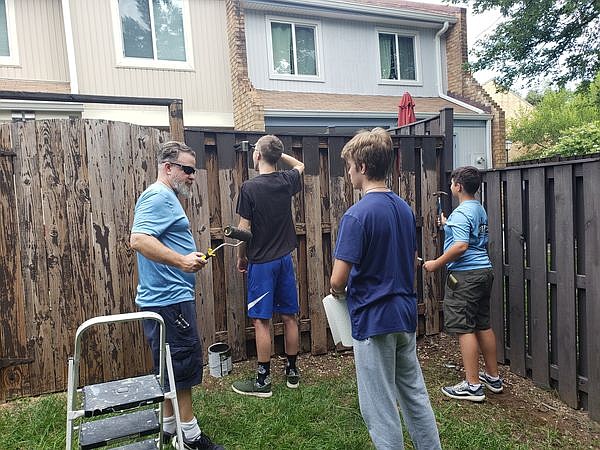 A house requires maintenance. Water floods the upstairs bathroom, causing damage to the ceiling below. Roof shingles are blown off. The front porch's wood stairs are rotting. But what solutions are available on the local and county levels for low- and moderate-income senior homeowners and those with disabilities who cannot afford the repairs? Must they watch their home deteriorate around them?
Jean Deavers' fence needed to be repaired. The homeowner's association had informed Deaver that she was in breach of the rules. The clock was ticking toward a fine, and unexpectedly, she found herself in and out of the hospital.
Cory Laws is the coordinator of the Town of Herndon's Neighborhood Improvement Program, designed to help certain homeowners maintain their homes' structure, appearance and value. Help is on the way for homeowners, even if they have received a Notice of Violation from the town or their homeowners' association. Laws is in charge of validating residents' requirements and eligibility for the Improvement Program.
Laws had collaborated with Deaver's on another house repair project under the town's HUD-funded Neighborhood Improvement Program.
Fairfax County has a similar program, with some differences, for seniors and people with disabilities that include home repairs and accessibility upgrades. The county will supply a team for up to one week of labor and up to $1,000 in materials to accomplish essential maintenance and upkeep. Materials are paid for through county and HUD federal money. All supplies and labor are offered at no cost to qualified homeowners.
According to Laws, Deavers was eligible for assistance. "She had a HOA violation with a deadline of July 24. "So we had a deadline of fixing by July 23, but I didn't have anybody who could react that quickly." Laws said that, although he had contractors, it did not look like they could do it this time owing to time restrictions and expense.
There are significant distinctions between repairs and upgrades. Upgrades boost the value of a home. No matter how simple, repairs may make a difference in a home's safety and usefulness and in preserving and safeguarding the homeowners' and their neighbors' investments.
Laws said his client recommended enlisting the help of boy scouts, which he approved. Laws posted the request on Facebook, and one of his friends, Jason Matchett, a mason and an assistant scoutmaster, answered, "I think we can help you."
One thing led to another. A mom created an online signup sheet, and nearly overnight, Laws had three willing and able scouts from BSA Troop 572 and Matchett to assist. The troop is chartered by Our Lady of Hope in Potomac Falls, VA.
"Our Scouts are always looking for opportunities to serve our communities. Not only do they earn service hours toward advancement, but it teaches the value of service," Matchett said. The scouts that participated got to witness the impact their effort had on Miss Jean, and that is invaluable," he added.
Laws called his client "lovely " because despite being unable to walk 10 yards without stopping, she had two chairs outside for the guys to relax. "She had two tables; one had a big bowl of snacks and drinks, and another table had supplies for them to wash up," Laws said.
The United States Department of Housing and Urban Development (HUD) awards grant funds through various programs that vary slightly depending on the jurisdiction, organization, or nonprofit seeking to undertake comprehensive programs assisting with repairs and safety-based functional home modifications such as safety bars and ramps.
It didn't take long for the scouts to complete the project promptly. "Oh, my gosh, it looks like a brand-new fence," Deavers said. "The quality of the work looks like it was done by professionals. I am humbled and blessed to be a recipient of this community service and to have met the lovely group of young people who offered it. Thank you, Troop 572. God bless you."
* Are you a Herndon homeowner in need of assistance? Contact Cory at cory.laws@herndon-va.gov to find out how he can help #Herndonva #Herndon #neighborshelpingneighbors.
* Are you a Fairfax County homeowner and needing home repair assistance? Visit https://www.fairfaxcounty.gov/housing/home-repair-elderly-program to learn more.