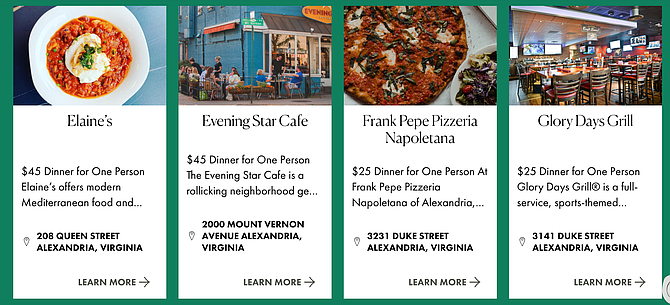 Take heart – there's still plenty of time left to enjoy summer! Here are four of the city's best food and drink events for August.
Alexandria Summer Restaurant Week, Aug. 18-27
It's a highlight of the summer for local foodies: Restaurant Week returns! Nearly 70 restaurants around town will offer up special tasting menus and deals for lunch and dinner ranging from $25 to $45 per person. Visit alexandriarestaurantweek.com to peruse the participating eateries and scope out their menus in advance. (And don't forget to make a reservation!) https://visitalexandria.com/restaurants/restaurant-week/
Bands and Brews Bar Crawl, Aug. 19
Del Ray's Bands and Brews Bar Crawl is back for a third year. More than 15 restaurants are taking part in making the crawl a success, featuring live music at each venue, food and drink specials, raffles, a photo booth and more. Not in the mood to stroll the avenue? Not to worry; trolley service is available. 12:30-6 p.m. Advance tickets $15; $25 at the door. Check in begins at 12:30 at Northside 10 (10 E. Glebe Road), Lena's Wood-fired Pizza and Tap (401 E. Braddock Road) and Pat Miller Square (2312 Mount Vernon Ave.). https://www.visitdelray.com/events/bandsandbrews/
Around the World Cultural Food Festival, Aug. 26
Take a tour of global cuisine without ever picking up your passport. Pile your plate high with samplings from a variety of countries, including China, Jamaica, Ecuador, Nepal, Turkey and more, and be sure to save room for a dessert from one of the more than half-dozen sweets vendors. Looking for a gift for that special someone? A plethora of arts and crafts shops will also be on hand to help you out. 11 a.m.-7 p.m. Oronoco Bay Park, 100 Madison St. https://aroundtheworldfestival.com/
Dog Days of Summer at Lost Boy Cider, Aug. 26
What could possibly make a day at the cidery even sweeter? Adopting a dog, of course! Lost Boy Cider has teamed up with the Animal Welfare League of Alexandria to help facilitate just that. Adoptable pups will be on hand for meet-and-greets, and local vendors will also be on site to provide all the accoutrements. Already have a pup and aren't looking to take on another? Bring your favorite Fido along and let him do some shopping (and splashing on the splash pad). 317 Hooffs Run Drive. 1-6 p.m. https://www.lostboycider.com/event/dog-days-of-summer/
Hope Nelson is the author of "Classic Restaurants of Alexandria" and owns the Kitchen Recessionista blog, located at www.kitchenrecessionista.com. Email her any time at
hope@kitchenrecessionista.com.