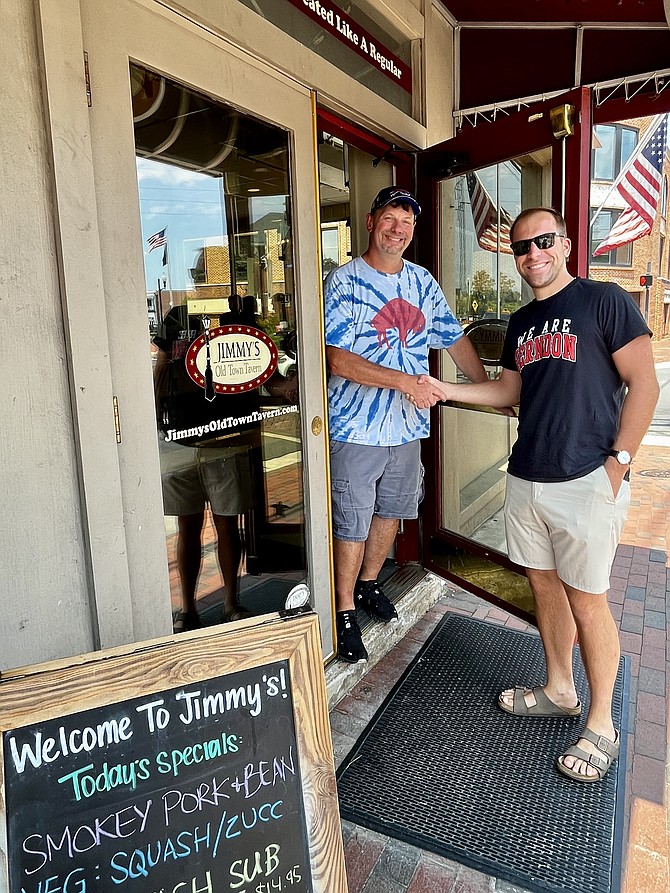 When Fairfax County Public Schools open on Aug. 21, there will be nearly a 30 percent increase in the number of schools participating in a U.S. Department of Agriculture program called the Community Eligibility Provision compared to last year. The program is a free meal option for schools and districts in low-income areas.
For the 2022-2023 school year, 34 of 198 Fairfax County Public Schools were in the program, being deemed part of the nation's highest-poverty schools. This year, 44 of the 198 Fairfax County Public Schools are in the program.
The upside to the harrowing statistic is that students enrolled at the public school division's 44 schools will be served a nutritious breakfast and lunch at no cost.
These 44 Fairfax County public schools will not collect household applications to qualify students for free or reduced-priced meals. There are no student meal cards that rack up a haunting amount of delinquent debt. No parents or caregivers will be notified directly via the school division's text messages, phone calls, or U.S. mail that their students have an outstanding debt. 
Such is the norm if there is delinquent debt; according to the Meal Charge Policy, 
At these 44 schools, no student goes hungry because they don't want to burden their families with a debt that follows them from elementary to middle to high school if unpaid by their families or through donations by organizations. All students at these 44 schools can grab any breakfast as they hurry into the buildings and later enjoy the same lunches everyone else has.
It is food access equity — no stigma, no shame. But what about the other 154 public schools in Fairfax County?
Federal Income Eligibility Guidelines determine eligibility for free or reduced-price meal benefits at all other schools. Applications are available online and at each school location. 
Concerns regarding federal meal program eligibility include that some families need help understanding the application process, others are humiliated to apply, and others have their applications denied. Fairfax County Public Schools does provide a review procedure. "Under the provisions of the free and reduced-price meal policy, Greg Rupert, Coordinator of Administration, will review applications and determine eligibility, states the Aug. 4 FCPS News Release.
Another concern is that the eligibility requirements for free and reduced-price meals are identical across the country. They do not account for the cost of living here. Households with four members and a maximum income of $39,000 are eligible for free student meals. Four-person households earning between $32,318.01 and $45,991 are eligible for reduced-price meals, which are also no charge.
The breakfast meal price for grades K–12 students is $1.75; qualifying students for reduced-price breakfast pay no charge. Lunch for elementary students is $3.25 and $3.50 for middle, secondary, and high school students; reduced-price lunch for qualifying students is free.
Foster children, who are the legal responsibility of a welfare agency or court, are eligible for free meals regardless of the household income with whom they reside. Children in the district who are members of households receiving Supplemental Nutrition Assistance Program benefits or Temporary Assistance for Needy Families or who are homeless, migrants, or runaways may also be automatically eligible for free meals. WIC participants may qualify for free or reduced-price meals depending on the household's income.
Free meals for all students and no application- Schools with Community Eligibility Provision
Annandale High

Annandale Terrace Elementary

Bailey's Elementary

Bailey's Upper Elementary

Beech Tree Elementary

Braddock Elementary

Bren Mar Park Elementary

Brookfield Elementary

Bucknell Elementary

Cameron Elementary

Centre Ridge Elementary

Crestwood Elementary

Dogwood Elementary

Forest Edge Elementary

Forestdale Elementary

Garfield Elementary

Glasgow Middle

Glen Forest Elementary

Graham Road Elementary

Groveton Elementary

Herndon Elementary

Herndon Middle

Hollin Meadows Elementary

Holmes Middle

Hutchison Elementary

Hybla Valley Elementary

Justice High

Key Middle

Lewis High

London Towne Elementary

Lorton Station Elementary 

Lynbrook Elementary

Mount Eagle Elementary

Mount Vernon Woods Elementary

Parklawn Elementary

Pine Spring Elementary

Poe Middle

Riverside Elementary

Sleepy Hollow Elementary

Washington Mill Elementary

Westlawn Elementary 

Weyanoke Elementary

Woodlawn Elementary




Woodley Hills Elementary
The total school meal debt in Virginia is $44,693,082. 
Teacher Works to Erase Student Meal Debt
This is not the first rodeo for Fairfax County Public School teacher Gabe Segal as he attempts to stay on top of student meal debt. This time, it is for his high school students. On Thursday, Aug. 17, Segal is holding a fundraiser at a local tavern and inviting guest bartenders at the legislative level: Delegates Irene Shin and Danica Roem (running for a State Senate seat) and Kyle McDaniel, candidate at-large for the Fairfax County School Board.
"Creating a partnership between educators and legislators is one of the few solutions. Together, we can raise funds and awareness for this ongoing issue that affects hardworking families," Segal said.
In January 2023, Segal collaborated with the nonprofit Educate Fairfax to raise money to pay off the ballooning student meal debt at one of the county's middle schools, where he taught. Segal asked local community organizations and businesses to help him, and he succeeded. Once again, Segal is collaborating with Educate Fairfax to raise funds and erase student meal debt.
"Let's reinstate universal free school meals, #Virginia," tweeted Roem. "When the federal government doesn't do its job, we have to do it in the states."
Schools cannot pay off meal debts using federal child nutrition funds. Schools may look to state, local, or charitable sources to try to offset the meal debt. The district writes off debts it cannot fund as operating losses.
The total school meal debt in Virginia is $44,693,082. The initiative adds, "Charitable funds and general district funds were the largest contributors to paying off meal debt, regardless of the school district size or the region of the U.S."
FCPS Meal Charge Policy states, "At the end of the school year, the Assistant Superintendent of Financial Services and the Food and Nutrition Services Director will evaluate all delinquent debt for conversion to bad debt. Bad debt will be restored to Food and Nutrition Services from the general fund prior to the end of the same fiscal year."
Segal aims to increase awareness that the student meal debt crisis is escalating. It is not only at the school where he teaches but across the county and the state. Many students who will owe school meal debt are part of households that earn too much to be considered for free or reduced meals but also earn too little to afford the meals.
According to the Education Data Initiative, updated July 8, 2023, there are 247,470 food-insecure students in Virginia. In Fairfax County Public Schools, just under 60,000 children qualify for free and reduced meals.
Cheers for Children, organized by Segal, is a Student Meal Debt fundraiser that will be held on Thursday, Aug. 17, 7 to 10 p.m., at Jimmy's Old Town Tavern, 668 Spring Street, Herndon, Va. Jimmy Cirrito met with Segal a few days before the event to coordinate details. 
Cirrito said Fairfax County is a "tough place for low-income families because the rent is very high around here." Some small businesses and others that employ may start new hires at or near minimum wage, which is $12 an hour.
Cirrito recalled that he was "One of those kids in the lunch line that others made fun of. … The students that had money would pick on the rest of us, and I couldn't get an ice cream because I didn't have the money."