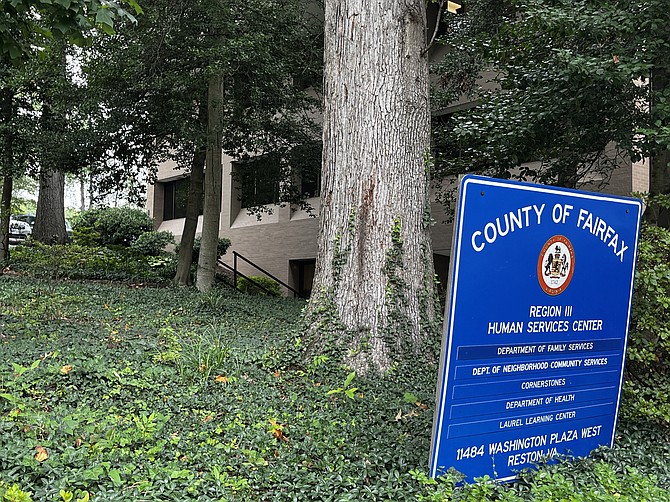 The Fairfax County Economic Development Authority promotes the Dulles Technology Corridor along the Silver Line of the Washington Metro system as a place where "individuals and families can thrive." Housing offers "a wealth of amenities." 
The Silver Line runs through a section of Fairfax and Loudoun counties, ranked among the wealthiest counties in the United States for median family income. According to the U.S. Census, Fairfax family median was $133,974 in 2022. Loudoun ranks first at $156,821. The hype is not the reality for all who call the area along the Dulles Corridor home. 
"Affordable housing is practically nonexistent here," said Margaret Anne Lara. She is vice president of marketing and communications at the nonprofit Cornerstones in Reston. Cornerstones has worked purposefully since 1970 to strengthen the community and help families living in crisis rebuild their self-sufficiency, resiliency, and hope
The organization is responding to this crisis by attempting to provide short-term emergency assistance, counseling, and programs. "It doesn't matter if the family lives in Loudoun or in Fairfax. There are families that are struggling to pay their bills," Lara said. "It is extraordinarily difficult to transition families from a shelter into housing. ... We're trying desperately to move families from hotels and individuals from the shelter, as are all the shelters across Fairfax County," Lara said.
"The [food] pantries are tapped out. If I need to feed my family, that means money's coming out of my electricity bill, and I can't pay my electricity bill. Or it's coming out of my rent payment, and I'm in jeopardy of being evicted. It's a Bermuda Triangle we're in right now for so many families," Lara said.
These same challenges—a lack of utility and housing payment assistance, in-process evictions, and unstable access to food donations — are causing multiple stresses for individuals and families and also for staff at non-profit umbrella organizations around Northern Virginia.
In two recent interviews, one on Friday, Aug. 4, and one on Monday, Aug. 6, multiple staff members at Cornerstones said resources are stretched to the absolute limit or depleted. Still, requests for assistance mount, stories of heartbreak abound, and it is exhausting.
"I've been here 21 years, and while I'm not trying to compare myself to a doctor in a war zone, I feel like it just never ends," said Courtney Park-Jamborsky, a member of Cornerstone's leadership staff and division director of Laurel Learning Center. "It's a constant trauma. Sometimes I wake up at night and feel tense. I say to myself, 'Well, what is it that's wrong with me?' I'm worried about these families. I'm worried about these kids. This is way more stressful than COVID. It's exhausting."
The goal is always to place someone in stable housing, Lara said. "It's that pyramid: if I have stable housing, then I can likely afford to put food on the table. Or we can help them in some financial way or get them government benefits so that they can afford stable housing and put food on the table, and then they can start to get the job skills that they need. So really, it's a very layered effect. But it starts with putting a roof over your head; until you have that, it's the instability that Courtney talks about," Lara said.
Families and individuals evicted from their homes, whether an apartment or a house, are deprived of their basic shelter, which is typically safe, sufficient, and convenient to their jobs and children's schools. Park-Jamborsky said that, up until now, she had never seen multiple families in the Laurel Learning Center program in Reston experience homelessness. And the stresses that parents face affect their children.
"Two families are homeless for the second time. When they're homeless, we start seeing a lot of behavior issues with the kids and anger. Parents are stressed out and have to prioritize their stress for the day," Park-Jamborsky said. Their stress indicator may be food or where they and their children land next. It is not their children's behavior."
Inadequate housing, being too far from jobs and education, and relocation negatively impact those pushed into eviction and homelessness. Cornerstones had funding for a hotel in Herndon to house people experiencing homelessness, but they cannot forever remain there. It is temporary housing, not permanent housing. 
Park-Jamborsky told of a single mother in Reston who is now homeless with her two school-age children and a baby. The children attend Laurel Learning Center. Cornerstones recently relocated them from the hotel in Herndon to the Katherine K. Hanley Family Shelter in Fairfax, approximately 12 miles away. With no vehicle, the mother Ubers her children to daycare and herself to work to get by. She has been offered a manager position where she is employed but cannot take it. She would have to work weekends, and she does not have childcare.
Minnie Orozco is Cornerstones' director of urgent needs and Herndon Resource Center operations. She predicts that in two weeks, Cornerstones will face large numbers of requests for utility assistance. According to Orozco, Dominion Power suspended disconnect notices for June and July. On Aug. 1, those collection notices started going out again to all those who cannot pay. "So I'm pretty sure that in one or two more weeks, we will be bombarded with assistance requests," Orozco said.
Orozco recalled a recent request from social workers in Fairfax County for utility assistance for a family who owed more than $3,000 on their electric bill. They have a child with special needs who must be connected to a life-saving machine. Fortunately, the family is on the do-not-disconnect list, but at the same time, they need to find the money to pay that bill.
Edwina Jackson is the division director of Homeless Services at Cornerstones. She oversees the day-to-day operation of the Embry Rucker Community Shelter, which serves singles and families. "We have an overflow at the hotel of 31 families, plus 11 families we serve here and 24 adults."
Jackson explained a recent incident where a mother and her adult son walked from Loudoun County to Fairfax County because aid sources were not available in Loudoun. They had heard Fairfax County could help.
Like migrants crossing the Mexican border looking for a better life, the son and his mother walked four days to get to Fairfax County and the Embry Rucker Shelter in Reston. "Her feet were so swollen. I've never seen anything like it before in my life." Jackson said. The Embry Rucker Shelter had no room, but Jackson offered the mother a mat on the floor. She refused. "She ended up in the hospital," Jackson said.
Park-Jamborsky shared a dream. That someone, an investor, or a business would supply the funds for Cornerstones to purchase a hotel to house the homeless. "I mean, we're talking millions and millions of dollars."
Support Cornerstones in their mission to "provide services and opportunities to help our neighbors develop economic stability, be empowered to provide for their families, and find renewed hope for thriving in our community." 
For details to donate supplies or food, see https://www.cornerstonesva.org/donations/wish-lists/
To donate funds, go to https://www.cornerstonesva.org/?form=Donation