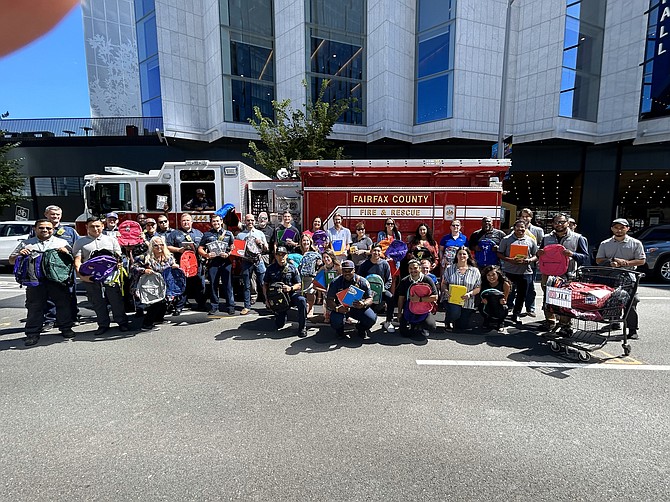 Representatives of more than 40 schools and nonprofits from across Northern Virginia turned out Aug. 17 at Penn Daw Station 11 for the Firefighters and Friends to the Rescue annual back-to-school backpack and school supply distribution.
Fairfax County Fire & Rescue Department and Firefighters and Friends to the Rescue partnered with numerous businesses and employee groups to give away over 1,100 backpacks with supplies to schools in Fairfax County. 
"Once again our sponsors came through this year to ensure that children will have the items they need to succeed this upcoming school year," said retired Deputy Chief Willie Bailey and founder of the event. "As always without their support this annual event would not be possible."
Volunteers helped nonprofit and school representatives select new backpacks filled with school supplies for distribution to underserved students across the county.
"So many families are helped tremendously by this backpack drive," said Anastasia Morgan, a counselor at Washington Mill Elementary School.  "For a lot of families, it relieves the stress, knowing they can rely on their schools to look out for them and get them the resources that they need. For many families we are the first point of contact if they need something."
Twins Madden and Maks Savitteree, seventh graders at Seneca Ridge Middle School, have been volunteering at the event since they were in pre-school.
"We enjoy coming here and being a part of helping other kids," Madden said.
David Broder, president of SEIU VA 512, was a volunteer at the event.
"Fairfax is a wonderful place to live, work and play because working people come together and take care of each other," Broder said. "It's wonderful to see union members from the fire department, from our school system, from our county's mental health system coming together and making sure that all our kids can thrive and have an amazing school year ahead."
Bailey said that sponsors and volunteers were especially generous this year.
"Our sponsors and volunteers really stepped up for us, including Capital One and The Clifton Community," Bailey said.  "Capital One made a monetary donation and collected over 100 backpacks with supplies for us."   
Sponsors for the event include: Capital One; Apple Federal Credit Union; Ken Savitteree Foundation; The Clifton Community; Nationwide Credit Corporation; Promax Realtors; Local 2068; Fairfax County Fire Retirement Association; Progressive Firefighters Of Fairfax County; Fairfax Education Association (FEA); SEIU VA 512; Mediocrity Inc.; Mount Vernon Gazette; Firefighters and Friends to the Rescue and Primo Family Restaurant.
"Apple Federal Credit Union is very passionate about helping out the community," said representative Amanda Aikins-Kwakye. "We thought this would be the right opportunity to come out and help by giving backpacks to less advantaged students."
Added Broder, "Every one of us would want our kids to have a new backpack to get excited about the school year. It's great to see the community come together to see that every kid has that experience."
To learn more or to donate, visit www.ffandfriends2therescue.org.