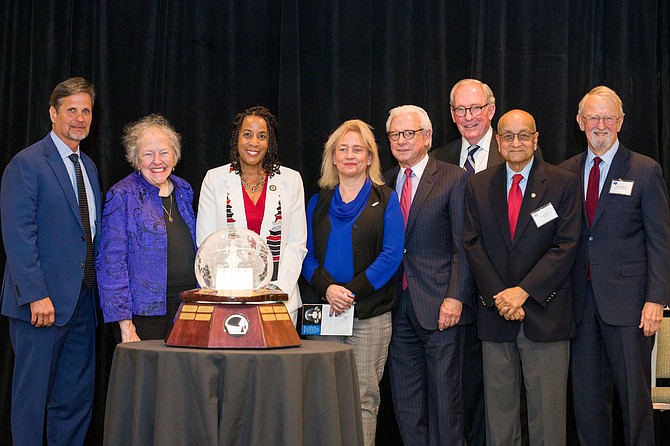 The Washington Airports Task Force (WATF)  presented the Silver Line with the 2022 Williams Trophy during its annual general meeting on Friday, Jan. 20. According to the event program, "The Williams Trophy is awarded to recognize those whose leadership, vision and dedication in the application of aviation or space has enriched the quality of life on earth."
The award recognizes how people in the region collaborated and took the initiative to make rail service to Dulles a reality. It commemorates the work of Carrington Williams (1919–2002), who, among his many accomplishments, was responsible for creating the Virginia Port Authority and transforming Washington Dulles into a major international gateway.
John Milliken, chairman of the Williams Trophy Selection Committee, presented the 2022 award to Fairfax and Loudoun counties, Herndon, MWAA, and WMATA. Metrorail service was extended to Dulles International Airport and ten other stations in Fairfax and Loudoun counties by the Silver Line.
"I am especially pleased to be here on behalf of Chairman Jeff McKay and the Fairfax County Board of Supervisors — past, present, and future," Fairfax County Board of Supervisors Vice Chair Penelope Gross said. "With a fully connected transit infrastructure to Dulles, the economic engine that is Fairfax County and Northern Virginia will be even more robust as we move together into the future – a future that once was a dream of planners and previous Boards of Supervisors," Gross said.
Sheila Olem, mayor of the Town of Herndon, said the Silver Line is transformative, affecting and expanding employment opportunities for residents. "This is going to be the engine that drives our economy here in Herndon," Olem said. "But we're going to keep the downtown as our heart and soul."