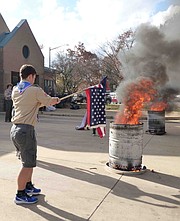 American Legion Post 1995 in Centreville recently conducted its annual U.S. Flag Retirement Ceremony at Fire Station 38 in Centreville. Many of the flags were collected at Fairfax County government centers; each has a collection box near their entrances. Other collection points include some fire stations, plus American Legion and VFW posts. 
According to United States Code, "When a U.S. flag is in such condition that it is no longer a fitting emblem for display, it should be destroyed in a dignified way, preferably by burning." 
More than 1,200 unserviceable flags were properly disposed at this ceremony as a tribute to the U.S. flag and its symbolism. Each folded flag was burned individually while American Legion members, Boy Scouts, the Fairfax County Police Honor Guard, and firefighters saluted. 
Participants in this year's retirement ceremony included six members of Post 1995, led by Commander Jim Robison and Sergeant-at-Arms Mark Miller; five members of the Police Honor Guard, led by Lt. Deanna Weand; nine members of Fire Station 38, led by Capt. Marc Staubinger and Deputy Fire Chief John Walser; and nine members of Boy Scout Troop 1995, led by Mark and Dawn Winkler. 
"This year's event was significant for two reasons," said Post 1995 Adjutant Steven Hunter. "One, our post collected the largest number of flags in its history; and two, Boy Scout Troop 1995, which the post sponsors, provided two new burn barrels specifically constructed for this purpose."  
The standard, 55-gallon, steel burn barrels the post had been using for many years were at the end of their useful life. So a post member contacted the Boy Scout troop to see if a Scout would build two, new barrels for this year's ceremony, as an Eagle Service Project. And they had to be specially designed to reduce smoke.
The flags burned at this ceremony were made mostly of cotton. Since 95 percent of flags manufactured today are made of polyester or nylon, which may emit toxic smoke and fumes when burned, most of the flags collected were to be disposed of at the Covanta Waste to Energy plant in Lorton at a future date. 
"An interesting find while folding the donated flags was a 4x6-foot, 45-star flag in fair condition, considering its age," said Hunter. "It's between 115 and 126 years old, as Utah was admitted to the Union in 1896 and Oklahoma, in 1907 – the latter being the 46th state. The post is exploring whether a local museum may be interested in this flag for its American history collection." 
The Fairfax County Fire Department recorded the Centreville ceremony on the ground and in the air. For more photos, visit https://teelphotographyllc.smugmug.com/Flag-burning-ceremony-FS438. To see the drone photography and video, go to Flag Burning Ceremony @ Fire Station 438 - YouTube.