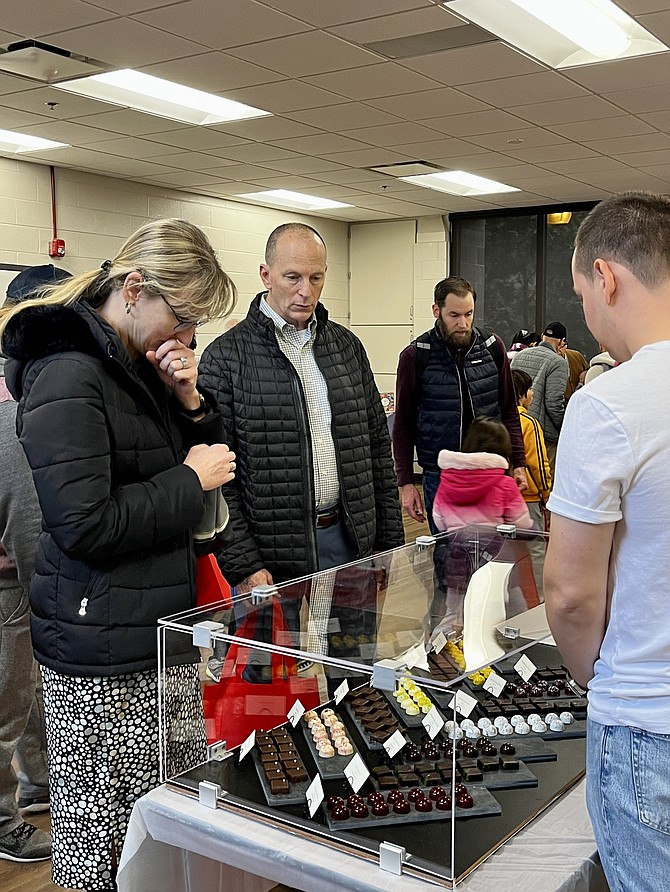 The McLean Community Center turned chocolate town on Sunday, Jan. 29, for the Eleventh Annual McLean Chocolate Festival. Organized by the Rotary Club of McLean, the family-based event raises funds for local and international organizations, projects, and disaster relief while promoting the club and McLean businesses.
Former club president and event organizer John P. McEvilly of McLean said the Chocolate Festival had 14 vendors this year, up from nine in 2022, when it raised $24,000.
"We raise most of our money, either through sponsorships … and ticket sales," McEvilly said. He hoped for $28,000 or $29,000 from Saturday's event.
McEvilly named Homestretch, Inc. in the club's ten 2023 recipient efforts. The organization gives local homeless families skills and knowledge to find permanent housing. McEvilly said, "Last year, we took ten homeless families off the streets by buying beds."
Timber Lane ES in the Fairfax County Public Schools McLean pyramid is another 2023 recipient. The club has supported it before. "We read books to these children, and we give them each three books they can take home. For some of those kids, they receive their first books."
Alexandria's William and Lyuba Dixon admired one vendor's sweets resembling glossy marbles in the chocolate-filled community hall. The Dixons traded $1 McLean Rotary Foundation taste tickets for the sweets. McEvilly said the club gets 25 percent of ticket sales and vendors 75 percent.
The Peevy family of McLean, mom Crystal, and children Alice, 11, Jackson, 14, and Henry, 7, took their time browsing vendor tables. Jason Liu, 7, of Vienna, was nearby and undecided. This was Jason's and his mother Jing Tao's first festival experience.
McLean 4-year-old Kian Sodagari played Legos in the kid zone at the festival with 17-year-old volunteer Emi Curtis.  She is a member of the TJ Keyettes Club, a service group at Thomas Jefferson High School that supported the event.  Face painting called McLean 6-year-old Mica Stadsklev to volunteer Mia Bakal.  Rotary International is sponsoring Bakal's Georgetown University exchange from Sarajevo, Bosnia. "We help host her for the program," said McEvilly.
In 2023, as part of the club's international projects, it funds humanitarian projects for Afghan and Ukrainian refugees. To learn more about the 
Rotary Club of McLean
 or make a donation, visit its website.