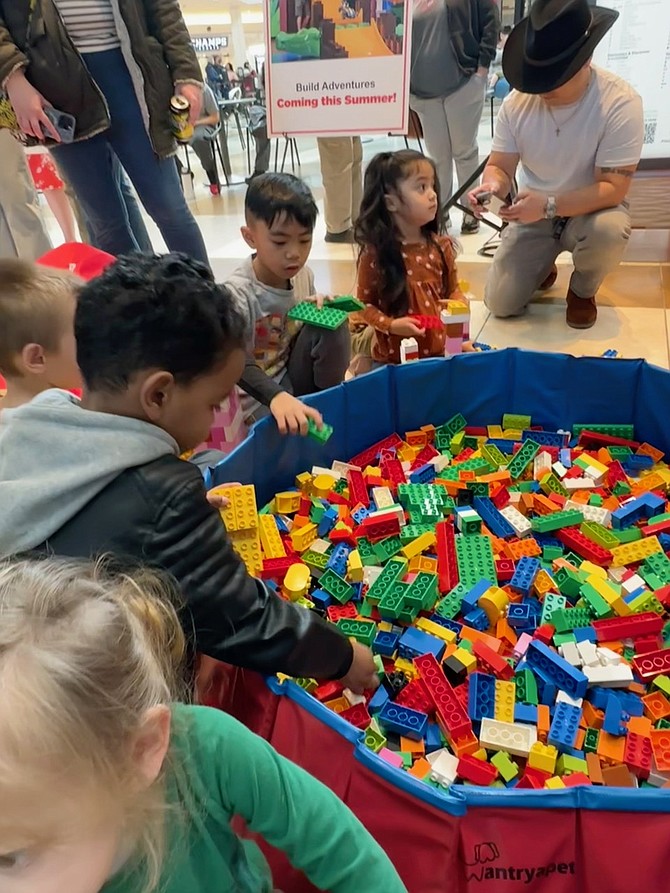 It's a Peter Pan sort of job. One almost doesn't have to grow up. Although being an adult is one of the requirements. Far from the usual job competition for far from the usual job, the last stage of hiring consideration was held for candidates chasing this dream job of a lifetime before a crowd of interested well wishers at Springfield Town Center on Saturday. The job — Master Model Builder at the new LEGO Discovery Center Washington D.C., opening this summer at the mall.
Saturday's competition, called the "Brick Factor" was the last step for 14 
candidates vying for the position. They are the 14 selected, out of an initial 129 applicants, who submitted a written application, a video of their LEGO build skills, and had a telephone interview before being invited to the Brick Factor. They came from around the metro area and from more distant states, including New Jersey, Michigan, Indiana, and the furthest, from Washington state. Some had shaky fingers, some were calm, as they assembled objects during two rounds of builds. A third, final round, determined the winner after judging by LEGO staff, local personalities, and the kids' team of Mini Master Builders (see companion story)
During the judging, spectators and groups of supporters cheered for their favorites. Other spectators availed themselves of the opportunity to build their own creations … without the hazard of stepping bare-footed on blocks or having to return blocks to the toy box.
The winning candidate, making it through three rounds of building LEGO objects, sometimes while dancing, is Andrew Litterst. As chosen Master Model Builder, Litterst will be a key member of the team at LEGO Discovery Center with responsibility for designing, building, removing, installing and repairing all models at the attraction — including the Mini World models. He will also deliver creative workshops as part of the immersive experience designed to allow more family learning-through-play activities. 
The LEGO Group was founded in Billund, Denmark in 1932 by Ole Kirk Kristiansen, its name derived from the two Danish words Leg Godt, which mean "Play Well." Today, the LEGO Group remains a family-owned company headquartered in Billund. Its products are now sold in more than 130 countries worldwide.