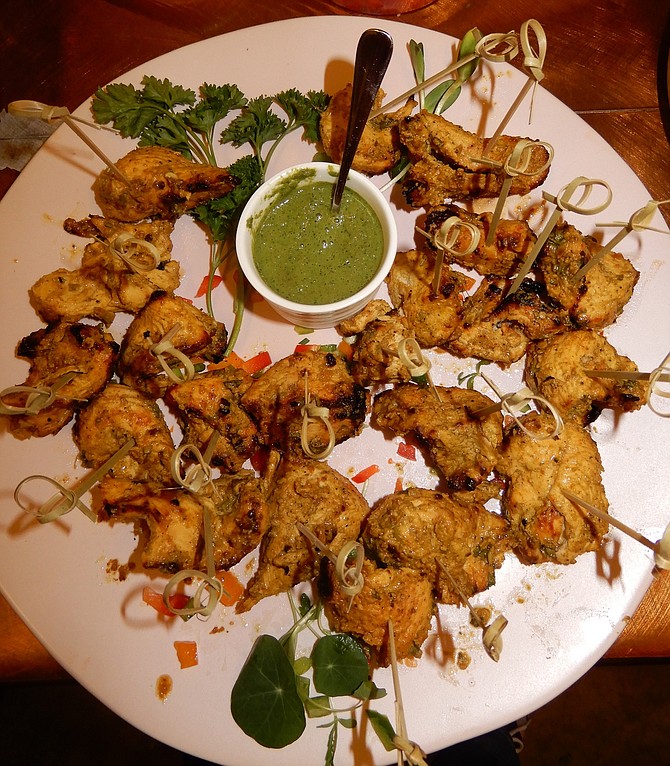 APPETITE
Indochen.jpeg
Visit Alexandria
Mai_Thai_CREDIT_MEnriquez_for_VisitAlexandria.jpeg
M. Enriquez for Visit Alexandria
Augie-s_Mussels-.jpeg
Visit Alexandria
Aldo-s-Pizza.png
Visit Alexandria
Your 2023 Winter Restaurant Week Preview
<1b>By Hope Nelson
<2b>Gazette Packet
From mussels and more to Italian, from Indian to Chinese to Thai, there are plentiful options for every palate in this year's Winter Restaurant Week. Dozens of Alexandria restaurants are taking part in the event, which runs from Jan. 20-29. Scope out the specialty menus and see what kinds of deals you can enjoy – but in the meantime, here are four picks to get you started.
Augie's, 1106 King St.
More than just mussels: Augie's offers a wealth of menu options, and the eatery is showing them off on their Restaurant Week menu. For $35 per person, choose an appetizer from a laundry list including pretzels and beer cheese, French onion soup, one of two different side salads and more. Next select from a half-dozen entrees: jambalaya pasta, ribeye, steak and frites, and, yes, a trio of mussels. Finish everything off with a sweet treat – for my money, the apple tart looks mighty fine.
Aldo's Italian Kitchen, 2850 Eisenhower Ave.
Tucked away off Eisenhower Avenue, Aldo's is putting its menu in the spotlight with this week's offerings. For $35 per person, diners can choose between a Caprese salad or the soup of the day for a starter; New York strip, grilled grouper or lobster ravioli with vodka sauce for a main course; and spumoni, black forest cake or cannoli to tie the whole thing together. Dine in, or take a seat outside on the heated patio for some extra al fresco time.
Indochen, 4906 Brenman Park Drive and 1625 King St.
Looking for Indian? Chinese? The best of both nations? You've come to the right place. Whether you're in Old Town or Cameron Station, Indochen's Restaurant Week menu offers a plethora of options to suit your whims. For $25 per person, select from an appetizer ranging from kale chaat to vegetable Manchurian to an Indochen dumpling; then choose from entrees such as butter chicken, palak paneer and chow mein; and finally enjoy gulab jamun, rice pudding or rasmalai as a sweet treat.
Mai Thai, 6 King St.
Or maybe you're feeling more like Thai than Indian or Chinese. Mai Thai is here for you. For $25, whet your appetite with vegetable tempura, chicken ginger salad or "golden two" – fried calamari and fried tofu. Then dig in to a choice of Bangkok fried rice, trio chili basil or crispy noodles Jae. Wine comes at an additional cost, but why not lift a glass and toast to the evening (or afternoon)?
Hope Nelson is the author of "Classic Restaurants of Alexandria" and owns the Kitchen Recessionista blog, located at www.kitchenrecessionista.com. Email her any time at