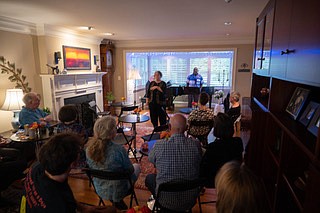 If you weren't in a particularly romantic mood on a hot Thursday night and the words "being in love" hadn't entered your mind for a while, "Concerts at Norwood" did away with that "love scrooge" in about five minutes. Stirring the emotional pot until the audience succumbed to what might otherwise have been a workaday evening on a street in Ashton Heights, Saxophonist Vaugn Ambrose and pianist John Ozment allowed the crowd to enter their jazz dialogue. The house on Norwood Street where they were playing is all about the love of music, food, and friends, and it is the intimate setting many musicians love. 
Once again, Beth Lewis opened her home to 30 or so people for a concert by serious - in a good way - musicians. That hostess Beth Lewis lets others into her home in a traditional "salon" evening is a gift. The concert is free, donations are welcome, but most times, she doesn't cover expenses. Guests didn't just get to hear the jazzy sounds of Ambrose and Ozment, they got to ascend into another dimension. A good jazz duo is like that; it's a little magic. 
The theme of the program was "Expressions of Love" and featured songs such as "I've Got You Under My Skin" by Cole Porter, and "All I Ask of You" by Andrew Lloyd Webber. They also premiered a piece by David Van Wagoner, composed in the style of the jazz great Charlie Parker. 
Lewis has long been an active member of the DC metro area music community, singing and working in support of many local groups for 35 years. She frequently provides rehearsal space in her beautiful home which was restored with that purpose in mind, and founded "Concerts at Norwood" in 2017. In June she received an award from the Choralis Foundation honoring her for her outstanding contributions to choral music.
Lewis, who studied to be a chef, prepared a spring menu for the evening, beginning with a delicious "make your own" Salade Niçoise bar - better than any Salade Niçoise because of her little add-ons - and ending with an Italian lemon olive oil cake and coffee. There was plenty of good wine being served by a helpful friend. Small tables encouraged meeting new friends. 
In addition to being an outstanding saxophonist, Ambrose and his wife Robyn (also a musician) created their own concert series in 2018, The Yellow Door Concert Series based in Alexandria. "Our mission is to bring communities together to experience live art music in a way that is a look back in time, to the parlor concerts of the early 20th century. We recognized a clear need to create small intimate listening opportunities for musicians and audiences to gather and share."
Ozment is a jazz performer, composer and educator living in Washington, D.C. He is currently an Adjunct Professor of Jazz Piano at the University of Maryland where he earned his Masters Degree in Jazz Studies in 2004. Ozment has taught at American University, the Jazz Academy of Music and the Washington Jazz Arts Institute. He has performed with Bobby Hutcherson, Jon Faddis, Marlena Shaw and Maceo Parker, to name a few, and recorded with artists such as Buck Hill, Peter Fraize and Davey Yarborough. 
Ambrose is also the Director of Jazz at St. Stephen's & St. Agnes Upper School in Alexandria. He has been the recipient of numerous teaching honors with many years of teaching in Alexandria schools, and you can just tell he was probably that band director who inspired many a budding musician. Vaughn has performed in concert with many well known artists, including Jon Faddis, The Spinners, The Temptations, Lou Rawls, Aretha Franklin and Gladys Knight. He has performed at the Montreux Jazz Festival in Switzerland, and the JVC Jazz Festival in New York City. But you would never have known that as he stood in Beth Lewis' living room humbly and happily sharing his sound with Ozment….and Lewis' happy guests.
Both Ozment and Vaughn can be heard on music streaming platforms. To learn more about the Yellow Door Concert series, see:https://yellowdoorconcertseries.com/
For more on the Choralis Foundation, see: https://choralis.org/