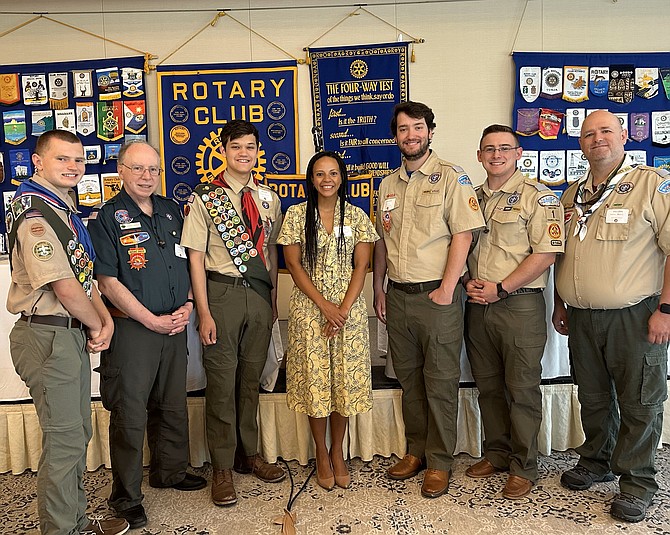 It's the summer of 1942 in the mythical small town of Eufaula Springs, Texas. The members of the local garden club—happily married Bobrita (Ann Hilleary), happily many-times-married Glendine (Joyce Tuscher), spinster Violet (Carole Preston), and widowed Laura Lee (Tricia Politte) — are filling their time with gossip when their meeting is interrupted by the arrival of a stranger.
Ima Jean (Victoria Rose) is a frazzled 18-year-old who has just stumbled off the bus with plans to marry her infantryman fiance before he ships off for World War II. Despite that said fiancé is nowhere to be found at the moment, the women impulsively decide to throw the couple an elaborate wedding, and their lives and friendships are thrown into turmoil as they race to accomplish the nuptials in one frenzied afternoon.
Directed by Bob Sams, the 90-minute comedy by Alan Bailey and Ronnie Claire Edwards first premiered off-Broadway in 2009.
"What first drew me to this play is that it is funny," said Sams. "It is touching without being maudlin. It is about people who when faced with a choice always choose to help rather than ignore a problem, not because it is 'what they ought to do' but because it is their natural way of behaving."
Set against the backdrop of WWII, "Wedding Belles" is a lighthearted play showcasing a "Golden Girls" comedy cast of friendships.
"I hope that the audience will laugh and enjoy themselves watching these characters fuss about," said Politte. "But I also hope the audience takes away that when bad things happen, sometimes we just have to accept that we can't change them, but if we adjust, we can still find joy in our lives. And it's a gift to have friends who are willing to help you."
Added producer Marg Soroos, "This is a story of relationships and the interactions of women who have known each other for many years. They still hold back and need to resolve inner conflicts and turmoil."
The entire play takes place on a veranda, which posed a challenge for Soroos.
"The biggest challenge that I had as a producer was the set," Soroos said. "We literally built a clapboard house board by board. It was a real challenge and we are very proud of the results."
The cast of characters includes Laura Lee as a take-charge woman who hides behind busyness — hosting the annual garden club gala and collecting for the war effort. Glendine is the often-married romantic who keeps relying on love as her way to happiness. Bobrita is the slightly shrill older sister with an eye for others' flaws and Violet is the frail younger sister who has never quite taken charge of her own life.
"A major challenge is found in the structure of the play," Sams said. "It has many elements of farce which require a rapid pace while still allowing the audience to keep up with what's happening. The play also has some rather emotional scenes which must be handled with care to give them the honesty they deserve."
The show opens on July 7 and closes on July 23. Tickets can be purchased online at www.acctonline.org.
"Besides having good laughs and enjoying the play, I wish every individual watching the play thinks of and appreciates the presence of their friends in their lives," Tischer said. "Sometimes we take friends for granted not realizing how much those friendships enhance our lives."
Wedding Belles, July 7-23, Aldersgate Church Community Theater, 1301 Collingwood Road, Alexandria, VA 22308 www.acctonline.org