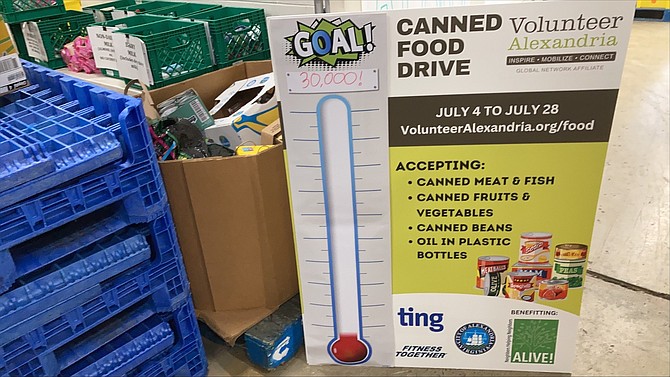 Volunteer Alexandria is hosting a City-wide food drive during the month of July. Sixteen collection boxes are located through the City from Beatley Library to Fairlington Presbyterian Church to City Hall. All of the food collected will be donated to ALIVE!'s food program. ALIVE! is the oldest and largest safety net in the City of Alexandria dedicated to fighting poverty and hunger. The goal is to make this an annual summer food drive.
A thermometer sits on Payne Street which is being used to record food donations. "The goal is to collect 30,000 pounds of food to benefit families during the summer months when normal contributions of food are down," according to Jen Ayers, Executive Director of ALIVE!. "Since the beginning of the pandemic we've seen a tremendous increase in the number of Alexandrians seeking food assistance." 
Ayers says 12-15,000 people each month receive basic groceries. "It is comparable to the peak of the pandemic." She adds that the uptick isn't just kids who are out of school for the summer. "Free lunches for school kids are offered at 5-6 places around the City."
Ayers says that luckily ALIVE! has been able to keep up during the summer months but the shelves are beginning to look bare and they are trying to forestall running out of food. She explains the operation many volunteers including drivers to pick up the food at the collection sites, to sort and pack it into boxes for distribution as well as translators to help clients understand what is available. "We have translators for Spanish, Amharic, Urdu and lately Pashto."
ITEMS TO DONATE: 
The list of accepted items includes;
canned meat and fish
canned vegetables and fruits
canned beans such as red and black
oil in plastic bottles
Financial contributions are also welcome to purchase needed food.
WHERE to drop off donations:
Barrett Library - 717 Queen St, Alexandria, VA 22314
Beatley Library - 5005 Duke St, Alexandria, VA 22304 
Burke Library - 4701 Seminary Rd, Alexandria, VA 22304 
City of Alexandria/City Hall - 301 King St, Alexandria VA 22314 
Department of Community and Human Services - 4850 Mark Center Dr, Alexandria, VA 22311
Department of Beer and Wine - 2724 Richmond Hwy, Alexandria, VA 22301
Duncan Library - 2501 Commonwealth Ave, Alexandria, VA 22301
Fairlington Presbyterian Church - 3846 King St, Alexandria, VA 22302
Fitness Together - 300 N Washington St, Suite 106, Alexandria, VA 22314 
Old Town North Community Partners - 901 North Royal St, Alexandria VA 22314
Sixteenth Tabernacle Beth-El - 634 N. Patrick St, Alexandria, VA 22314
The Goodhart Group - 106 N Lee St, Alexandria, VA 22314
Venue Condominium - 925 N Fairfax St, Alexandria, VA 22314 
Volunteer Alexandria - 2202 Mt. Vernon Ave, Alexandria, VA 22301 
YMCA Alexandria - 420 E Monroe Ave, Alexandria, VA 22301
Zweet Sport - 727 N Henry St, Alexandria, VA 22314
Volunteer Alexandria is a non-profit organization that serves as a link between volunteers and local area organizations in need of support. For more information: www.volunteeralexandria.org.