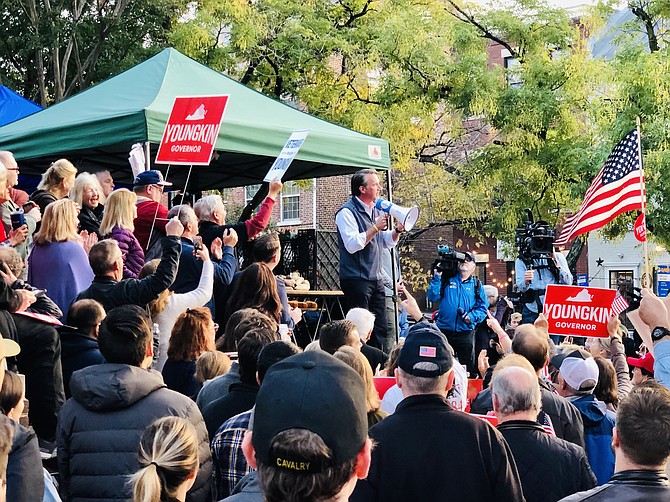 Alexandria School Board members aren't saying much about how they plan to respond to a controversial new model policy from the Virginia Department of Education, which denies the ability of students to decide which pronouns and names they prefer at school. Board members did not respond to multiple requests to be interviewed for this story, although School Board Chairwoman Meagan Alderton issued a brief written statement.
"The board has not yet had a chance to discuss this policy in detail," said Alderton in the written statement, which was distributed by administration officials at Alexandria City Public Schools, who also declined to be interviewed for this story.
The new document released this week prohibits teachers from referring to a student by a different name or pronoun unless parents request it in writing. The long-awaited new model policy was a campaign promise for Republican Gov. Glenn Youngkin, who campaigned on a platform of parents' rights in 2021. It also says students should be required to use bathrooms that match the gender on their official record, even if it conflicts with their gender identity.
"We are very thankful that the governor stuck to his campaign promise and approved these policies defending the rights of parents," said Family Foundation Vice President Todd Gathje in an interview this week. "It's important that we not allow government and government schools to interfere with what they are teaching at home."
Critics say the new model policy is a threat to the privacy and safety of transgender students, and they are urging school board members across Virginia to reject them. They say an important precedent was set after the Gov. Ralph Northam issued a model policy that said schools should respect the names and pronouns preferred by transgender students. Many school divisions already had similar polices, and most school divisions failed to consider them at all. A handful of conservative school boards voted explicitly to reject them.
"You can't have it both ways. They are either suggestions and they're optional or they're mandatory and we all follow them," said Del. Marcus Simon (D-53), who introduced legislation that led to the previous model policy. "I think the precedent has been set that these things are sort of at the discretion of the school board."
NOW SCHOOL BOARDS across Virginia are facing an important choice. Should they adopt a policy in line with the governor's new model policy and deny students the ability to make decisions about their own gender identity? Or should they simply ignore the new model policy altogether? Former Education Secretary Atif Qarni says he's been hearing from school board members across Virginia who are trying to figure out how they want to respond. He says it's important to remember that the model policy is more of a suggestion that lacks the force of legislative command.
"They don't have to adopt these policies at all. They can do some components of them or they could keep the 2021 components if they adopted them in the past. They can flat out ignore them as well," said Qarni. "In order for school divisions to follow exactly what the state says, there has to be an actual bill that passes and it has to say specifically how the pronouns are supposed to be done and how parental notification has to be done. Those things were never laid out in a bill."
School Board members in neighboring Fairfax County have not been as shy as members of the Alexandria School Board to defend the rights of transgender students.
"The Youngkin administration's attacks on transgender students and their families are unconscionable and dangerous," said Fairfax County School Board member Karl Frisch, one of three LGBTQ school board members in Virginia. "We must do everything we can to protect, support, and affirm transgender and nonbinary students so they can focus on learning rather than being distracted by the weight of other people's hate. That starts with standing up to careless political leaders who should know better than to bully children."