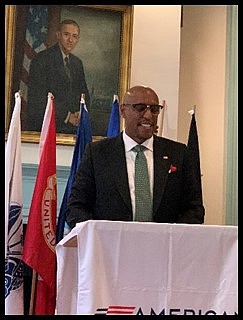 Medal of Honor recipient Paris Davis, an Alexandria resident and one of the first African American officers to lead a Special Forces team in combat, was a special guest at American Legion Post 24 for the organization's May 29 Memorial Day ceremony.
"Post 24 holds its annual Memorial Day service to honor and remember the great sacrifices made on the altar of freedom by our military men and women," said Post 24 Commander Mike Mixon.
Due to the threat of rain, the service was moved from Alexandria National Cemetery to the Post 24 ballroom adjacent to Gadsby's Tavern. The keynote speaker for the event was The Honorable Donald Remy, Former Deputy Secretary, U.S. Department of Veterans Affairs.
Davis, a retired Army colonel with 30 years of service, was the distinguished guest of honor. He was presented with the Medal of Honor by President Joe Biden during a ceremony at the White House in early March. Mixon presented Davis with a proclamation honoring his service.
Chaplain Dick Evans provided the invocation and benediction; Civil Air Patrol Cadet Zoey Carlos sang the National Anthem; Timothy Park from Bugles Across America played Taps; Auxiliary Unit 24 representative Amy Soller recited Flanders Fields; Martin Menez representing VFW Post 609 provided brief remarks about the VSOs stationed at the Alexandria National Cemetery; and James Sanders from the VA's National Cemetery Administration at Quantico provided remarks about the significance of the Alexandria National Cemetery.
"Donald Remy and Col. Paris Davis remained after the service to meet those in attendance and pose for photographs," Mixon said. "It was an honor to have them with us."
Davis will be honored at a special ceremony June 17 at The Captain Rocky Versace Vietnam Memorial Plaza in Del Ray. The event is free and open to the public. It will begin at 11 a.m. For more information, email Kevin Rue at forv59@gmail.com.