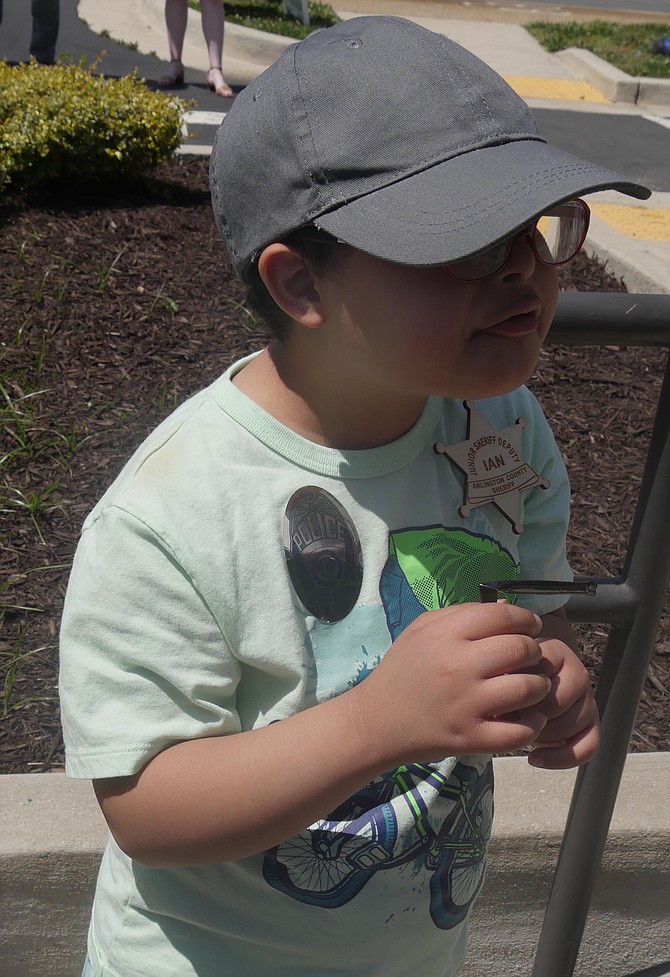 Arlington County police spilled out the front door of Compass Coffee on Langston Boulevard and onto the sunshine blazing on the steps outside at the recent "Coffee with A Cop" event on May 31. Residents took advantage of the over 20 officers at the event to voice their concerns and express thanks for the work of the ACPD.
Eight-year-old Ian Rodriguez stands out front in the middle of a group of police officers sporting his junior sheriff deputy badge. His mother, Ivette, says Ian has Down Syndrome and comes to all of these events. "He loves the police."
Jennifer Weller stands inside the door chatting with corporal J.P. Montoya. Weller is from Falls Church but grew up in Arlington, and two of her kids went to Yorktown High School and W&L. "I come here to sit and work about once a week. I saw all of the police outside and thought something had happened." She was pleasantly surprised to have a chat instead with Corporal Montoya "to catch up on what's happening in Arlington these days."
"Things are good here," he says. "You don't have shootings every day like some other places." Montoya points out a lot of what happens are crimes of opportunity by the community, "Like when people leave their car running or their garage doors open or leave something valuable sitting out in plain sight."
Montoya, a Hispanic officer,  was appointed several years ago as a police liaison to South Arlington. He says that often he has to overcome suspicions among residents who live there because in some of the countries where they originated, the police are not necessarily to be trusted. He said he has probably 20 contacts a day with different people — they can be positive, ok or bad, "like if you give them a ticket." But it's easy for the bad interactions to reverberate and overcome everything else. And, he adds, if police do something bad in Guatemala, it carries over to perceptions in Arlington.
Officer Matt Kingsbury says everyone has their own niche, and his is traffic duty. "I get dispatched to calls but when I have some time I like to sit for 20-30 minutes in the complaint areas we go after." If things are slow, he says he picks up and finds another place.
Corporal Patrice Malone says most of the people who had questions for her were concerned about whether petty crime such as larceny had increased and about departmental hiring challenges.
The ACPD holds a number of outreach events during the year such as the holiday "Fill the Cruiser with Toys," the fall school supply drive, and collection of supplemental food for needy families. The ACPD Community Outreach unit was established to promote communication and build trust between the community and the police officers.