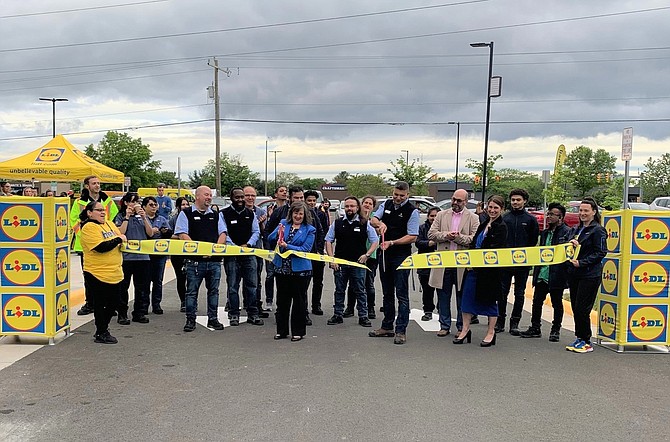 Looking for a freshly baked hazelnut croissant, some popcorn with olive oil and sea salt or, perhaps, a colorful bouquet of flowers? Lidl has all those things and more, and it's now in Chantilly.
This popular chain opened its newest grocery store, May 3, in the Chantilly Crossing shopping center. It's at 14445 Chantilly Crossing Lane, off Route 50 and Lee Road. It's the 33rd Lidl in Virginia and seventh in Fairfax County, including a store in Fairfax.
"Lidl started in Germany in the 1970s and now has over 12,000 stores across the world," said Lidl US spokeswoman Chandler Spivey. "There are more than 175 stores in the U.S., with over 20 of them in the Washington Metropolitan area. Northern Virginia is definitely a focus area for us, and we opened in Chantilly because customers asked us to. We'll also open stores in Lorton and Tysons later this year."
The Chantilly Lidl is some 29,000 square feet and has about 40 employees, including local residents. "It's smaller than traditional grocery stores to make it a simple and efficient shopping experience for people," explained Spivey. "For example, instead of carrying 10 brands of catsup, we'd have three."
That way, she said, customers aren't overwhelmed with so many choices. "They also know we have high-quality and low-priced products," she added. "About 80 percent are store labels, and 20 percent, national brands. And we're always making updates to our products. We ask customers what they're looking for and take their feedback seriously so we can offer the favorite products our customers love."
Describing some highlights of the new store, Spivey said, "Our bakery is a standout, with items baked throughout the day. We have everything from croissants to breads and pastries. And our fresh produce is one of the first things you see as you enter the store. We offer both conventional and organic options, and the quality is checked all day long to meet the standards our customers have come to expect."
She said Lidl also prides itself on its floral department – that comes with a freshness guarantee for its roses and lilies. "If they wilt before seven days, you can return them for a replacement and a refund," said Spivey. "We really stand behind our quality."
The Chantilly store is open seven days a week, from 8 a.m.-9 p.m. But with so many other grocery stores around, why choose Lidl? "Our prices are lower than normal," replied Spivey. "We don't think you should have to pay more for fresh, high-quality items. Having about 3,500 products on our shelves, compared to some 20,000 in other stores, also helps keep our prices lower."
Customers thronged to the grand opening, were delighted with the selection and were generally pleased with the new store. 
"The bakery is so awesome," said Aldie resident Chitra Joshi. "I bought chocolate croissants and some freshly baked bread, vegetables, bananas, milk and crackers. I like the quantity and quality of everything."
"We've been dying for this place to open," said Michelle Kirkpatrick of Herndon. "We used to go to a Lidl in Ashburn. We love the fresh bread, the prices and the variety of products. And you can always find something unique. There's always a surprise, like jams and different things, and the quality is really good."
Her 7-year-old granddaughter, Alana, was also excited about the Chantilly Lidl. No surprise, she said, "I like all the sweets and snacks especially, and the cheesy popcorn."
Chantilly's Roxie Rahnama was pleased, as well. "It's really nice here," she said. "I'm buying a French baguette, Colby-Jack cheese and some lettuce. This store is convenient to us and has really good groceries and a nice variety of food."