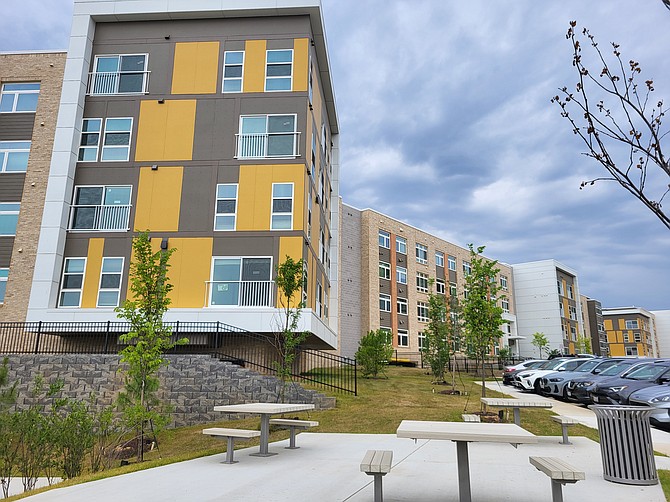 On Wednesday, June 14, the ribbon was finally cut on the new Residences at North Hill housing development in Hybla Valley and the new community is a big plus to an area inundated with apartments, fast food and quick shop retail that once characterized this part of Mount Vernon.
Everyone at the June 14 ribbon cutting admitted that this moment was a long process. The project started in 1981 when former Mount Vernon Supervisor Gerry Hyland was involved, and that piece of land was purchased for $5 million. "It was a long, long road to make this happen," said Hyland, one of the speakers at the event. He noted the people in the surrounding community that came together over the years as did Supervisor Dan Storck (D-Mount Vernon).
"We are a community that cares deeply," Storck said. "We have invested in the future of our families right here." The pricetag was $113 million, Storck said, and the funding drew on 14 sources to come up with the money.
"Fourteen has to be a record," said Fairfax County Chairman Jeff McKay.
McKay grew up in the same area along Richmond Highway and knows the area well. It was once home to the Nightingale Trailer Park, Shakey's Pizza and the Fancy Dancer nightclub. McKay noted that this type of housing is needed not only in Mount Vernon, but other places as well. 
"We need affordable housing in every corner of the county," he said.
One thing in the way of the development, a geological trait they call marine clay that has been cited in many projects throughout Mount Vernon. At North Hill, there is a big wall to hold back the clay, which Patrick Stewart at Penrose LLC knew all about. "It's extremely challenging to build on," he said, pointing over at the huge wall they constructed to hold back the land on the north end of North Hill.
Pennrose partnered with the Community Housing Partners, Fairfax County Board of Supervisors, Fairfax County Redevelopment and Housing Authority (FCRHA), and project partners to complete the Residences at North Hill, the affordable multifamily rental component of the large-scale revitalization transforming 34 underutilized acres off Richmond Highway. 
The brand new community adds 279 high-quality, affordable apartments for families and seniors to this site, which also includes a 12+ acre public park and 175 for-sale townhomes, project information said.
All 279 units at Residences at North Hill will be affordable for people at 30% to 60% of the area median income (AMI), roughly $29,900 to $59,820 for a one-person household, the county information said. The community includes a mix of one-, two-, and three-bedroom apartments across five, four-story garden-style buildings.
Residents will have access to a host of on-site community amenities, including a community room, fitness center, recreational plaza, playground, landscaped grounds, on-site management services, and the public park. The community is located near shopping, dining, and entertainment, and within a mile of services and amenities, including banks, pharmacies, grocery stores, and health services.
Embarking on Embark
This is an improvement to an area formerly home to the Nightingale Trailer Park in the 1970s and 1980s, and many commercial properties that abut the high-speed traffic on Richmond Highway. The speed limit has been reduced in recent weeks for safety, and there have been other improvements under the umbrella of the Embark Richmond Highway project to improve the whole corridor.
North Hill site is a piece of the Embark puzzle that is coming together for a multi-faceted project promoting revitalization along a 7.5 mile segment of the Richmond Highway Corridor. This revitalization is highlighted by a series of mixed-use activity centers supported by a Bus Rapid Transit (BRT) system. Other features of Embark include pedestrian and bicycle improvements, open space and park systems, and ultimately a three-mile extension of the Metrorail Yellow Line from Huntington to Hybla Valley, according to the plan description.
The segment for this area where the park will be located is labeled "Lockheed Boulevard." The other eight segments are the Huntington, Penn Daw, Beacon Hill, Hybla Valley, Gum Springs, South County Center, Woodlawn and Fort Belvoir. One of the five guidelines for urban design in the Embark plan is to cluster housing around transportation nodes like the future Lockheed Boulevard BRT station.