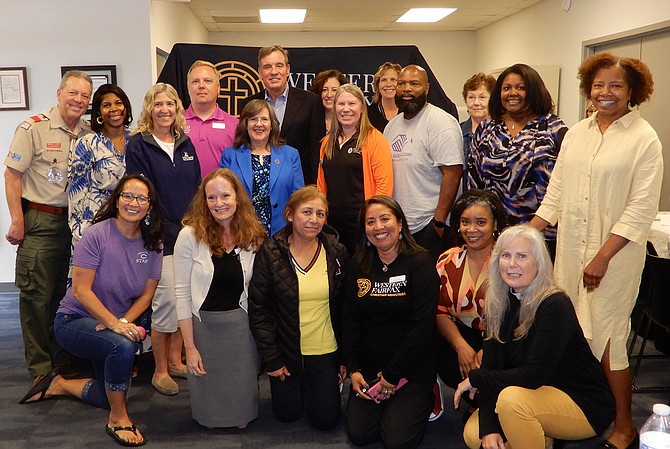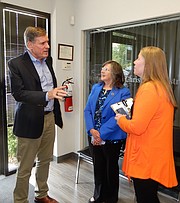 Nonprofit Western Fairfax Christian Ministries (WFCM) serves 4,500 residents in nine western Fairfax County ZIP codes. With the community's support, in FY 22 it provided nearly 1 million pounds of food, equal to more than 458,745 meals.
It also gave families in need more than $4.6 million in emergency rent and utility assistance and, through a partnership with Greater DC Diaper Bank, provided 427,075 diapers. So it's no wonder that U.S. Sen. Mark Warner visited WFCM's Chantilly food pantry last Friday, June 16, to learn firsthand about this local success story and local need.
Warner toured the client-choice food pantry with WFCM Executive Director Harmonie Taddeo, heard from community members who benefit from WFCM's services, and participated in a roundtable discussion with WFCM leaders and partners about their current and future needs, plus their challenges and solutions in addressing food and housing insecurity in this area. 
"It's really extraordinary what you do," said Warner after the tour. "Harmonie showed me every product with loving pride. Even in a wealthy community, there's a need for food."
Indeed, WFCM's clients can earn no more than $75,000 for a family of four and must live in its service areas, including Centreville, Chantilly, Clifton, Fairfax, Fairfax Station, Oak Hill and Herndon. And in FY 22, 81 percent of these households earned no more than $55,500 for a family of four. 
They schedule appointments to pick out groceries from the pantry every 30 days, aided by WFCM's bilingual staff, since about half of the clients speak Spanish. The offerings include both fresh and shelf-stable food, plus culturally appropriate items such as masa flour and halal meat.
The local faith community and other organizations help WFCM carry out its job. For example, Taddeo told Warner, "We have partnerships with Britepaths for its financial classes, Grace Ministries for clothing and household goods, and Cake for Kids, which provides custom-made birthday cakes. We work with the Capital Area Food Bank to connect us with area grocery stores and can also get USDA emergency-assistance food at a reduced price."
Thanking Warner for the federal government's help during the pandemic, Taddeo said the COVID-19 relief funds authorized by Congress and supported by him enabled WFCM to bolster its services. It used this money to purchase refrigerators for locations throughout its service area, renovate its food pantry with freezers and walk-in coolers, and buy two commercial vans – one, refrigerated. These funds also helped WFCM provide food, rent support and other essential services to area residents.
"We have 11 refrigerators in schools, plus three others at the Boys & Girls Club in Chantilly, the Centreville Labor Resource Center and the Sully Community Center," said Taddeo. "And at our pantry, we serve about 500 families a month. The amount of groceries they receive depends on the number of people in their family. Today, a family of seven will walk out with 25 bags of food."
Since it's difficult for Centreville clients without cars to shop at the Chantilly food pantry – and the demand in that area is growing – WFCM opened a second pantry in Centreville on June 6. "Some 66 percent of our clients are employed," said Taddeo. "But if you're sick and off work for a week, you can't pay your rent or buy groceries."
The pantry encourages people to select healthy food but lets them decide. Green, yellow and red labels on the shelves signify, respectively, "healthy, eat in moderation, and eat less" of particular items. Everyone receives toilet paper and soap and may choose one other toiletry item per family member.
"Every week, 110 volunteers pick up donated groceries from stores, stock our shelves and bag groceries for our clients," said Taddeo. "Having refrigerators enables us to buy milk, eggs, cheese and butter in large quantities."
She even showed Warner the outdoor containers with compost used to fertilize a small garden outside the Chantilly facility where kale, spinach, etc., are grown. In the warehouse, Taddeo said the annual, Boy Scout food drive yields about 55,000 pounds of food for WFCM. "It used to last us six months," she said. "But now, because we're serving more people, it only lasts three months."
Taddeo pointed out the freezers, plus the insulated blankets used to keep food cold during drive-through distributions or deliveries. Also touring, Supervisor Kathy Smith (D-Sully) told Warner, "I don't know what we'd do without WFCM. It's really a group, community effort."
Then, inside WFCM's office, Warner met with about a dozen of its partners, including Fanny Carrillo, whose business, Tango Empanadas & Bakery, supplied lunch for them. Taddeo said Carrillo was able to start it and "pull herself up from poverty" with help from WFCM to establish a relationship with a bank, build credit and obtain a microloan, plus business classes via Northern Virginia Family Services.
Warner and Carrillo conversed in Spanish, and she told him, "It's hard for a single mom with three kids to make it. But because of this opportunity, I was able to get help and start my business." And he agreed that people should have access to bank loans when their money falls short.
Taddeo then introduced each partner and explained how they help WFCM. For example, she said, "The Rev. Lynn Miller of King of Kings Lutheran Church partners with us in our school backpack program. Chris Holland represents Wegmans – an amazing donor to us, and Keisha Dotson of the county's Neighborhood and Community Services (NCS) had Fastrans buses pick up food for WFCM at food drives and deliver it to us."
Michael Adere, who's headed Sully District's Scouting for Food drive for 18 years, told Warner, "We all have a passion to help people in need in our community. I tell the Scouts, 'The people you're helping could very well be your classmates and neighbors.' Thank you, WFCM, for being here, because every year the need gets bigger."
Keith Kimble, director of the Boys & Girls Club in Chantilly, praised WFCM's free-food refrigerator there. "Our kids are hungry," he said. "But WFCM stepped up and provided so many meals, snacks, fruits and veggies for them, and they love it. We're eternally grateful."
Chantilly High social worker Dana Condemi said WFCM's Free Food Fridge program has been "going strong" there since 2021 and "has really de-stigmatized food insecurity. And when we had summer school, I reached out to Wegmans and got more food from them."
"WFCM also supports our work-readiness programs at Chantilly for kids with intellectual and learning disabilities," continued Condemi. "Working at the food pantry stocking shelves, etc., has empowered them so much and helped prepare them for the workforce."
NCS Equity Program Manager Ramona Carroll noted that WFCM influenced other food providers to offer client-choice pantries. And, she added, "Harmonie pushes us to think more creatively and stretch the bounds of what's possible." 
And Lisa Rueda, with FCPS's Region 5 Early Childhood Assessment Program, explained how WFCM helped cut through red tape to quickly enable 25 families in need to have holiday meals. "I reached out to Harmonie and told her our families were struggling," said Rueda. "And she said, 'Let's come up with a new plan and a new way to support them.'"
Food pantry manager Kristine Hurt told Warner she hoped he'd learned what good use WFCM makes of every dollar it receives. And he replied that he'd take that message back to Congress.
"Thank you, guys," said Warner. "Every one of you could probably be doing something else for your personal families; but instead, you're helping your community. You're giving me more heart to go back to work Tuesday and get back in the fight."