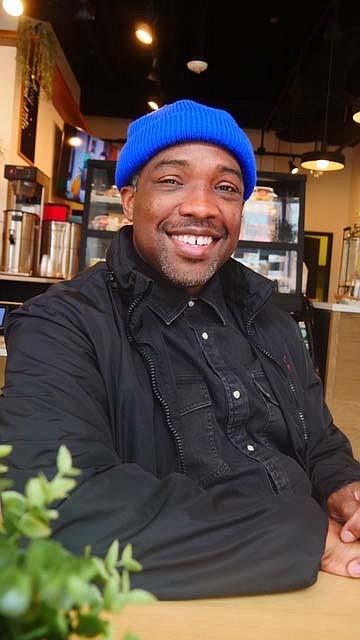 Photos by Shirley Ruhe/The Connection
Photo by Shirley Ruhe/The Connection
Arl032123-400-
Arl032123-401
James Beard-nominated Chef Rahman "Rock" Harper at Queen Mother's restaurant on Columbia Pike in Arlington.
Arl032123-402
Heat pure canola oil with frozen duck fat
Arl032123-405
Press breast firmly into seasoned flour, then submerge chicken breast into canola plus duck fat
Arl032123-406
Remove golden brown chicken breast after five-to-six minutes
Arl032123-407
Authentic brioche bun
Arl032123-408
Chef's special "the Classic," customer favorite
Local Chef Nominated for James Beard Award 
Queen Mother's Restaurant in Arlington owned by chef Rock Harper, Alexandria native.
 By Shirley Ruhe
Arlington Connection
Chef Rahman "Rock" Harper is wedged in a communal kitchen space on Columbia Pike in Arlington between a woman making tres leche cake and a Ukrainian cook making cheese and potato pierogies. This is where Harper produces the "best chicken sandwich you have ever tasted" at Queen Mother's Restaurant.
Harper recently learned that he has been nominated for a James Beard award for best chef Mid-Atlantic region. He said,"I couldn't understand at the time. I was busy."
Today Harper is making "The Classic," the customer favorite, and his as well. Harper says he starts with the best premium chicken breasts you can find.
"I brine the skinless chicken breast in salt water with some seasonings and brown sugar. You can use white sugar but I like brown because of the slight molasses taste." He explains, "Brining is all about changing the meat. White meat is dry, so by osmosis, brining can retain more moisture."
Next Harper dips the chicken breast in seasoned flour and then in a little pickle juice mixed with water. Then press the chicken into a mixture of Sir Galahad artisanal flour, sea salt from Italy, fresh ground pepper, smoked paprika from Spain, garlic and onion powders, and a little bit of rice flour. "See how I press down on the chicken in the flour mixture to make it stick? Most people don't do that, and the mixture falls off." He adds that his grandmother used to use a paper bag.
Harper also keeps the seasoning flour cold. "I just gave you a little secret. I'm not science-y or anything. I don't know. I just think it has something to do with putting cold into hot."
Harper says he uses the rice flour to make the chicken light and crispy and so it absorbs less oil. "I don't want it greasy. No one wants that. I want it golden brown and delicious."
Today Harper is making the chicken extra special by using a cast iron skillet instead of the deep fryer he usually uses for the restaurant orders. "It's just better." Harper pours pure canola oil into the skillet, then adds two scoops of frozen duck fat to give it a rich flavor. He turns the heat up and waits a couple of minutes for the oil to warm up. Every so often he dips a food thermometer into the oil to test the temperature. "Hmmm 235 degrees. It's got to be 350 degrees. One of the big mistakes people make is temperature."
The oil is bubbling, and Harper makes one last temperature check. He slips the seasoned chicken breast into the oil until it is submerged. "Five to six minutes." Harper will turn the chicken once even though it is covered with oil in the skillet. "Otherwise it would get a little brown on the bottom." He says no one wants medium rare chicken so he carefully monitors the internal temperature until it reaches 165 degrees, then removes the breast to a drip rack. "See, no grease." And he adds that he changes the oil often and doesn't use additives to keep the foam down or to extend the shelf life.
Harper butters each half of a Lyon brioche bun on a moving roller. "People think brioche is all the same but all brioche doesn't taste the same. This is the best. They should have a control designation like for champagne where you can only call it brioche if it meets certain high standards."
He arranges the chicken breast on the brioche and ribbons his secret sauce back and forth. "I can tell you the sauce has catsup and Japanese Kewpie mayo and some spices that we won't talk about." Then he adds several dill pickle slices to the top. "On mine there would be 6-8; I'm a big pickle fan."
Harper says he doesn't like to use eggs with his chicken breast to make the crust. "I don't like the eggy taste; it's just personal." He says he doesn't use buttermilk either, which adds dairy.
Harper says the concept behind his chicken is community, care and culture. "A lot of chefs have their stories but one thing I noticed you don't really see it reflected. You just hear the story; I said let's put it out front." He said he grew up in Alexandria and his mom was a big part of why he opened this restaurant, to create a space to honor his African-American culture.
But when he grew up fried chicken was a celebratory dish. The chicken he remembers from his childhood was not chicken sandwiches. "It was chicken on a budget. When you were feeding a whole family, you had to use the whole chicken. It was more efficient."
Harper is pleased to be recognized with the James Beard nomination but he says being a cook for over 25 years, recognition comes and goes. His past credentials include winning in the third season of Hell's Kitchen, serving as Celebrity Chef to the March of Dimes and nomination for the RAMMY award in 2020 and 2021 as "Hottest New Sandwich Shop."
"It always feels good to be applauded. I feel good about the work I've done. But if I can show up as my authentic self and someone sees that, it's cool. But, he says, "Awards are not the measure. The core values are for the guests and the employees." At one point the goal was to win all the awards. Now it is to do what is in his heart. "Seventeen years ago working at Union Station no one would even think about giving a black chef an award."
The James Beard nomination list will be narrowed down to the finalists on March 29 and the award announced in June.