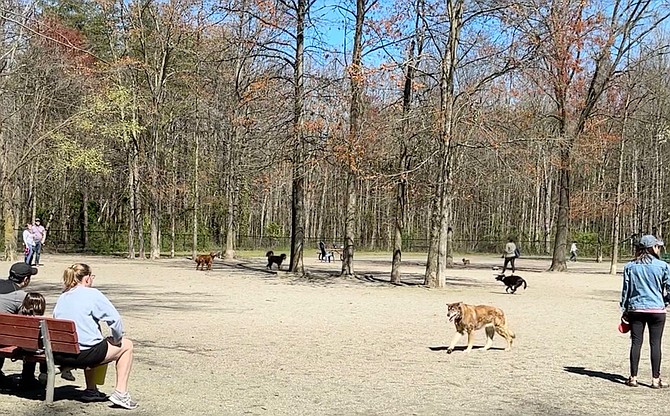 In what's become a dogs' rite of spring, held most years since 2015, Supervisor Dan Storck's Ides of Bark presents an opportunity to enjoy the arrival of the milder season with the company of your family pup at an event billed as "the ultimate event for you and your four-footed friend." 
It seems we all feel a certain light bounce in our step with the arrival of warmer weather and pastel spring flowers. Fellow walkers passed on the trail are more likely to be brandishing open warm smiles and the dogs at their sides have shed their padded designer doggie coats, and seem to have a bounce in their steps as well. And at spring's Ides of Bark, it's all about the love of dogs.
Supervisor Storck says, "Spring is about new life, connection, and new opportunities. Key for all of that is meeting and connecting with each other. Dogs are one of the best ways we do that." Plenty of pups were on hand to facilitate those community interactions inevitable when dog owners meet. 
Held at Grist Mill Park on Mount Vernon Highway, the Ides of Bark, this year on March 26, had music, vendors, pet oriented demonstrations, free admission, and plenty of treat sampling. Ides provides the chance to interact with vendors and shop their pet themed wares and services, often while your pup is sampling a courtesy dog treat or two.
One of the treat bakeries attending with sample wares was Pawfectly Delicious Dog Treats, a non-profit organization in Alexandria, founded in 2017. The bakery employs people with developmental and physical disabilities and takes pride in providing meaningful work while celebrating each person's gifts, talents and abilities. Their jobs provide work that connects them with the community and provide dogdom with more delicious treat options. Their products can be found online at www.pawfectlydelicious.org. 
The event was not an opportunity for all dogs attending to relax, play, and eat treats. Some were there on the job. Fairfax County Police dog, Duke, attended with handler Mike Scatchard. Although Duke was not actively working during the event, he could be called to duty as needed to track a missing person. Nearby, Ggideon, a three year old Belgian Malinois, a member of the Army's Fort Belvoir military police team was exercising, attending with two of his canine team mates. Ggideon is a patrol and explosives detection dog, who also can perform bite work.
Along with family pets, and police and military working dogs, several rescue dogs were at work as well. They strutted through the area displaying their "looking for a forever home" bandannas and collars. Their behaviors showed how perfectly suited they could be to the role of family dog if only given the opportunity. 
When not hosting Ides of Bark, Grist Mill Park boasts a full acre off-leash dog park as part of its 75 acres. The dog park is shady in summer with grassy edges and a surface that prevents muddy conditions. The dog park earned a four out of five bones rating with "BringFido," a pet travel brand. Human family members can enjoy Grist Mill's playing fields, playgrounds, garden plots, trails, forest area, and in the summer, a free concert series. A recently renovated grassy area improves the picnicking prospects there. If you missed Ides of Bark this year, your pup will praise you for sniffing it out the next time a young dog's fancy turns to thoughts of tender spring grasses.