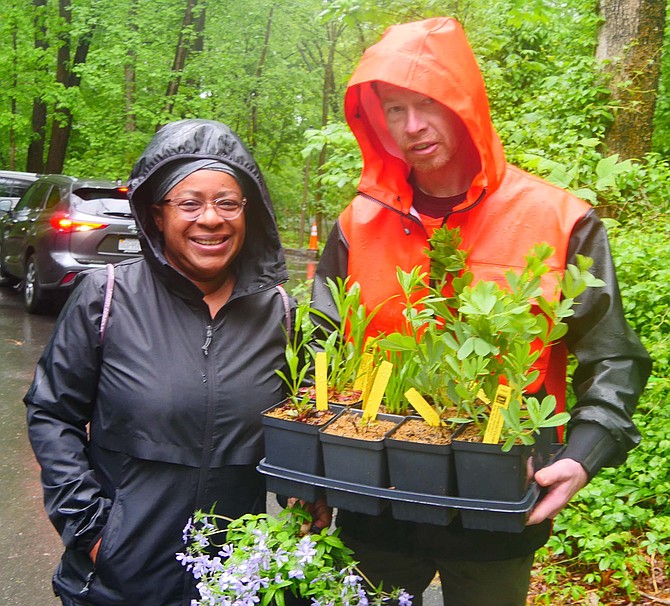 Cars squeezed through the single lane road at Long Branch Nature Center and Park on Sunday headed to the native plant sale with windshield wipers clicking back and forth. Each buyer had a specified time slot to accommodate the small parking lot, and volunteers rushed back and forth to car trunks dodging raindrops with plant-filled cardboard boxes.
Plants have been organized by buyer on long tables with numbers, and volunteers help locate and load plants on red children's wagons or carry them to the vehicles in the parking lot. Leanna Pletcher, a naturalist aide, says, "We worked for days on this."
The volunteers at the check in table say they have a good crowd despite the heavy rain.  Kelly Barnes says, "If you garden, this is what you do." She says she is putting the sedge grass, white coneflowers and ironweed in her backyard where it is shady.  I'm building a woodland rain garden. You've got to go with what the property gives you."
Pletcher carries a cardboard box of Cardinal flowers and garden phlox to a car trunk already loaded with plants. 
Miranda Carter stands in the rain with her partner Michael Nelson, both with rain hoods covering their heads. Carter says she comes to the plant sale every couple of years. This year she is looking for plants that thrive in the sun since a big tree went down in the backyard. "Now there's no shade; we had to adjust."
Meg Hathaway, a Virginia Master Naturalist, has been working in the rain all morning. She says she especially likes the programs offered at Long Branch and often volunteers there—for instance the recent campfire program which ended up with S'mores. Who can have a campfire without S'mores?"
The Long Branch plant sale offered 50 varieties of plants from Beardtongue that attracts hummingbirds and bumblebees to orange coneflowers, cardinal flower, Virginia bluebells and sea oats. Native plants take less maintenance and they provide food and habitat for the native species of birds, butterflies and other creatures that co-evolved with them. Native plants are needed to provide a host for insects like caterpillars that are essential for birds to feed their young. Ecologically appropriate, native plants are also able to withstand hot summers and cold winters.