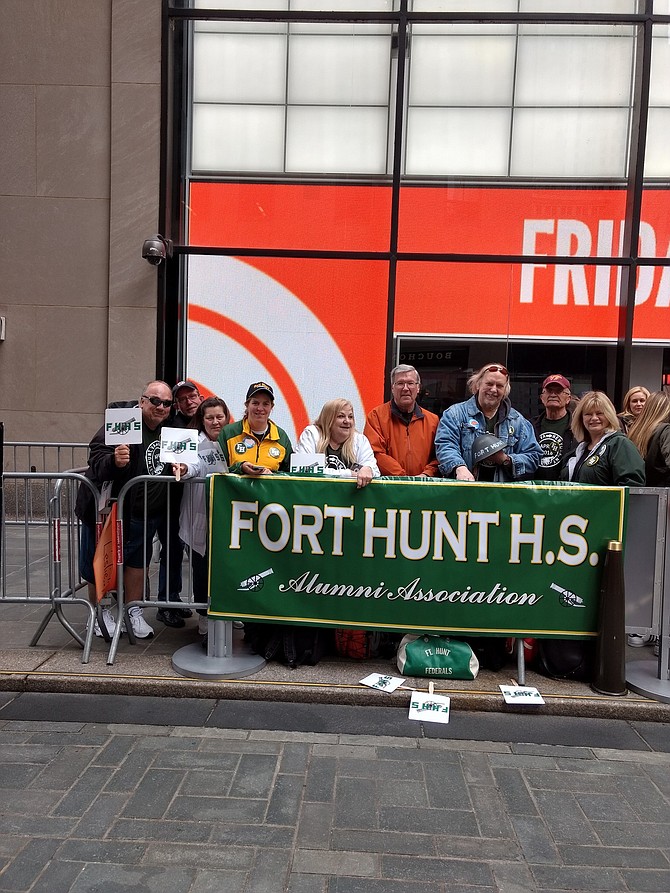 When you find out a fellow high school alum becomes a big star on a national talk show in New York City, what do you do?
ROAD TRIP!
That's what a pack of alums from Fort Hunt High School did in 2018 to see Hoda Kotb, the co-star of the Today show and a 1982 graduate of Fort Hunt High School. Keith Flanders was amongst the group that piled on a Greyhound bus to make the trip. It was an all-nighter, and they arranged to be there at 4:30 a.m. to get a spot out front by the window in Rockefeller Center where they displayed the school colors.
"We'd been planning this for two or three months, a chance to get Fort Hunt's name out there," Flanders said.
The name got out there at 30 Rock with their banner and waves when Hoda appeared at the window. "At the 8:30 break, we made plans to meet her," Flanders said. At that time, her co-host was Savannah Guthrie and when they went for breakfast, "she came too," he added.
The Fort Hunt group basked in the moment during the show, which they could see through the window of the television studio. It was April though, and the weather wasn't ideal so after it was all over, the plan to get back to Virginia wasn't really solidified. Some jumped on the first bus they could while others either stayed for the night or knew someone in town.
One alum, Janice Lee Beltrante, had a great time getting together with old friends on this spontaneous road trip, but all the walking in New York City was not expected, and it rained, making the 5-hour trip home a little uncomfortable. Beltrante said she would not do it again.
Hoda Highlights
In 1982, Hoda Kotb graduated from Fort Hunt High School, which is now West Potomac High School, and went on to Virginia Tech University where she got a Bachelor of Arts in broadcast journalism. She went on to be a local reporter in New Orleans and Fort Myers, Florida, and then the Today show with Kathie Lee Gifford between 2008 and 2019. Now she's the co-anchor of NBC News' TODAY and the co-host of TODAY's fourth hour, alongside Jenna Bush Hager.
Through the years, Kotb has won awards as a journalist and author. She is a cancer survivor, so she's also taken on several initiatives to raise awareness in that area too. Her awards include a 2016 Gracie Award for Outstanding Host in Entertainment/Information for her radio show "The Hoda Show on SiriusXM," and a Gracie Award for Outstanding Host in News/Non-fiction and a Webby Award in 2015. In 2008 she won the Alfred I. duPont – Columbia University award, a Peabody Award in 2006 for a Dateline NBC report, and several Daytime Emmys as part of TODAY's recognition as the best morning news program, the Today show information said.
Kotb now lives in New York City with her family.