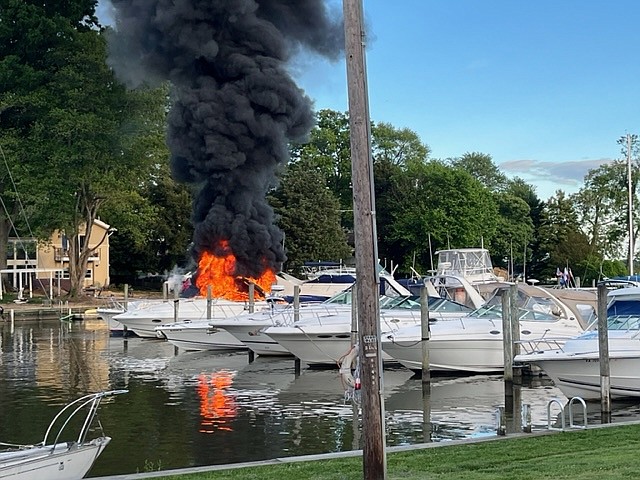 On Thursday, May 4, there was a boat fire at the Mount Vernon Yacht Club, injuring two, damaging the boat beyond recognition and closing the marina for days afterward. 
During the fire, the yacht club reported at least half a dozen units from Fairfax County Fire and Rescue, including the HazMat team, the Fire Boat, 
and several large ladder trucks responding to the fire. They were assisted by several boats from D.C. Fire and Rescue, Fairfax Police and several EMT units, club officials said. First responders were here until early Friday morning and came back again during the day Friday to ensure that the environmental boom was holding. "Without such a quick and overwhelming response, I don't think the outcome would have been the same," said Gene Diotalevi, Commodore at MVYC. "I am so grateful that injuries were minor, and damage was relatively limited," he added.
In the days following the fire, the burned boat was salvaged and removed from the MVYC marina. Potomac Towing, Fairfax Hazmat Team, and the Department of Environmental Quality (DEQ) worked to raise and clear the vessel from the marina. During the salvage process, some petroleum products were released into the water so recovery teams placed absorbent booms to collect the majority of the potential contaminants. As a precaution, the marina remained closed to all boat traffic until DEQ inspected the waterway on Tuesday, May 9.