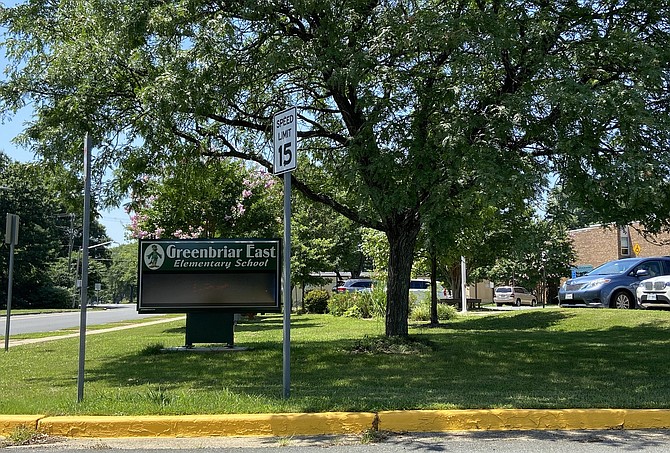 Jennifer Carpenter's drug addiction explains why she stole schoolchildren's medications to use for herself. But in no way does it excuse it. And on May 5 in Fairfax County Circuit Court, this former school health aide was sentenced to probation and community service for her crimes.
Indeed, said Assistant Commonwealth's Attorney Meredith Ralls, what Carpenter did was "theft, fraud and child abuse." And making it worse, she said, was that these actions were perpetrated by "someone in a position of trust."
Carpenter had worked in FCPS schools since October 2015, and all was well until 2022. Employed by the county Health Department, she was the health aide at Greenbriar East Elementary in Chantilly. Her job was to maintain and administer the prescription medication kept at GBE for several students requiring it. 
But police were contacted after a Health Department supervisor noticed a discrepancy in the amount of medication at that school, And on May 27, 2022, detectives with the Criminal Investigations Division started investigating.
As it turned out, said Ralls, from Jan. 2 through May 27, 2022, "The defendant engaged in replacing seven students' medications – including Ritalin and Adderall – with over-the-counter ones, such as antihistamines and Claritin."
According to police, detectives determined Carpenter was falsifying documentation on the medication she gave the students. As a result, she was able to dispense sugar-placebo pills and/or over-the-counter medicine to them in place of the drugs that had been prescribed by their doctors. Carpenter then kept the children's medications for her personal use. 
Some of these medications were scheduled narcotics – including Ritalin, Adderall, and Focalin – all commonly used to treat ADHD (attention-deficit/hyperactivity disorder). But because these drugs were diverted by Carpenter, the students were deprived of their medicine aimed at improving their attention in class. Ralls said the students whose medication was abused were 7 or 8 years old.
On Feb. 6, in Circuit Court, Carpenter, 46, of Chantilly, pleaded guilty to three charges: Felony possession of a controlled substance (Ritalin), plus misdemeanor charges of contributing to the delinquency of a minor, as well as unlawful dispensing of a different drug in place of a prescribed drug, without the permission of the person prescribing it. 
Originally charged with 11 crimes – and indicted by a grand jury on all of them in July 2022 – she'd since been getting treatment for her drug addiction. So her attorney was able to make a plea agreement with the prosecution, enabling Carpenter to plead guilty to just three charges, with the rest to be dropped at sentencing. 
First, though, at the outset of her May 5 sentencing, mothers of two of the children who were adversely affected by Carpenter's actions read their victim-impact statements in court. To protect the children's identities, The Connection will call them Parents One and Two.
"When we received the call from the public-health nurse [about this] last May, we were in shock and horrified," said Parent One. When her son was called out for his disruptive behavior in class, she said, he told his parents and teacher it was because something was wrong with his medicine.
But, she said, "No one believed him. He was accused of lying and lost privileges at home. Later, when he learned he was right, he lost his faith and trust in adults. He's 8 and now has PTSD [post-traumatic stress disorder], anxiety, severe depression and suicidal ideation because of what happened. We've spent thousands of dollars on treatment for him."
As for Parent Two, she said, "As a mom of a child with special needs, I worried whenever I had to leave my son with others. But I felt safe leaving him at school. Then in May 2022, the Health Department called me about his medication being stolen at school by a staff member."
She said he was "also prescribed him what we thought was an allergy medication, and was actually Claritin, by someone not authorized to do so – and not knowing how it would affect him. My son said his medicine tasted differently and was slightly cloudy."
Once he learned the truth about what Carpenter had done, said Parent Two, her son was so upset that "I had to reassure him no other medical professional would harm him. Someone I'd trusted had put my son in danger for months. She was hired to take care of my child, and all I could think about was the harm she'd done to my son."
Afterward, said Parent Two, "I kept reassuring him he'd never see her again. My son and I now have trouble trusting medical professionals, and I still struggle with knowing that my son was at risk because I allowed someone else to give him medication."
Next, defense attorney Bret Lee called Matthew Slee with the Fairfax-Falls Church Community Services Board (CSB) to testify on his client's behalf. Saying Carpenter was a volunteer public-health nurse during the pandemic, he described her as "a caring, goodhearted woman and mother to her three children."
He said she loved children, but was "escaping a 24-year, mentally and physically abusive marriage and had been prescribed medication herself, when she was younger." At some point, said Slee, she began using using drugs again, "hit rock bottom" and started taking the students' medicine.
But after her arrest, he said Carpenter enrolled in the CSB's Intensive Outpatient Program and got help for her addiction. "She now has no job or retirement benefits and can't find work in [the medical] field," said Slee. 
"She holds herself fully accountable for her actions and is remorseful for hurting the children. She's tried to make healthy choices since then and is now in a stable relationship with a stable state of mind. She's completely ashamed of what she did and makes no excuses for it."
Ralls told Judge Tania Saylor the sentencing guidelines in Carpenter's case call for probation, so she recommended Carpenter be sentenced to prison, with all her time suspended, providing she's placed on active probation – meaning she must meet with her probation officer regularly. Ralls also requested a substance-abuse evaluation be done and that Carpenter undergo random drug screens and perform community service.
"The pain you heard about today from the parents was palpable," said the prosecutor. "Yet the Commonwealth recognizes this was a drug-abuse situation, so we're asking for those conditions to punish and hold her accountable, and probation to protect the community, going forward."
Lee concurred, agreeing that because of Carpenter's mitigating factors, "This case doesn't call for incarceration. She took responsibility and gave a confession to the police. She wants to apologize to the parents, and she now has the tools to make sure she never does this again."
He also noted that, as a result of what happened, FCPS has changed its policies regarding children's medications. "It now does weekly audits of medicines and stronger background checks on employees," he said. 
"Ms. Carpenter won't be able to work with children again because she betrayed a trust and broke the law," continued Lee. "Her addiction led to her incredibly bad decisions. But she won't make these mistakes in the future. She now wants to help abused women and those with substance-abuse issues. She's sincerely trying to make amends, and I hope her apology today will help the parents heal."
Then before sentencing, Carpenter stood and told the parents and the Greenbriar East staff how sorry she was. "I let you all down," she said. "I never meant to hurt anyone, and I'm sorry. My personal problems interfered with my ability to do my job. I was in such a dark and twisted place that all I could think about was my own pain.
"I have three children and, as a parent, I'd be outraged and would trust no one. I needed help mentally, but I've learned coping mechanisms and have the tools to live a healthy, productive life, and I want to give back and help others. I'm asking for your forgiveness for my horrible actions."
Judge Saylor then sentenced Carpenter to five years in prison for the felony charge of possession of a schedule 1 or 2 controlled substance, six months for knowingly dispensing incorrect medication, and 12 months for contributing to the delinquency of minors. She suspended all that time, ran the sentences concurrently and placed Carpenter on three years active probation.
In addition, she ordered Carpenter to perform 100 hours of community service and undergo substance-abuse treatment, a mental-health evaluation and random drug screens, plus maintain employment. She then dismissed the other charges.
"I think you understand the gravity of what you did and how it impacted others," Saylor told her. "The parents highlighted how far this reached into their children's lives and how it's still affecting them. The court hopes you understand this can never happen again."