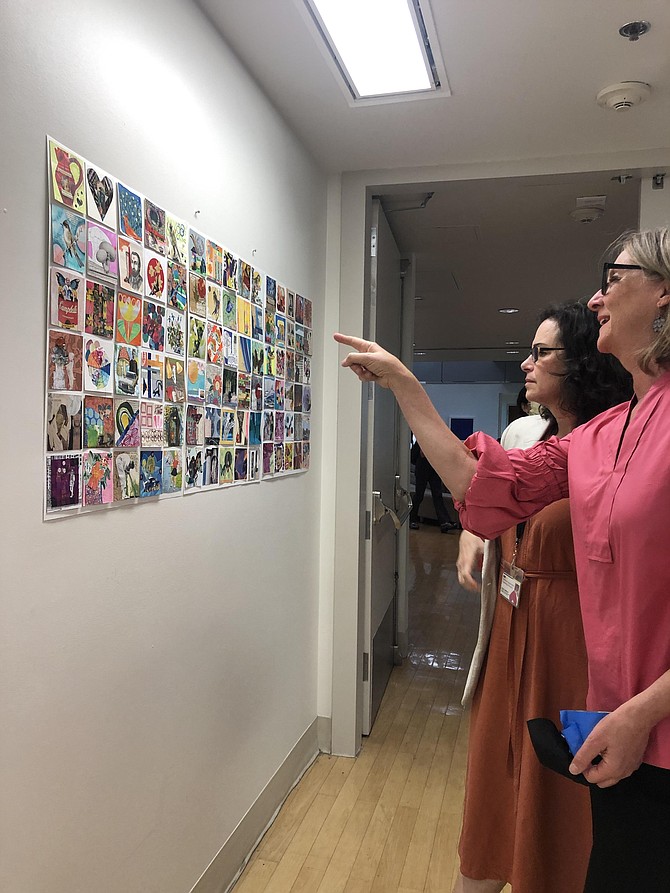 When Jennifer Wilkin Penick called for collages from around the world to be donated during her "Art for a Cause" appeal, she thought she might get, maybe, 300 collages sent in to the Lombardi Cancer Center. She got 3,422 logged in by the deadline of May 10, and they are still coming in by the hundreds. 
Collages came from all over, from preschool to university students, from seniors as old as 101 and children as young as 4, from groups and clubs. Several came from Ukraine, but were always mailed from Poland. One special needs group of children in Brazil sent in 85 collages. The collages came from 43 U.S. states and 29 countries. 
As Artist in Residence at the Arts and Humanities Program (AHP) at Medstar Georgetown University Hospital since 2018, Wilkin Penick has encouraged patients to express themselves with art. She set up a box of 4-by-4 collages she pasted onto blank cards so patients and their supporters could reach in and grab one as they came through the clinic, to either turn into a greeting card or put on their wall to brighten their day. A small gesture, but with an empty box at the end of each day, it was clearly something those passing through the clinic for treatment valued. 
Allison Levy, Ellen Taylor, Rose Avent, Andrea Hostetler, Molly McCracken, Anjelika Deogirikar Grossman, Michele Lifshen, Anne Larsen, Maureen Minard, Priscilla Linn, and Tina Takach were just some of the Arlington residents who answered Penick's call for collages. Many, like Avent, who sent in 12 collages, had taken Penick's collage class. 
Lifshen shared, "As a childhood cancer survivor (with ongoing medical problems including subsequent late-effect cancers) it is so meaningful to me to be a part of this project." 
And Takach said, "We spent an afternoon (me, my friend Chelsea and my daughter Lucy) making a few collages. My daughter and I were especially happy to contribute given that we have two parents/grandparents in active treatment." Many reiterated that giving their art to people facing adversity was an exceptional and meaningful opportunity for the artists. 
World Collage Day, the second Saturday of May, is an annual international celebration of collage. Initiated by Kolaj Magazine in 2018, artists and art venues around the world are invited to hold events to celebrate collage. The Arts and Humanities Program at Medstar Georgetown called for collages in March, publishing the call online and in print editions of the magazine. Social media took up the call. The response was huge, and global, so overwhelming that Beth Marhanka, the Georgetown University library's Head of Outreach and Engagement, made space for 800 additional collages to be displayed at the library. Collages at the library and hospital will be on display until May 25th when they will be attached to a blank greeting card and put in the box for cancer patients, their families, caregivers and hospital staff. A stamp on the back of each card will make clear the original artwork on the card has been donated by the artist. 
Photos of the art can be viewed on Instagram: @georgetownartsandhumanities
Langley and Penick can be reached at 
julia.langley@georgetown.edu
 and jenniferwilkinpenick@gmail.com