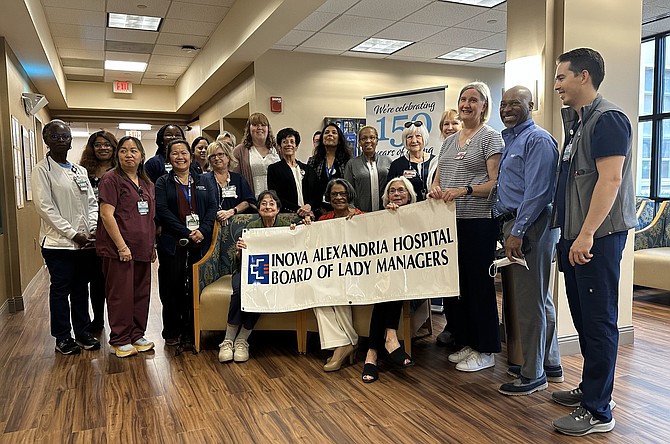 Nurses and staff at Inova Alexandria Hospital gathered May 10 as members of the Board of Lady Managers celebrated the health care providers as part of National Nurses Week.
In 2023, National Nurses Week took place May 6 - May 12 with this year's theme "You Make a Difference." The week is part of the larger National Nurses Month, which is celebrated from May 1 - 31.
Dr. Rina Bansal, Chief Medical Officer and President of Inova Alexandria Hospital, was joined by Chief Nursing Officer Francine Barr and other nursing and medical staff as Board of Lady Managers president Barbara Wells led the celebration, which included gift bags donated by the organization in appreciation of the health care providers.
Now in its 151st year, the Board of Lady Managers founded the Alexandria Hospital, then known as the Alexandria Infirmary, in 1872. Over the years the all-volunteer organization has raised millions of dollars in support of the needs of the hospital.
In 2019 the Board of Lady Managers supported the hospital's purchase of an O-Arm surgical imaging system, which gives real-time information to a surgical team and protects both patients and providers from overexposure to harmful radiation levels.
In 2020, the Board of Lady Managers supported the conversion of hospital rooms to negative pressure rooms, which helps reduce the need for ventilators for patients with many diseases, but most notably for patients with COVID-19.
Most recently, the organization donated $65,000 in support of the purchase of a Brevera Breast Biopsy System, the only device of its kind in the Inova health care system. The device allows the radiologist and technologist to stay in the room with the patient the entire time of a breast biopsy. It produces real-time imaging verification and post-biopsy handling and can speed up a procedure to allow a patient to be released out of compression earlier.
For more information on the history and impact of the Board of Lady Managers, visit www.boardofladymanagers.org.