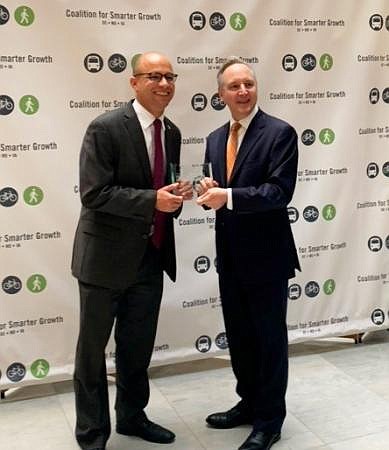 City of Alexandria Mayor Justin Wilson was recognized by the 
Coalition for Smarter Growth
 for his work in land use and transit sustainability in the greater Washington D.C. area. Wilson is recipient of the 
2023 Livable Communities Leadership Award
 and was honored for work in elevating the City to a regional standard for walkable, transit-oriented communities.
According to the release, the Frederick & Diana Prince Livable Community Leadership Award is conferred annually to an individual who has made a significant contribution to smart growth in the greater Washington D.C. region. Residents, visitors, and businesses thrive because of smart growth initiatives, which address critical community needs such as services accessibility, sustainable transportation options, and mixed-use development.
Throughout his tenure on the Alexandria City Council, Mayor Wilson supported initiatives which address those principles of smart growth. Today the Redella S. "Del" Pepper Community Resource Center, which opened in April 2023, serves as a centralized hub for all Alexandrians' health and human services needs in Alexandria West. On Friday, May 19, the Potomac Yard – VT Station will open and provide three major City neighborhoods walkable access to the region's Metrorail system. 
In the coming decade, the Virginia Tech Innovation Campus and Inova Hospital Complex will engage the community through mixed-use development and 21st Century innovation.
Prior to being elected as Mayor of City of Alexandria in 2018, Mayor Wilson served eight years on the Alexandria Council. He serves as the Senior Director of Supplier Management at Amtrak and holds a BS in Information Systems from Virginia Commonwealth University.
Sanders-Henn Community Hero awardees included Michelle Krocker from Northern Virginia, smart growth community advocates Kyle Reeder and Bernard Holloway from Prince George's County, Tina Slater from Montgomery County, and Kim Hosen from Prince William County.
The Coalition for Smarter Growth is dedicated to making the case for smart growth. Their mission is to advocate for walkable, bikeable, and transit-oriented communities as the most sustainable and equitable way for the Washington, D.C. region to grow and provide opportunities for all. 
The 2023 Livable Communities Leadership Awards event was held on Tuesday, May 16, at the Old Ebbitt Grill Atrium.