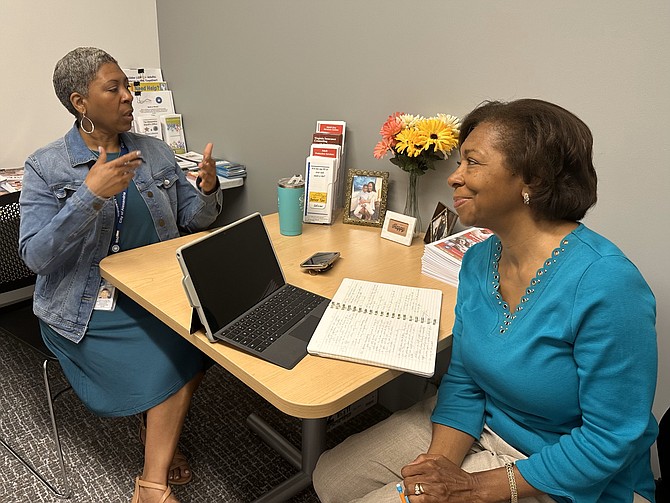 Dear Caregivers: Statistics tell us, and we know from our own conversations and experiences, that as our loved ones age into their 70s, 80s and beyond, most prefer to stay in their own home rather than move into a care facility. 
"Yes, most people want to stay at home," concurs Pamela Austin, with the City of Alexandria's Division of Aging and Adult Services. "This division is designed to help adults do just that — stay safely and supported in their homes." The Division works in concert with other agencies such as Senior Services of Alexandria, other nonprofit providers and various other City agencies.
Austin says the first step is to call their office where a specialist will begin the process of gathering information and completing an assessment.
Information and Referral -- 703-746-5999. "We do like to get calls from the person who might need services," said Austin. "Caregivers may make the call to us as well. However, we will want to speak directly to the prospective client, when and if possible. We would like their involvement early on as well as their consent to receive our services."
"We coordinate the support if the older adult needs and wants assistance. Most people, once they come on with us, stay with us. The timeframe that we will support them is usually unlimited," Austin adds. 
The Division of Aging and Adult Services acts as the City of Alexandria's Area Agency on Aging. If you are not in Alexandria, call your local social services department to find the Area Agency on Aging in your city or county. These agencies assist adults age 60 and older. 
In Fairfax County, see https://www.fairfaxcounty.gov/familyservices/older-adults/fairfax-area-commission-on-aging
Activities of Daily Living: Once a care specialist completes a thorough assessment by phone, if there is a need to move forward, the next step is a home visit.
The home visit will determine if your loved one can perform their daily living tasks, for example, bathing, dressing, toileting and feeding themselves. The ability to prepare meals on their own, do housekeeping, laundry, manage money and phone usage are additional key activities that are assessed. 
Available In-Home Services: Besides managing the initial intake, the Division of Aging and Adult Services offers programs or information on adult day centers, recreation, light home cleaning and personal care to name a few. And in coordination with partners, older residents can receive support like transportation assistance and Meals on Wheels delivered through Senior Services of Alexandria. These are just a couple of examples.
Though support is offered, if the client at some point cannot navigate the activities of daily living, then they might want to consider transitioning to a level of care that is outside the home.
Moving from Home: Apartments, condominiums, retirement communities, or independent living facilities are options for some. But many will move into an assisted living community. Assisted living is generally private pay and often includes meals, housekeeping, laundry service, social and recreational activities, round-the-clock emergency care/response and medication monitoring. 
For a very limited number of people moving into assisted living, a grant option could be available to supplement costs. 
Auxiliary Grants: These grants — which cover basic room and meals in an assisted-living facility — are available only to those with lower incomes. According to Virginia's Department of Social Services, the grant should be sought prior to admission to an assisted living facility. If the older adult meets the income requirement, then further information will determine their eligibility. Still, the availability of these grants is limited and all facilities do not offer them. 
Long-Term Care Ombudsman Program: 703-324-5861. Finally, adults in long-term care facilities or those receiving long-term care in the community can request an ombudsman when quality of care is questioned or the client has complaints. An ombudsman assists clients in resolving issues with the facility or agency providing services. The Northern Virginia Long-Term Care Ombudsman Program is available in Alexandria, Arlington, Fairfax City and County, Falls Church and Loudoun.