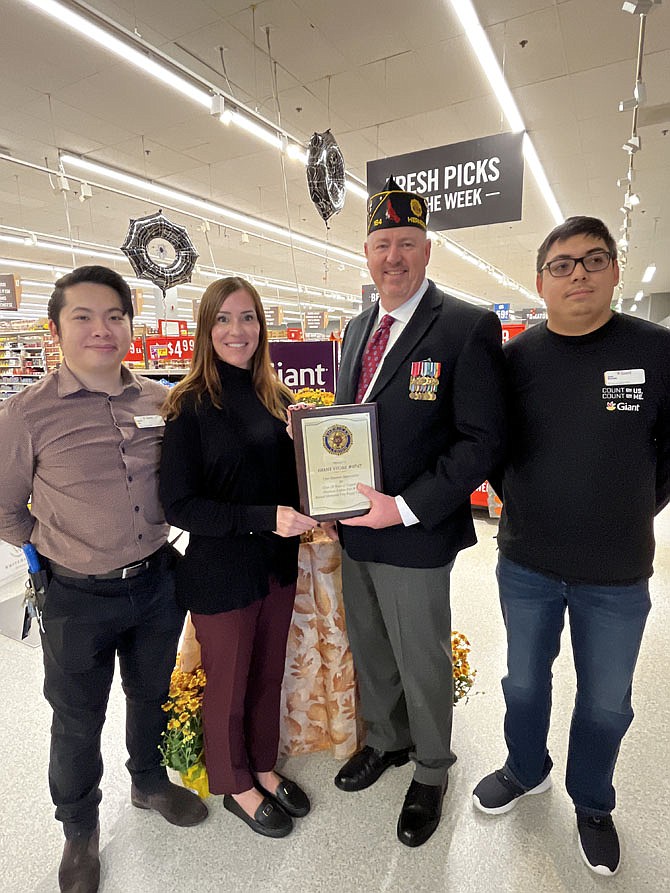 The Wayne M. Kidwell American Legion Post 184 Herndon-Reston recently acknowledged their enduring friendship with its neighboring community establishment, Giant Store # 0747, at Northpoint Shopping Center in Reston. On Friday, Oct. 20, post commander David Womack presented the store with a plaque recognizing their "sincere appreciation for over 20 years of support for American Legion Post 184's annual Memorial Day Poppy campaign."
According to Womack, Post 184 supports the American Legion Auxiliary's annual Poppy fundraiser on Memorial Day to raise funds directly benefiting Veterans in Need.
The primary objective of this initiative is to generate financial resources that directly aid veterans facing various challenges.
"When I get a phone call about a veteran in need [such as housing payment assistance], we vet the vet to ensure it's not a scam. Then, we write a check and send it to the landlord," Womack said. He added that store #0747 had been the post's "capstone" for its Poppy Fundraiser, which yields an average annual revenue ranging from $4,000 to $5,000. "We wanted to pause and say thank you; we're grateful," Womack said.
Jonathan Arons of Giant said that it is the least they can do, offer space to collect those funds. "It's a testament to how generous our customers are. The people who live in this community are willing to support you each Memorial Day." 
To donate to Post 184, visit https://www.wmkal184.org/donations.