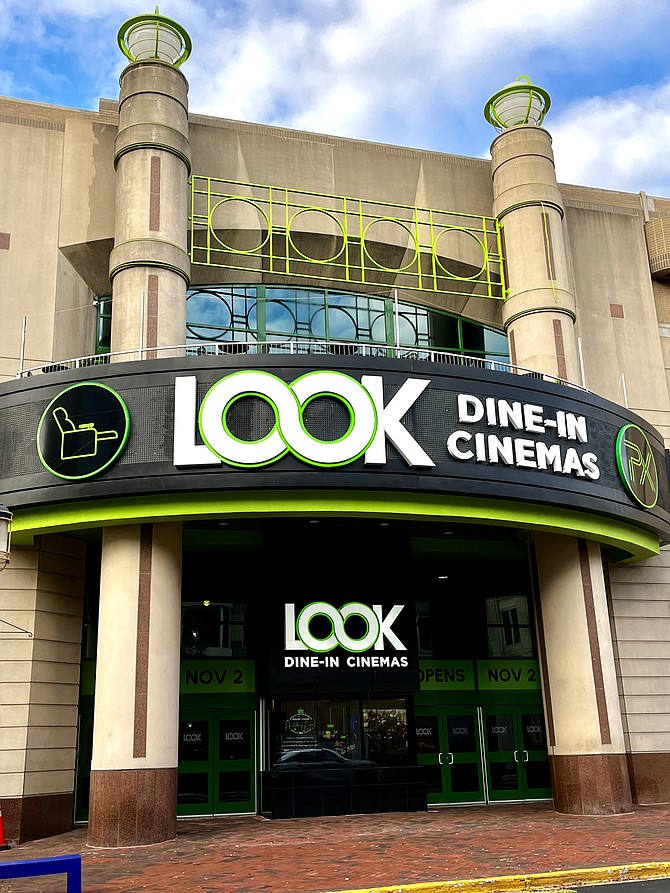 Come for any or all: what's on the big screen, the restaurant food and drinks, or to chill for a bit and enjoy the view from the balcony overlooking Market Street. On Nov. 2, LOOK Dine-in Cinema opens in the fully renovated location of the previous theater at 11940 Market Street, Reston Town Center. LOOK functions and appears unlike any other movie theater in the area. The Connection engaged in a pre-opening tour and one-on-one discussion with LOOK's chief marketing officer, James Meredith. Content may be lightly edited for clarity and space.
Q: So, what exactly is this? More than just movies?
James Meredith: The theater is really for the community to come together. So, it's movies of all genres, sports, concerts, and events, corporate team building with PowerPoint presentations on the big screen, and even satellite projection across the country.
Paw Patrol, a family film, is playing this weekend. Disney's Wish is coming up, and Trolls will be really big. But we also show a lot of art independent films, such as Killers of the Flower Moon, by Martin Scorsese, that everyone has been raving about. But then we also geared towards your 20- and 30-somethings, think Five Nights at Freddy's that generated $78 million in revenue over the weekend.
The best way to consider the content is that there is something for everyone, including concerts. Taylor Swift's concert, for example, is currently very popular. Depending on the community, we'll be showing a variety of gaming and sporting events, ranging from MMA (mixed martial arts) and UFC (United Fighting Championship) fighting and boxing to soccer and football on the big screen
Q: Patrons have the option of dining here, correct? Like a restaurant?
Meredith: I think the big focus is dining. What we found when we did our research before we started the company was that people coming out of the pandemic could get everything in one place.
You can come here to watch a great movie, but you can also have dinner or lunch. We have a full bar with craft cocktails, beer, and wine. People love the idea of sitting in one of our reclining seats and then ordering directly from their phones. Our ninja waiters, dressed in black, sneak right in and deliver your food to you. If you're halfway through the movie and decide you'd like another glass of wine, you can order it right from your phone, and we'll bring it to you.
Q: Assume a four-person family arrives. What is the average cost of a meal, a drink, and a ticket?
Meredith:  It will be similar to, say, a restaurant. If you decide to order one of our ahi tuna bowls or salads, the price will be the same as it would be at any other restaurant. Popcorn and drinks are cheaper.
Q: Another point to mention is the technology here, correct?
Meredith: Many auditoriums have recliner seats and even USB ports where you can plug your phone in to charge it while you watch the movie. But, in terms of technology, it's the presentations; you can get completely immersed in the picture on large screens. It's the best way to watch a big action-packed movie like Napoleon, Captain Marvel, or something similar; it's designed to draw you into the story.
Q: What should local corporations, those wanting a private rental venue, such as film artists debuting their productions?
Meredith: All they have to do is bring us their laptop for their PowerPoint, and we'll put it up on the screen for them. If they're doing AV spotlights, that's not an issue, either. we can handle it.
Q: What other factors distinguish LOOK from other cinemas?
Meredith: We've discovered that it's not uncommon for people to have a drink or eat something even if they don't see a movie. People will come down for a drink. Reston LOOK has an upper-level patio with a view of Market Street. When the weather turns cold, we'll install heaters.