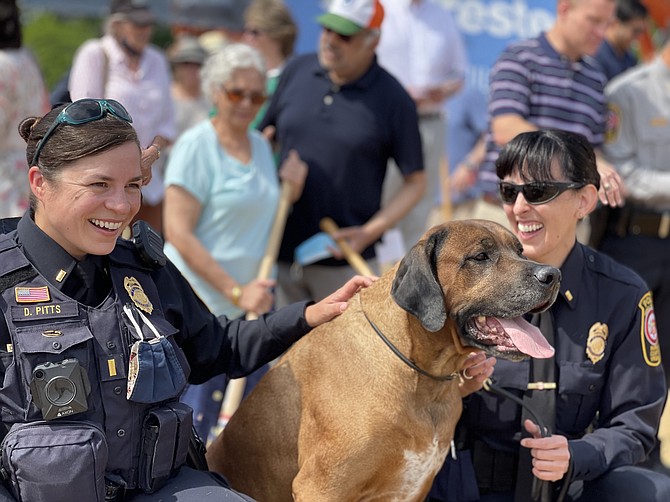 As the Lorton community celebrates the opening of Fairfax County's new animal shelter and adoption center, it's clear that for anyone involved with companion animals, their caring encompasses a whole lot more than a building. Pets in all their many shapes, sizes and species, can establish a connection with their human caretakers, creating strong bonds. 
Here we note some of those special connections.
Evelyn Grieve is president and co-founder of Friends of the Fairfax County Animal Shelter. She leads the fundraising nonprofit group in supporting the shelter, providing resources for needs beyond the shelter's available budget. FFCAS often provides the life-saving or corrective surgery, dental work, or medical treatments which provide the animal with the best opportunity of finding a home. Grieve, and many of her group of dedicated volunteers, have served animals since 2006, benefitting many animals. See www.ffcas.org.
Shelter employees, like new caretaker Katie Hughes, hired just two months ago, typically come to the shelter operation with a veterinary technician background, and a passion for animals nurtured over many years. 
Volunteers like Linda Wilkerson and Brooke Kowal typically make the shelter a long-term volunteer time commitment. They may walk, play, or groom dogs, foster kittens, or answer questions about individual animals under their care for potential adopters. Last year the shelter boasted their team of volunteers logged about 15,000 hours; the equivalent of seven full-time positions. 
Animal Protection Police officers (APPO), like Second Lieutenants Desiree Pitt and Kathleen Prucnal, share the passion and compassion for animals, and wildlife found in our community. Too often they also see the cruelty that can be visited on voiceless animals. Officers have been honored with formal recognitions, like the January 2022 Virginia Federation of Humane Society Humanitarian Award to three officers, McLemore, Ankers, and Lugo, for their response in a dog cruelty case (see Springfield Connection, January 13-19, 2022, pg 6,10), And informally, with frequent deliveries of baked goods from grateful dog owners following rescues.
Adopters are another special group with a high degree of affection for companion animals. People who "rescue" by adopting enjoy a certain pride. Potential adopter Samara Wilkins always wanted a rabbit. Chelsea Stearns and Derrick Burks feel adopting a cat would create a shared family for them. 
Certainly the most touching animal bonding story of the day, if not the year, belongs to a young couple whose wedding ceremony was planned for the same day and time as the shelter's opening for adoptions. The pair learned that a German Shepherd puppy, named Daisy, would be available for adoption for the first time on opening day; their wedding day. They knew adoption applications are taken on a first-come basis, with no animal holds. So they advanced their wedding time in order to be first in line at the shelter to offer a new home for Daisy. The three left together the same day. We expect Daisy will be helping the couple celebrate the first day of their union and many wedding anniversaries to come.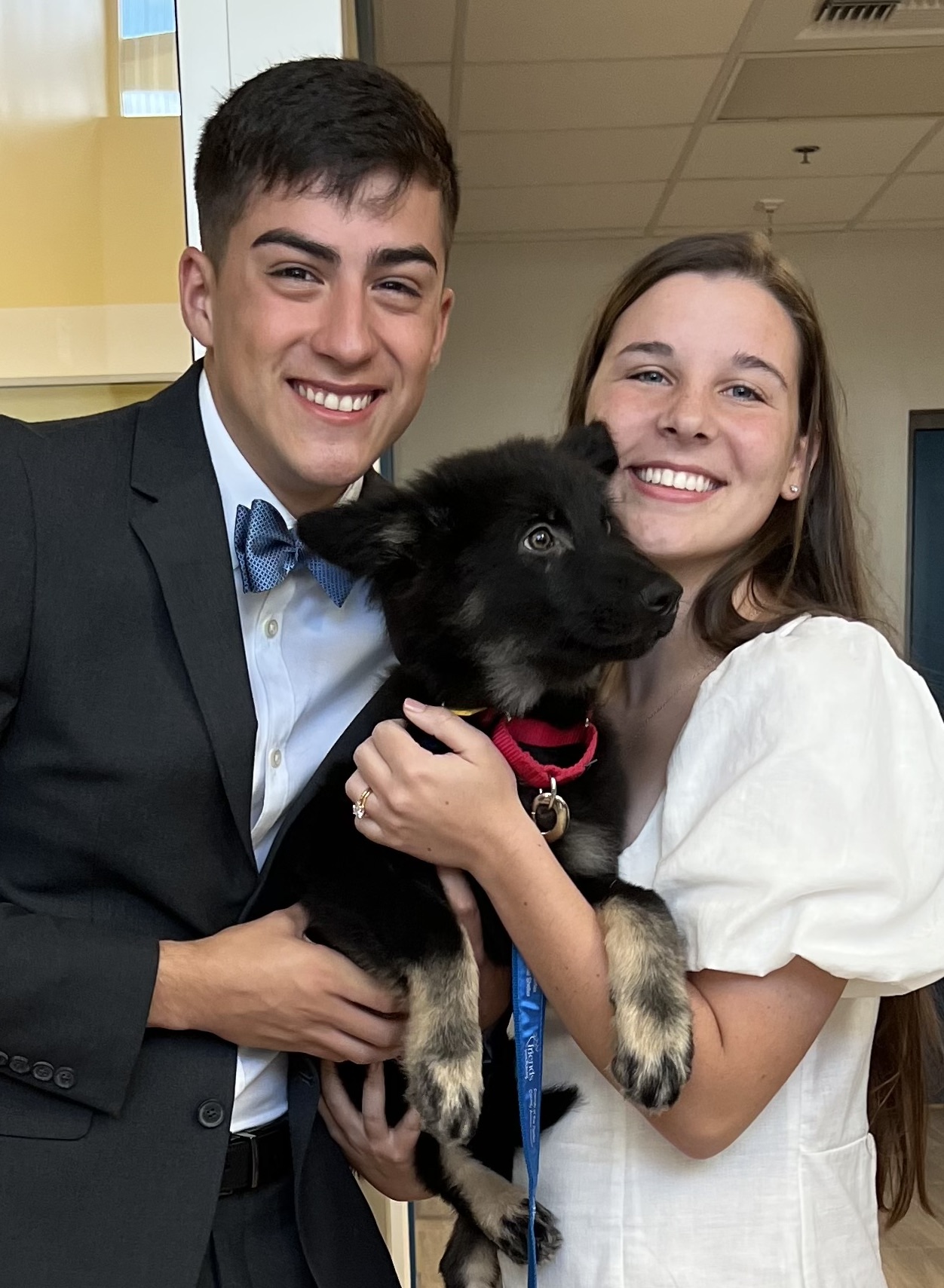 Photo by Rebecca Cavedon
This young couple moved their wedding ceremony up by two hours to improve their chances of adopting Daisy, a German Shepherd puppy in need of a family
Photos by Susan Laume/The Connection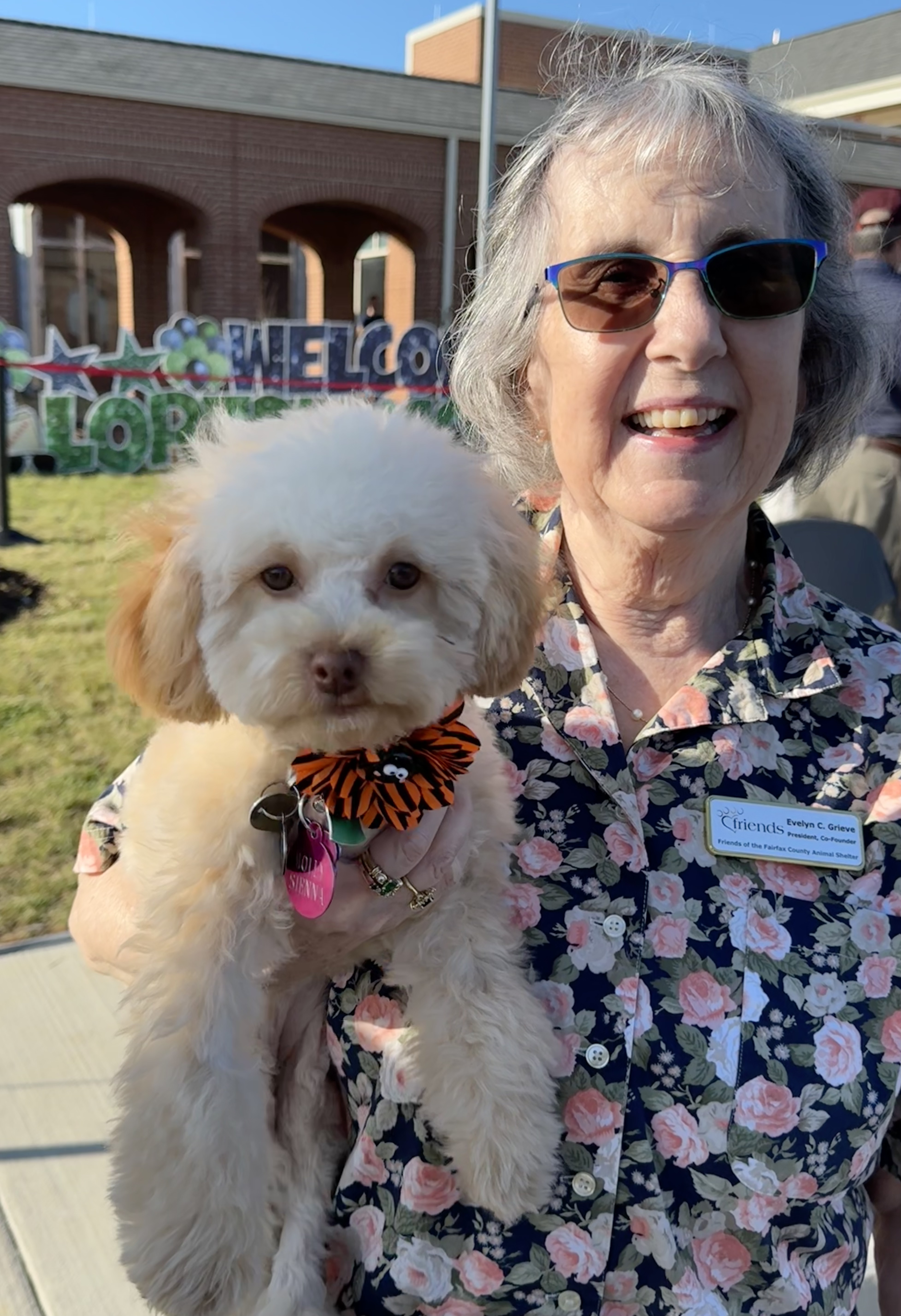 Evelyn Grieve and her foster dog, Molly Sienna. Friends of the Fairfax County Animal Shelter helped Molly by funding surgery for her leg which was severely injured due to abuse.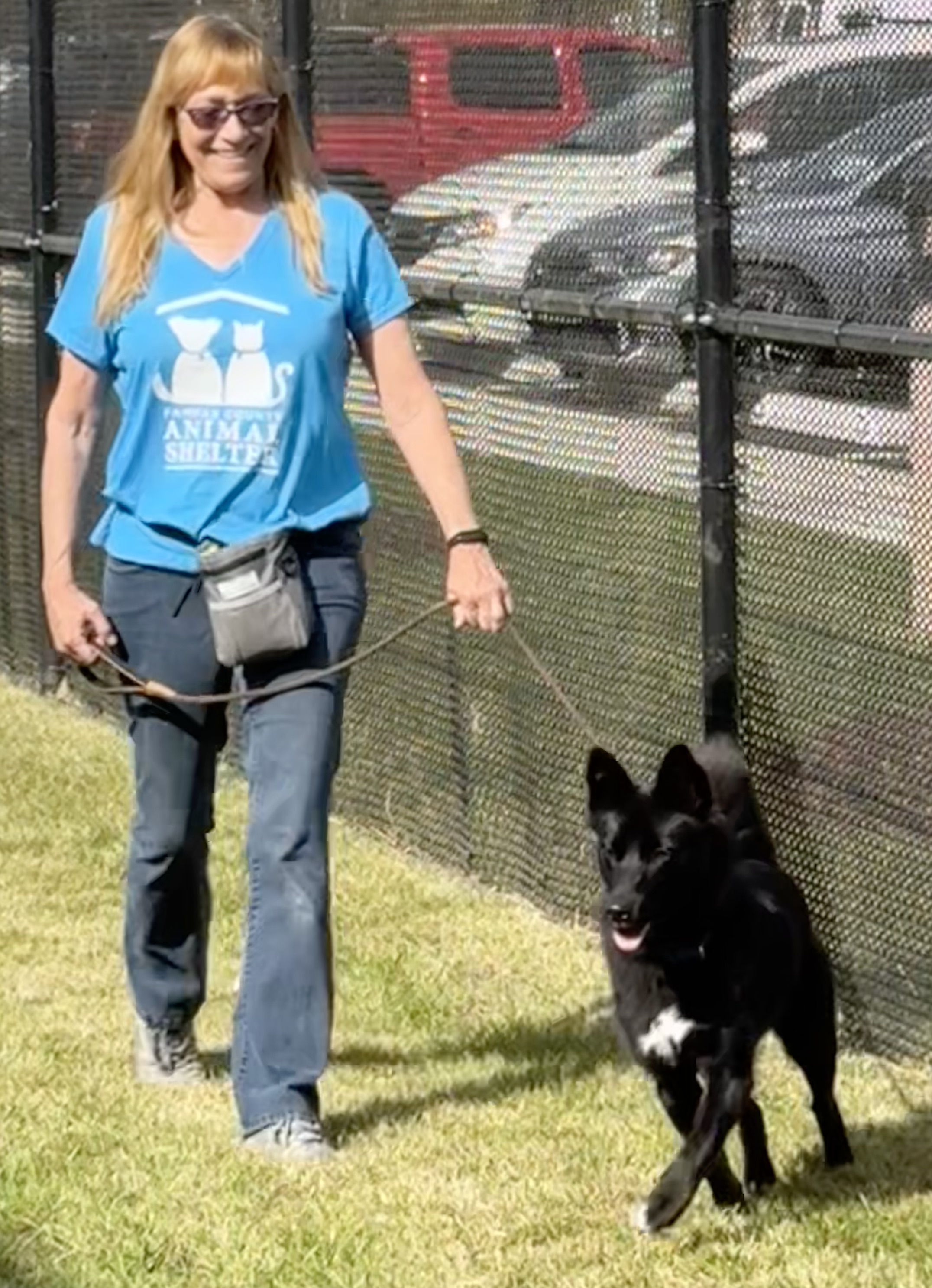 Long-time volunteer Linda Wilkinson walks Effie, a young dog available for adoption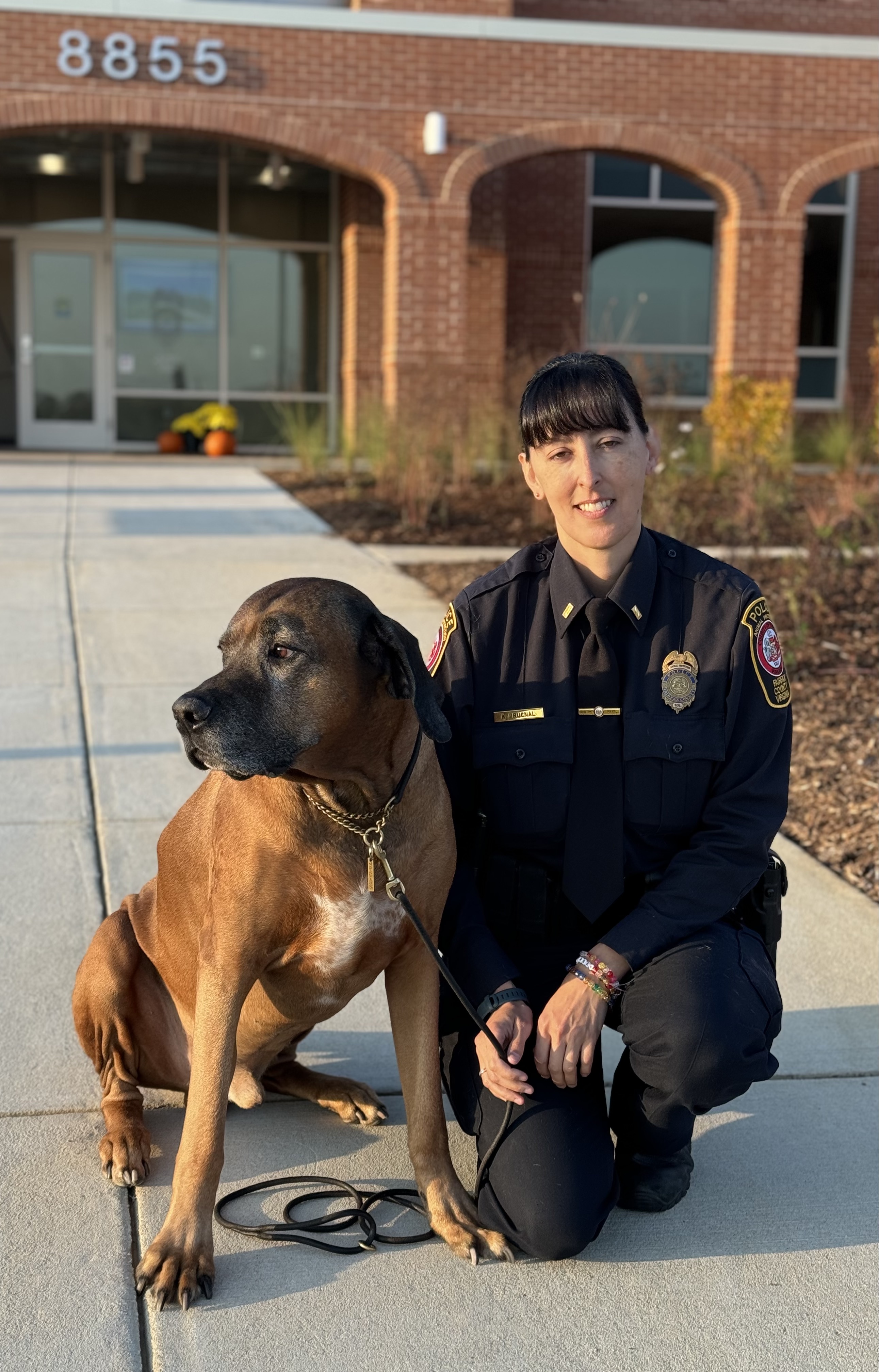 Lt. Prucnal and Wallace, who occasionally accompanies Prucnal to work and serves as a volunteer on the APPO recruitment team, recreate their photo in front of the now completed Lorton Police Station and Animal Shelter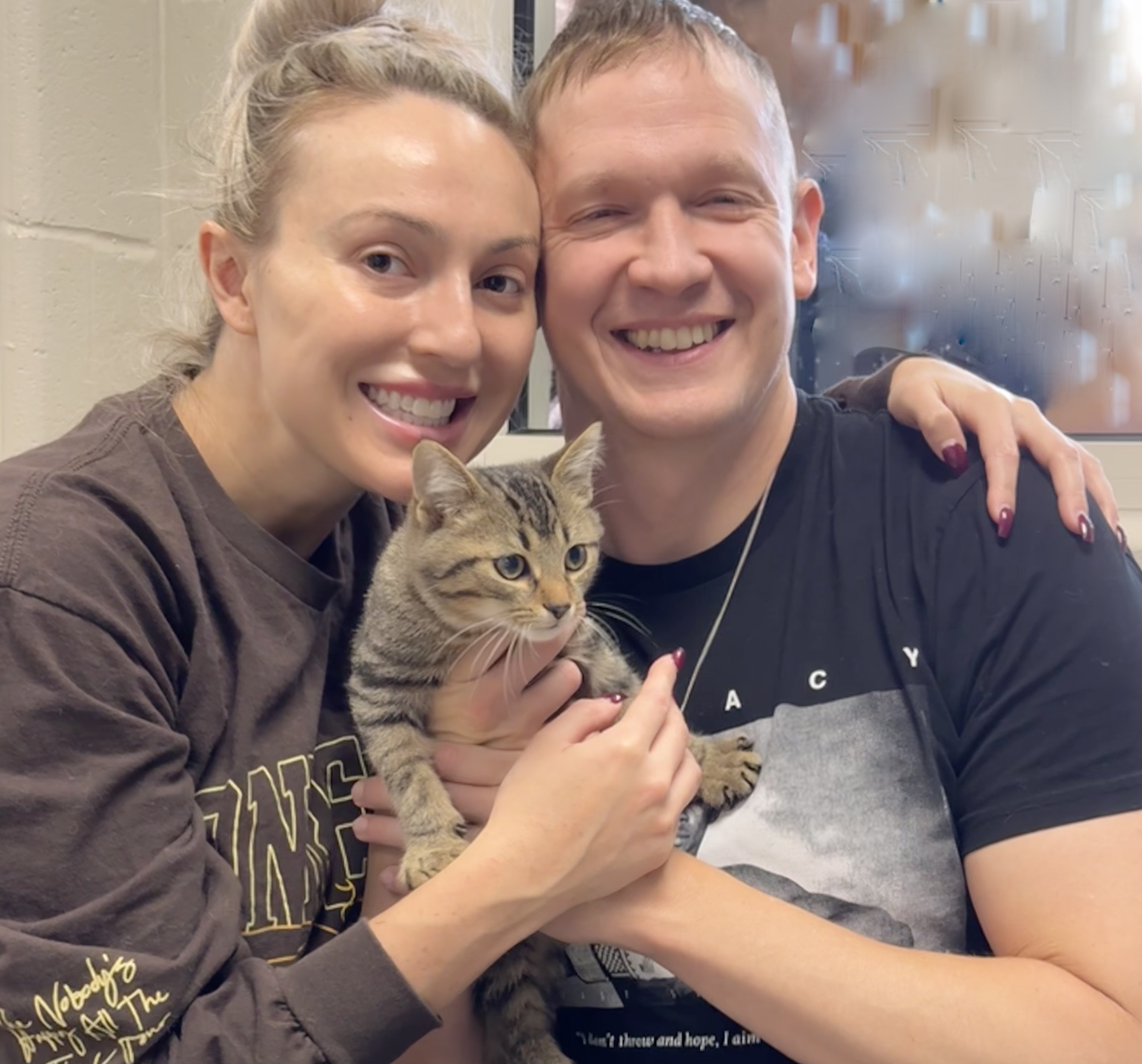 Potential adopters Chelsea Stearns and Derrick Burks interview Cinco as a possible family member on the Shelter's opening day