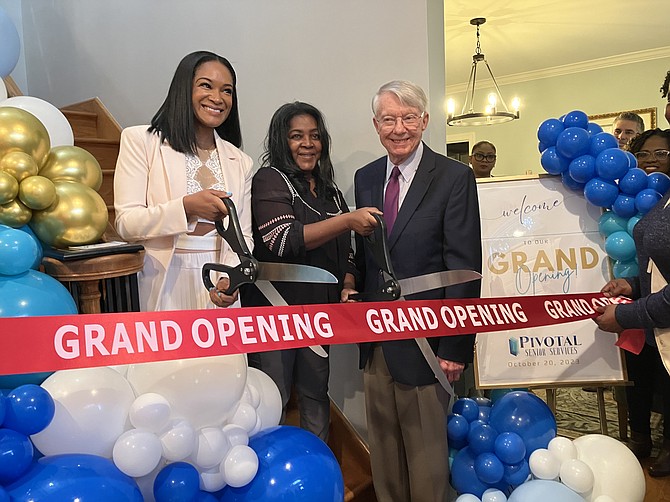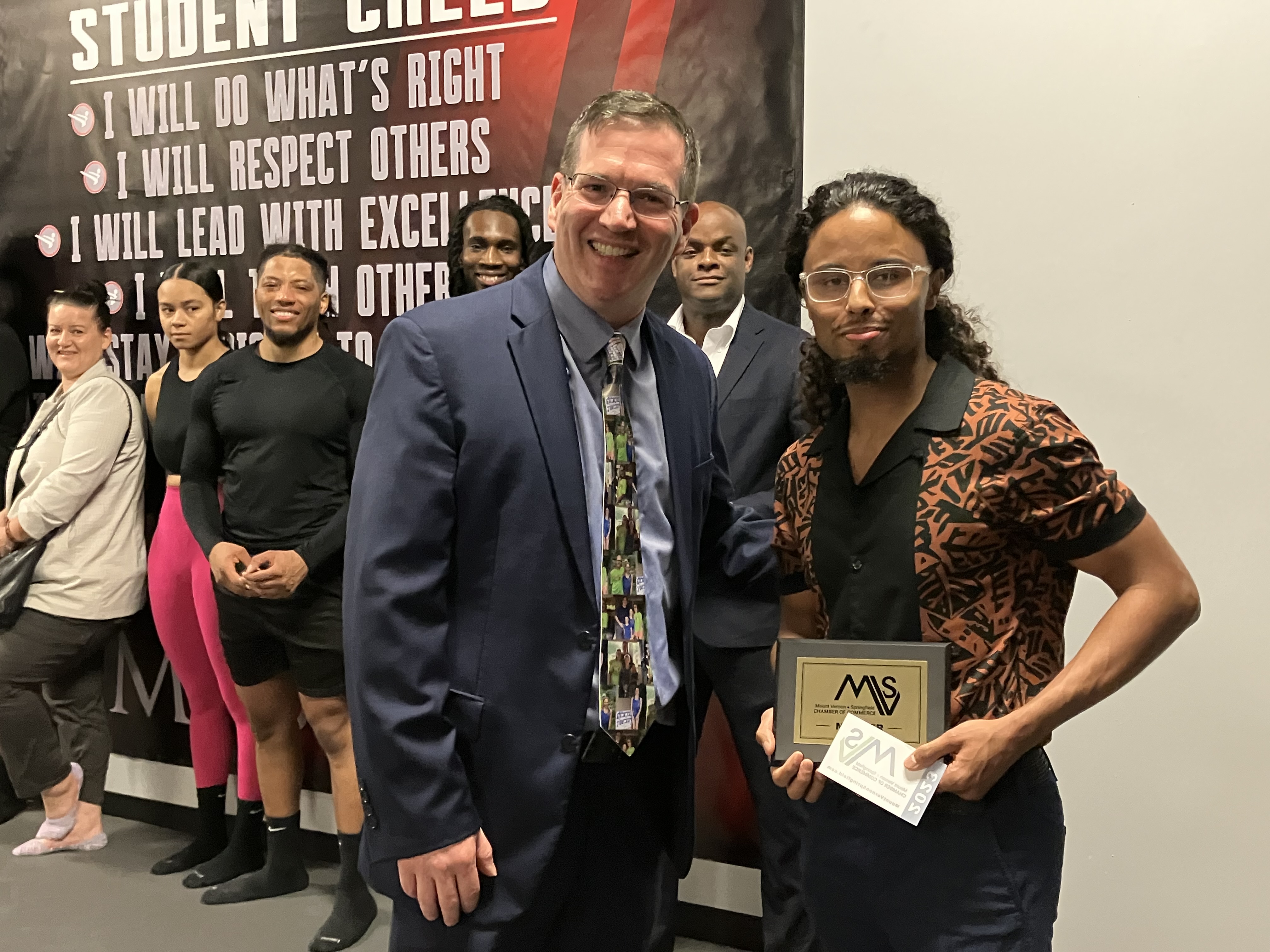 DeShay Moore, chief instructor at MyDojo in Springfield Town Center, receives his Chamber membership plaque from Michael Drobnis, chamber board of directors and OptfinITy.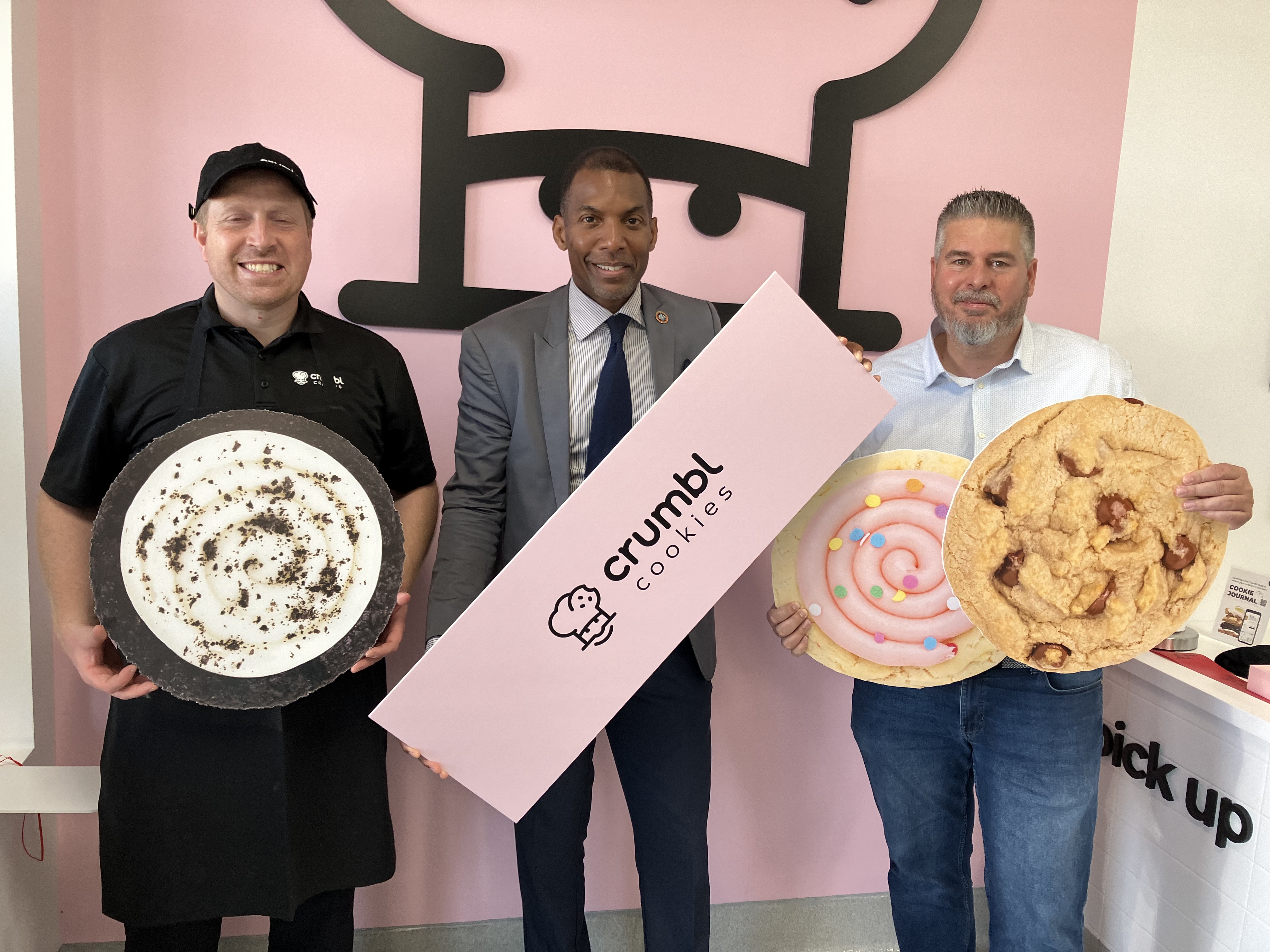 Supervisor Rodney Lusk (center) welcomes Crumbl Cookies to Kingstowne with owner Joel Frary (left) and Jeff Pennington, chamber member and Samson Properties.
From martial arts studios to swim schools and home fixtures, 2023 has seen many new businesses open in the Mount Vernon and Springfield areas.
Next week, True REST Float Spa Alexandria will open in Belle View Shopping Center, making it the 13th grand opening this year for the Mount Vernon Springfield Chamber of Commerce. 
In October, MyDojo Martial Arts opened their doors at Springfield Town Center. They offer a comprehensive range of martial arts programs designed to promote fitness, self-defense skills, and personal growth for individuals of all ages and skill levels.
Also opening in October was Pivotal Senior Services' new state-of-the-art Memory Care and Residential Assisted Living Home on Hibbling Avenue. With backgrounds in nursing, real estate, and financial planning, the staff at Pivotal is familiar with the problems seniors experience in these areas and are more than prepared to help solve them.
Adding to the excitement for Pivotal Senior Services grand opening was the announcement that their CEO, Shauna Toussaint, was nominated for an award at the Residential Assisted Living National Convention 2023.
In September, the long-awaited and fan favorite Crumbl Cookies opened in Kingstowne Center. One of the reasons Crumbl is so popular is their rotating menu with cookies inspired by popular flavors, foods, desserts of all kinds - from pies to cakes to candies and more. They also offer catering options.
Big Blue Swim School, an Olympic sized indoor pool offering a variety of swimming lessons for children and babies, opened their doors in August. Swimmers can progress from learning how to be safe in the water to learning different strokes and building their skills to become proficient, strong swimmers at Big Blue Swim School.  
On Nov. 29, Hampton Inn & Suites Mount Vernon will have a Grand Re-opening to showcase their recent renovation.
Capital Chicken, 7698 B Richmond Highway, is finalizing arrangements for their own grand opening since moving from Mount Vernon Plaza. Check out the colorful mural on the building and get ready for more delicious chicken and sides.
In December, Good Shepherd Housing and Family Services will have a grand opening to celebrate their new office space on Backlick Road.
These new businesses provide new opportunities and options for residents. By shopping locally, consumers keep their money circulating within their neighborhood, which leads to the creation of jobs and the support of regional economies.