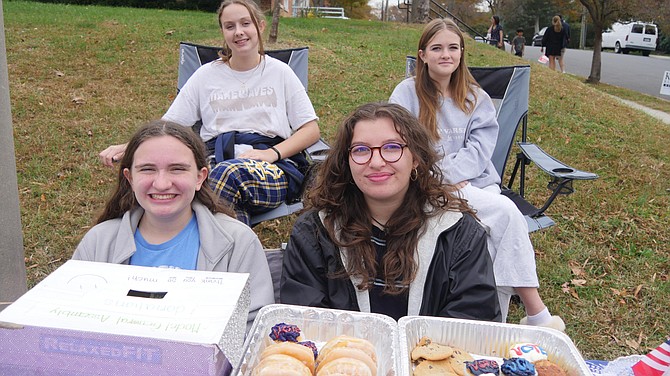 At 11:45 a.m. the 417th voter cast her ballot at Madison Community Center on Election Day. David Tate, poll greeter standing on the sidewalk outside the building, said there had been a very good flow of voters so far this morning. He says that voters have been commenting to him that it seems like a heavy vote for an off year.
Four students from Yorktown High School sit outside Madison Community Center polling place manning a table on the sidewalk filled with glazed donuts, cupcakes, homemade oatmeal raisin cookies and pumpkin bread to raise funds for the mock Model General Assembly next spring in Richmond. They estimate the club at Yorktown has about 30 students and is getting more popular. Lia Sylvester, member of the club, says they spend the year writing bills, understanding the legislative system and preparing for debate with the other model assemblies in Virginia. 
Olivia Plimpton says she wrote a bill to protect adoption rights for same sex couples. "Unfortunately it didn't pass." Virginia Lewis says they also had a bill on composting to monitor how much big companies are composting. 
Denise Daniel, who just moved here from D.C., is walking her dog Pepper past the polling site with her daughter Alma. "We just moved here from D.C. and I'll be voting in this precinct for the first time. I plan to explain to Alma what I'll be doing today and come back later to vote." She says when she was growing up she did the mock vote with her parents. 
Daniel says the biggest issue for her is the location of the schools in Arlington and how the programs are distributed. "Alma is in an immersion program but the school is not full; there is plenty of capacity available. They put the program in schools almost to capacity without considering geographical distribution." In addition, she says education in general is one of the most important things for her. "The critical race theory and all of the online conspiracy are an issue; I think parents should have more input."
On a broader scale, she says she hasn't been paying too much attention to the larger issues this last year but she does have an opinion on the much-discussed abortion issue — that women have the right to control their own bodies. 
Tate says that this year there aren't many contested races on the ballot in Arlington in the general election. Patrick Hope is uncontested for 1st District House of Delegates, and other uncontested races include Clerk of Court, Commonwealth's Attorney, Sheriff, Commissioner of Revenue and Treasurer. Barbara Favola is running against David Henshaw for State Senate 40th District, and four candidates are running to claim the two open seats on the County Board. But Tate speculates there may be less enthusiasm for this year's race since the major missing middle housing issue has been decided by the Board so that generates less interest in the outcome. This year the contested races took place in the June primary.
Crystal Phillips, an election official says she has also noticed a steady stream of voters although it was slow with only 30 voting the first hour. She speculates that with people not going to offices now due to Covid, they don't have to rush in before work like they used to do and feel free to vote whenever it is convenient later in the day.