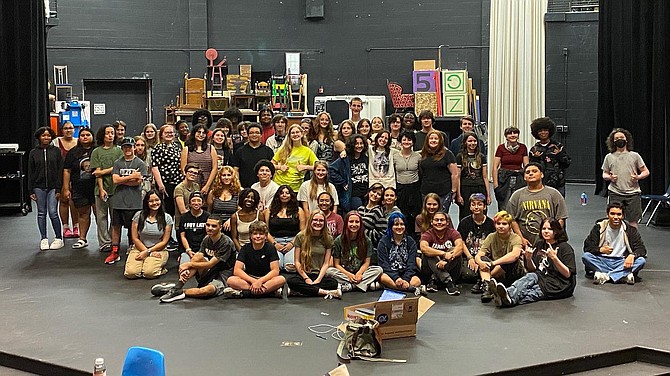 The theatre students of Mount Vernon High School are working hard to put on the play "Peter and the Starcatcher,"  written by Rick Elice with music by Wayne Barker, where we get to see how the great Peter Pan became who he is now.
Peter and the Starcatcher is a story that follows a group of orphan boys, Prentis (Ace Naylor), Ted (El Wendy), and a boy who is a bit different (JJ Dunn). The orphans get shipped off to work for a tropical king on The Neverland ship and they run into Molly Aster, a starcatcher apprentice (Kennedi Johnson) who thinks she should be on an amazing ship called The Wasp with her father. Molly and the boys find a … FLYING CAT!?  Molly explains how the cat was covered in starstuff which gives the cat the ability to fly and she tells the boys she needs to destroy the chest because starstuff is very dangerous. The group has to fight their way through Black Stache, a pirate with a luscious handlebar mustache who is feared by all, and his not so bright right handed man Smee (Micheal Hodges and Natalie Stankiewicz). The group of orphans and Molly have to survive a tropical king (Yariel Calo) and his mollusk army, more pirates, and the British seamen that all want the chest of starstuff.
Our Technical Theatre students and crew have been working hard to bring the show to life from the set to the lighting and sound. Our crew heads have been working on designs since the summer, before the start of the school year. They have been building, painting, sewing, putting together light cues, and more. All to make the show come to life and seem like we are really traveling on The Neverland with Peter.
None of this play would have been possible without amazing directors Mrs. Shaw and Ms. Charlow and our vocal director Ms. Huber. They have helped not only the cast get ready to put this amazing show on but also the tech crew. From singing to blocking to painting they have given everyone guidance and help throughout this whole production.
Peter and the Starcatcher will be at Mount Vernon High School's Andrew Lee Pauley Theater (aka the Little Theatre, door 4) on Nov. 16-17 at 7 pm, a matinee show on Nov. 18 at 2 pm, and a final evening performance on Nov. 18 at 7 pm. Tickets can be purchased online at mvhstheatrearts.com